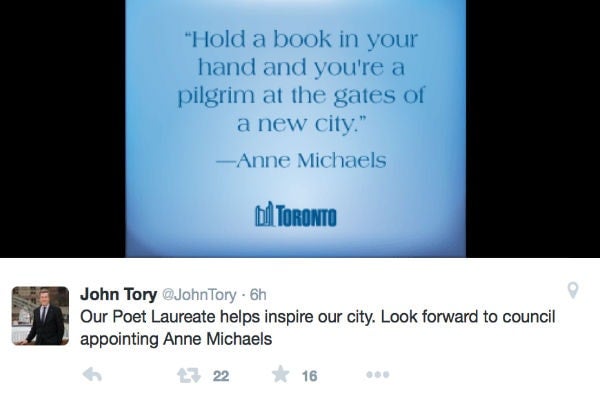 U of T alum and adjunct prof Anne Michaels named Toronto poet laureate
All five poets laureate have been members of U of T community
The University of Toronto has a lock on local couplets – again.
Anne Michaels, an adjunct professor of English and former Barker Fairley Distinguished Visitor in Canadian Studies at University College, has been named Toronto's poet laureate. She follows George Elliott Clarke, the E.J. Pratt Professor of Canadian Literature at U of T.
"Toronto is fortunate to embrace dozens of languages and has an invaluable literary history," Michaels said in a statement released by the City of Toronto. "I am looking forward to celebrating our many voices, old and new."
The native Torontonian graduated from U of T in 1980 and launched her literary career in 1986 with The Weight of Oranges. Miner's Pond (1991) received the National Magazine Award, the Canadian Authors Association Award for Poetry and a nomination for the Governor General's Award.
Michaels's most recent volume of poetry, Correspondences (2014), is an elegy to her father, replete with references to 20th-century artistic and intellectual figures. Published with folded pages in the manner of an accordion, the book was shortlisted for the 2014 Griffin Poetry Prize.
Among her most acclaimed works is the 1996 novel Fugitive Pieces, which won the Trillium Book Award, the Chapters/Books in Canada First Novel Award, the Guardian Book Prize and Orange Prize for Fiction (U.K.) and America's Lannan Literary Award for Fiction. The movie based on this book was screened on the opening day of the 2007 Toronto International Film Festival.
Michaels is Toronto's fifth poet laureate; all five have been members of the U of T community.
First in 2001 was U of T alumnus and former Victoria College English instructor Dennis Lee. He was followed by Pier Giorgio Di Cicco, an alumnus who became a visiting professor in the St. Michael's College graduate department of Italian studies; and Dionne Brand, an alumna of both U of T and OISE.
The university has figured in the work of the poets it has touched or generated. Fugitive Pieces, a novel about war and memory, includes as a major character Athos Roussos, a geologist who escapes Greece during the Second World War to take a position at U of T. Michaels has called the war the "formative event" for people of her generation.
Michaels's interest in multiculturalism and language is manifested in this novel particularly in the figure of Jakob Beer, an orphan from Nazi-occupied Poland whose acquisition of Greek and English erases his memory of the Holocaust.
"With that book, I was asked am I Jewish, am I Catholic, am I Greek," Michaels told The Guardian newspaper in 2009. "And, yes, I did resist answering, because I really feel that to answer would be a cop-out."
Michaels, who founded the long-distance creative writing program at U of T's School of Continuing Studies, was named one of the inaugural University College Alumni of Influence in 2012. Her term as poet laureate, to be confirmed by Toronto City Council in November, will last for three years.
Clarke is delighted by the nomination of Michaels and the link to U of T.
"Whenever I teach Canadian Poetry, I always point out the strong connection between Canada's most appreciated Eglish-language poets and the University of Toronto," he told U of T News.
"After all, this was the home of poet E.J. Pratt and the great critic Northrop Frye. Together, they nurtured the finest poets of the mid-20th century, including Margaret Atwood and Jay Macpherson, and made Canadian poetry a distinctive, valued genre for creativity and for study.
"Anne Michaels is an heir to the marvelous legacy engendered by this institution. Perhaps alumni will now raise funds for a Poets' Tower to join the splendid Soldiers' Tower on our campus."
Organizations and individuals took to social media to congratulate Michaels and thank Clarke for his services. Among them was mayor and U of T alumnus John Tory, who tweeted: "I want to thank George Elliott Clarke for serving as Toronto's Poet Laureate & all he's done to promote our city's diverse voices."