U of T Acceleration Consortium to use AI to develop advanced materials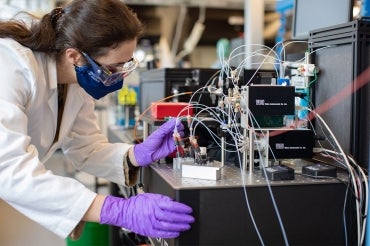 The University of Toronto is launching a new global consortium dedicated to using artificial intelligence (AI) to accelerate the design and discovery of advanced materials that could revolutionize a range of industries – from renewable energy and biomedicine to communication technology.
The Acceleration Consortium will draw on the power of AI, robotics, engineering and chemistry to create so-called "self-driving laboratories" that can help rapidly design next-generation materials crucial to making the technologies of the future more affordable and eco-friendly.
Led by Alán Aspuru-Guzik, a professor in the departments of chemistry and computer science in the Faculty of Arts & Science, the consortium is a collaboration betwen academia, industry and government, and comprises top researchers from U of T and around the world.
"AI is changing the way we do science," said Aspuru-Guzik, director of the Acceleration Consortium, Canada 150 Research Chair in Theoretical Chemistry and Canada CIFAR AI Chair at the Vector Institute for Artificial Intelligence.
"The Acceleration Consortium's self-driving laboratories will revolutionize advanced materials innovation by reducing the time and cost to develop new materials from an average of 20 years and $100 million to as little as one year and $1 million."
The consortium – a partnership between U of T's Faculty of Arts & Science, Faculty of Applied Science & Engineering and Division of the Vice-President, Research & Innovation – will also work to establish an international network of academic institutions, technology companies and entrepreneurs to lead materials innovation and create a national training program to nurture the next generation of researchers.
Specific initiatives will include workshops, conferences, hackathons, post-doctoral fellowships, a master's degree program and a laboratory facility to provide training and access to self-driving laboratories for all consortium members.
"Global issues require a global response," said Christine Allen, U of T's associate vice-president and vice-provost, strategic initiatives. "U of T is proud to launch the Acceleration Consortium to drive materials innovation through collaboration between experts across the university and around the world, including government, industry and emerging companies, and our academic peers."
The design of advanced materials with superior performance characteristics is seen as vital to driving a range of innovations including clean energy storage, development of sustainable packaging for consumer products, drug discovery, quantum computing and the creation of stronger, lightweight building materials – to name a few applications.
In helping invent these new materials, the consortium intends to play a leading role in addressing an array of challenges in health care, climate change and technology, and to establish U of T as a world leader in materials science innovation.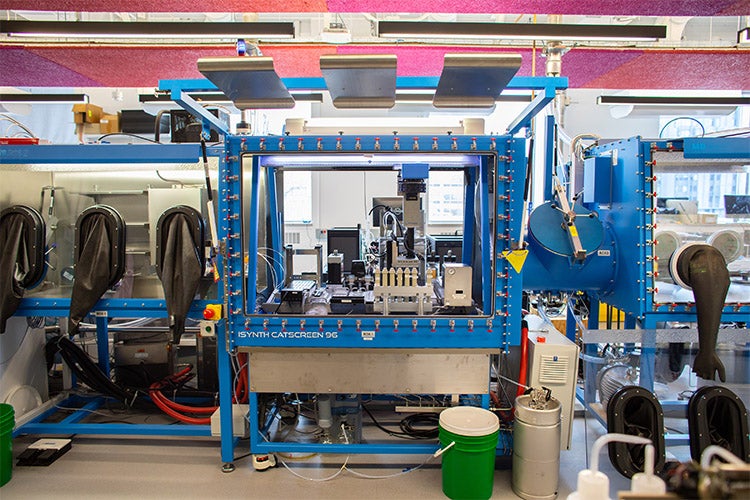 The Chemspeed materials acceleration platform (MAP) in the Aspuru-Guzik laboratory (photo by Johnny Guatto)
U of T experts involved in the consortium represent a range of disciplines. Christopher Yip, dean of U of T's Faculty of Applied Science & Engineering, said the initiative "epitomizes knowledge transfer and collaboration across scholarly expertise." Melanie Woodin, dean of the Faculty of Arts & Science, added the consortium is the latest manifestation of "a legacy of innovation and discovery that has changed the way we think about the world and respond to society's most pressing social, economic and environmental questions."
Current Acceleration Consortium partners include Chemspeed, the Vector Institute, CIFAR, Creative Destruction Lab, National Research Council of Canada and Natural Resources Canada, among others. The consortium involves more than 50 top researchers from U of T and around the world.
The Acceleration Consortium's launch follows the Government of Canada's move to provide nearly $59 million in investments to the National Research Council of Canada and Natural Resources Canada to support the creation of lab space for advanced materials and set up materials acceleration platforms in Mississauga and Hamilton, Ont.
"By creating these new materials, the Acceleration Consortium will help improve the lives of Canadians by addressing challenges in health, climate change, urbanization and economic development," said Ed Clark, board chair at the Vector Institute and former president and CEO of TD Bank Group.
"The AC's efforts will also directly support our country's post-COVID-19 economic recovery by generating commercialization opportunities, onshoring manufacturing, increasing productivity, and even sparking the creation of companies and industries that do not yet exist."
UTC