Curator focuses on personal objects and stories to share Holocaust survivors' experiences
For U of T alumna Sara-Jane Vigneault, museums can play a crucial role in the battle against misinformation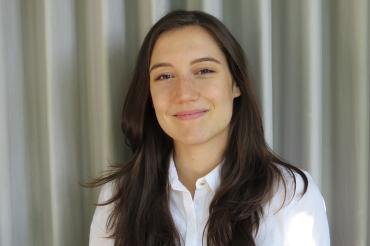 A teddy bear belonging to Holocaust survivor Marianne Constantine is one of the many donated objects University of Toronto alum Sara-Jane Vigneault has handled as a curator at the Montreal Holocaust Museum since earning her master's degree in history through the Centre for European, Russian & Eurasian Studies (CERES) at the Munk School of Global Affairs & Public Policy and the collaborative graduate program in Jewish studies.
"What I appreciate most about this job is meeting survivors and families and working with them to tell their stories," says Vigneault, who graduated in 2021. "I'll never take this for granted, because it's a privilege to be there for them."
Vigneault notes that museums can play a crucial role in the battle against misinformation, whitewashing and conspiracy theories. A recent survey found that nearly a third of North American teens think the Holocaust is an exaggerated or fabricated event.
"We need to continue creating spaces to analyze the personal experiences of communities targeted during the Holocaust. I also believe it is necessary to offer dialogue with other genocides and conflicts," Vigneault says.
These are important times of growth for Holocaust museums in Canada, with expansion of the Montreal Holocaust Museum and recent opening of the new Toronto Holocaust Museum, whose chief curator, Rachel Libman, is also an alum of U of T's Faculty of Arts & Science and has collaborated closely with Vigneault.
Although not Jewish, Vigneault was particularly attentive to questions about the Holocaust and its legacies while pursuing her coursework in the faculty's Anne Tanenbaum Centre for Jewish Studies and CERES.
Her master's project focused on Irène Némirovsky, author of Suite Française, and Némirovsky's daughters' experiences of the war through their writings. Vigneault's thesis, Filling and Bridging the Gaps: Two Daughters' Paths to Retrieve, Uncover and Recollect their Mother from Beyond Obliteration considers Élisabeth Gille's and Denise Epstein-Dauplé's coping processes as they pieced together the memories of a mother that Vichy France seized from them.
Vigneault considers literature as a site of continuity between Némirovsky – who was arrested as a stateless Jew and killed in Auschwitz – and her daughters.
"I wanted to see how literature enabled them to reconnect and work through traumatic experiences," says Vigneault, who contacted Némirovsky's grandson as part of her research. She interviewed him and obtained permission to access crucial archives.
"Sara-Jane frames the narrative theoretically and analytically yet always keeps sight of Némirovsky and her daughters as people – individual women with personalities, feelings, fears and needs. It is not easy to write history in this way," says Vigneault's thesis supervisor Doris Bergen, the Chancellor Rose and Ray Wolfe Professor of Holocaust Studies in U of T's department of history.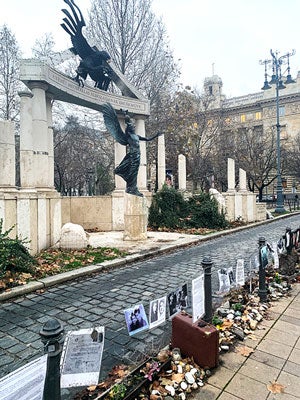 "She tackled enormous questions about the nature of historical research, the limits and possibilities of the archives and the responsibility of a scholar to the people – living and dead – who are our sources and our subjects."
Experiential learning also bolstered Vigneault's U of T experience, including a research trip to Budapest, Hungary, where she worked on the politics of memory. There she interviewed scholars, survivors and activists about the Living Memorial, a counter-memorial created in response to the Hungarian government's refusal to acknowledge the country's role in the Holocaust.
Vigneault is currently pursuing her PhD in history at the University of Cambridge. She works on intimate contacts between French colonial soldiers and European women during the First and Second World Wars and investigates how French authorities tried to control racialized soldiers' proximity to white women and maintain colonial borders.
For Vigneault, her work as a researcher and at the museum serves to bring forward the stories of marginalized groups and encourages people to reflect on their individual and collective roles and learn from history.
At the Montreal Holocaust Museum, Vigneault pursues that work alongside Jewish survivors like Marianne Constantine, who survived the Holocaust in Hungary with her mother and grandmother, only to be separated from them after the war. She reunited with her parents in Canada in 1952.
As a child, Constantine's one constant was the teddy bear she kept throughout the ordeal – the same teddy bear she entrusted to Vigneault and the museum more than 75 years later.
Arts & Science