Twin sisters go from lab to legislature in their fight against concussions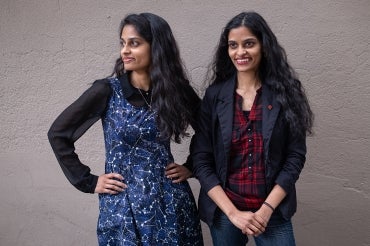 The reason for identical twins Sandhya and Swapna Mylabathula's visit to Parliament was no joke – even if they were carrying a life-size brain made of Jell-O on April Fools' Day.
They were invited to speak to a subcommittee on sports-related concussions, part of a roster of witnesses including top sports scientists and hockey legends like Eric Lindros and Ken Dryden.
"Concussions are a growing problem in Canada," Swapna told MPs while she held up a graphic showing an increase in concussions among youth. "This represents a lot of sport concussions. This is just the tip of the iceberg. It truly is a public health problem."   
The sisters have been studying concussions since their undergraduate years in biology and nutritional sciences. For just about as long, they have also pushed for better policy on concussions, which affect one in 10 Ontario students. In Canada, about 46,000 concussions were diagnosed among youth up to age 19 by hospital emergency departments in 2016-2017.
Concussions are caused by a hit to the head or body that makes the brain move inside the skull. They can lead to symptoms ranging in severity – dizziness, headaches, seizures – and can be fatal. 
At the subcommittee meeting, a few legislators shared their personal concussion stories – about being body-checked in hockey when they were young or knocked off their bikes on the way to work.
Sandhya and Swapna found an enthusiastic audience for their recommendations: incentives encouraging a culture shift within sport to reduce risks of concussions, a national research centre on concussions and a national concussion awareness week.

Minister of Science and Sport Kirsty Duncan and Swapna and Sandhya Mylabathula on their visit to Parliament in April (photo courtesy of Sandhya Mylabathula)
Neither of the sisters has had a concussion, but they have seen plenty as long-time hockey and Toronto Maple Leafs fans. In a TedX talk, they explain that their interest in the subject started around the time Paul Kariya – a gold medallist in hockey with Team Canada in 2002 – cut his career short due to repeated concussions.
Then there were even fewer resources in place for concussion sufferers, no strategy and little awareness, the sisters recalled in an interview with U of T News. They explained their reason for getting involved in advocacy, often finishing each other's sentences. 
Sandhya: "We saw this gap and thought: Someone's got to do something."
Swapna: "We can try."
Sandhya: "Why not?"
Their visit to Parliament this spring wasn't their first experience in policy-making. Years ago, they worked with their member of Parliament, Kirsty Duncan, now the minister of science and sport, on a bill to develop a pan-Canadian strategy on concussions. Sandhya and Swapna gathered thousands of signatures in support of the proposal, from their own Etobicoke riding to Prince Edward Island and British Columbia. Although the bill hasn't become law, some of its elements are still being discussed in committee today. 
The twins were also consulted on an Ontario policy on concussions that was implemented in public schools and was a precursor to Rowan's Law, concussion-safety legislation passed in 2016. Its namesake, Rowan Stringer, was just 17 when she died on Mother's Day, after suffering what proved to be a fatal concussion in a rugby game.
Dr. Charles Tator, a professor of neurosurgery in the Faculty of Medicine and director of the Canadian Concussion Centre, is Swapna's supervisor as she works toward her MD-PhD at U of T, but he knows both sisters through their advocacy. In her research, Swapna is evaluating Ontario's policy on concussions in public schools before Rowan's Law. Sandhya is a PhD candidate in the Faculty of Kinesiology & Physical Education and a fellow in public health policy with the Canadian Institutes of Health Research. She's researched concussion risk factors, policy, education and sex and gender considerations, among other things.
"They have achieved status and credibility in the concussion field, especially as related to policy," Tator told U of T News.
The total number of concussions in Canada across all ages is as large as 200,000, according to some estimates. And about a quarter of people experience symptoms beyond one month, Tator says. "Some are unlucky enough to have symptoms be lifelong," he added, "so this is an important condition. It's a big health-care problem." 
"These sisters certainly have my admiration and my support," he said. "I think it's great they've taken up the cause and I hope they continue."
UTC