Twin activists and filmmakers – soon to be U of T grads – champion education for girls
Nivaal and Maryam Rehman founded a non-profit dedicated to gender equality, climate justice and inclusivity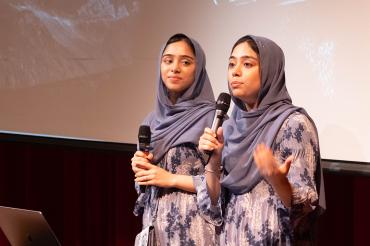 Nivaal and Maryam Rehman were just eight years old when they began spreading awareness about the importance of education to girls in their home village near Lahore, Pakistan.
"We were speaking to them about their dreams and aspirations, and we found out that they were going to quit school when they reached Grade 5," says Nivaal.
"That's when our activism journey began." 
That journey included founding the MNR Foundation in 2016 – a non-profit dedicated to gender equality, climate justice and inclusivity through storytelling and advocacy – and conducting workshops on gender-based violence prevention and environmental stewardship and sustainability.
The twins have also worked with global advocacy organizations, interviewed Prime Minister Justin Trudeau and Nobel Peace Prize laureate Malala Yousafzai, and have directed and produced for Dream Big, Princess, a collaboration between Disney and the UN Girl Up Campaign.
Now, the Rehmans are both set to graduate from the University of Toronto – with the same degree: a double major in peace, conflict and justice and international relations and a minor in women and gender studies from the Faculty of Arts & Science.
After they cross the stage at Convocation Hall on June 15, with their parents in the crowd, the sisters will start preparing for a move to England, where they are both set to attend Oxford University for a master's degree in historical studies.
"We came into university thinking we'd be done school after four years, but I want to continue learning," says Maryam. "If anything, we've been taught is that there's so much more to learn. So, it's really encouraged us to keep going."
They say their time at U of T has strengthened their knowledge of global issues and that their education has informed their advocacy work.
One course stood out.
"It was through critical equity and solidarity studies that we not only were able to critique what we were learning in our program, but also our own knowledge about the world," says Nivaal.
They credit Assistant Professor Stanley Doyle Wood, who teaches critical studies in equity and solidarity at New College, for facilitating a supportive and fun learning environment.
"He's super inspiring to us," says Nivaal. "[The class] helped us enhance our activism so we weren't reinforcing systems of oppression."
Growing up, Maryam and Nivaal say their parents were honest with them about the problems they'd see in the world. When they'd ask about homelessness or poverty in their village, their parents wouldn't try to hide what was going on.
"We were given the opportunity to learn about issues," says Maryam. "Our parents encouraged us and said, 'If girls' education is something you're concerned about, what are you going to do about it?'"
After moving to Canada at age five, the sisters would travel home regularly to see their extended family. On their first trip back, they learned about a school which had been built on land donated by their grandmother.
"There was a school for boys, but she wanted to have the same opportunities given to the girls there," says Nivaal. "We were so inspired by her work and wanted to ensure that those girls continue their education."
That's when they discovered that girls in the village often quit school in fifth grade so they could work to support their families. In an effort to break the cycle, Maryam and Nivaal began to host workshops and seminars in their family home to inform the girls about the value of education. They worked alongside teachers to advocate waiving of school fees on behalf of families who could not afford to pay. They collected stationery and books to donate to the school.
"We were kids at the time, too, so we were just trying to find different ways to support [these girls]," says Nivaal. "Very simply, we wanted them to continue schooling beyond Grade 5."
They say some of the girls they've helped have gone on to study in high school – and that the school's teaching staff grew to four teachers, from one previously, as more students stayed on.
"We pushed for an understanding that [education] is what's going to break the cycle of poverty," Maryam says.
"It makes people aware about how they can make their personal circumstances better and how they can make things better for their communities.
"It's a solution to so many other problems."
UTC