Trump turns arguments of his base 'inside out': U of T strategic management professor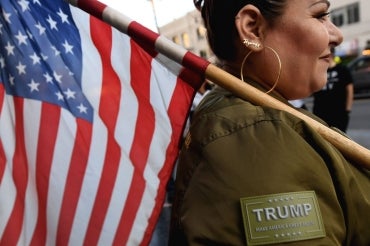 U.S. President Donald Trump's declaration that he is the the voice of his strongest supporters – white, non-college-educated, working-class voters – is not true, argues U of T's Andrew Stark in an op-ed in the Globe and Mail.
Instead, the president flips the grievances of so-called Trump Country "precisely inside out," says Stark, a professor of management and political science at U of T Scarborough and the Rotman School of Management. 
"When Mr. Trump attacks elites, his target isn't cultural elites," Stark writes. "It's what he calls 'political elites': the politicians who made a hash of trade negotiations, designed the 'disastrous' Iran nuclear deal and signed the 'catastrophic' Paris climate accord. 
"When it comes to illegal immigration, Mr. Trump never objects, as so many of the members of his base do when given the chance, that it flouts the rules of citizenship: of waiting in line and not queue-jumping. Instead, he focuses on attacking illegals, in raw cultural terms, for being rapists and murderers, and in raw economic terms, for stealing jobs and driving down wages."
To back up his argument, Stark looks at the reporting done by journalists and academics in recent months who have been travelling to Trump Country.
"What they disclose is a profound divergence between how Trump voters express themselves politically, and what Mr. Trump himself says," Stark writes. "In fact, in key ways, he gets them exactly backward."
Herein lies an opportunity for Democrats to step in and actually address the true concerns of Trump's base, Stark concludes.
UTC