Triple jumps and chicken coops: Varsity Blues athlete Brenna Hamel stays sharp during COVID-19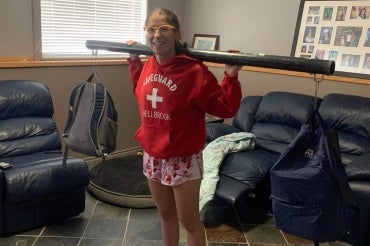 Like many others, the University of Toronto's Brenna Hamel found her life turned upside down by the COVID-19 pandemic.
 
In March, the fourth-year Rotman Commerce public accounting specialist – and Varsity Blues track and field athlete – was taking part in an international exchange program, when the prime minister called Canadians home.
Hamel went from working for a technology-consulting firm in Singapore to working on her family's recreational farm in Shellbrook, Sask., about 140 kilometres north of Saskatoon. 
"We raise chickens and turkeys for means of personal consumption and we raise other birds recreationally, such as peacocks, guinea fowl and silkies," she says. "We also recreationally raise rabbits."
Another big change: Hamel, who competes in triple jump, needed to find a new way to maintain her training.  
"I set up a strict daily schedule," says Hamel. "I worked 8 a.m. to 4 p.m., made supper and spent at least one hour per day weeding or doing some short chores. Afterwards, I would train."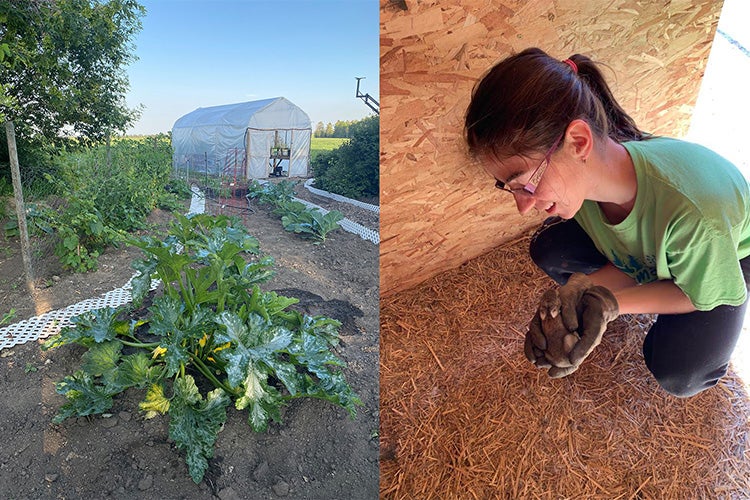 Hamel says she adopted a strict daily schedule on the family farm that included working eight hours a day, performing chores and physical training (photo courtesy of Brenna Hamel)
Hamel, who finished fourth overall at the 2019 OUA championships, says she had to get creative to keep up with the Varsity Blues program.
"The track in Shellbrook is dirt so I have to drive 40 kilometers to get to a real track," she says. "This is not always feasible, but I go when I can. On those days, I get my spikes on and do my speed work. Otherwise, I work with what I have on the acreage.
"During the winter months, I got creative by creating a squat bar out of PVC pipe, hooks and weighted backpacks. We have a treadmill to get some running in and I use the stairs for plyo [plyometrics, or jump training].
"Spring and summer is very busy. We do lots of weeding, rototilling, cleaning of chicken coops, cutting grass and any miscellaneous projects that are going on. For example, we are re-treeing our lot right now. We are also laying gravel paths so we are separating dirt from rocks with a sifting machine. We have also done trenching to lay water hoses underground to feed the gardens and set up an automatic watering systems for the birds and gardens."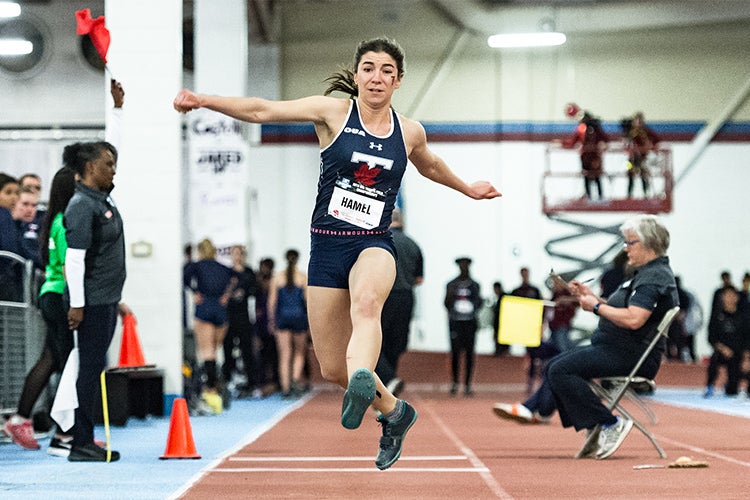 Brenna Hamel performs at the 2019 Ontario University Athletics track and field championships (photo by Seyran Mammadov)
"In my 40-plus years of coaching, this is a first," says Carl Georgevski, the Varsity Blues' head track and field coach. "Brenna couldn't make it to a team meeting because she was cleaning chicken coops."
 
As crazy as these last few months have been, one thing is for sure: Hamel is eager to return to Toronto and U of T. 
 
"I will be back this fall," she says. "This will be my sixth and final year at U of T. I wanted to return to have one last year of training with Carl and the team, and one last shot at nationals."
KPE