'A transformative experience': Indigenous Holistic Health course provides students with new perspectives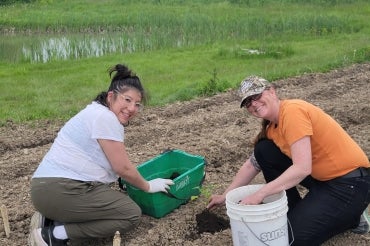 In the Anishinaabe tradition, the Seven Grandfather Teachings include humility, bravery, honesty, wisdom, truth, respect and love. 
Melanie Jeffrey, an assistant professor in the University of Toronto's Centre for Indigenous Studies, says she hopes her students absorbed elements of the teachings during the second-year human biology course she created, designed and taught for the first time this summer.
Called Indigenous Holistic Health, the course gives students the opportunity to understand how Indigenous practices and philosophies of holistic health can inform and complement mainstream health care and healing.
"So many students have questions about Indigenous health," says Jeffrey, who is cross-appointed to the Faculty of Arts & Science's human biology program. "They want to learn, but they don't know where to start."
Jeffrey, who identifies as a settler of English, Irish and Scottish heritage, has a PhD in pharmacology and toxicology from U of T, and says working with Indigenous Peoples and allies has guided her teaching and research. Her research interests include land-based healing, determinants of health and bridging Indigenous knowledge systems and Western health and ecological sciences. She has also worked with Indigenous Peoples with spinal cord injuries, and has investigated the cancer burden in Indigenous communities in northern Ontario.
Her new course examines relationships between Western biomedical science and Indigenous holistic health, exploring how the two models intersect. Students looked at Western scientific themes through the lens of Indigenous science, using the four aspects of the medicine wheel: physical, mental, emotional and spiritual.
For Jeffrey, it was a course she always wanted to teach. She loved its small size, enabling students to engage in a dialogue about the course materials and to get to know each other. "It's so important for students to have a chance to be in a small class early in their degree," she says. "For many students, it's a completely different experience than they're used to. Most of their intro courses are some of the largest at the university."
The course relied heavily on guest speakers – faculty members, Indigenous Elders, Traditional Knowledge Keepers and others. Examples included Joe Pitawanakwat, an Anishinaabe plant medicine teacher from Wiikwemkoong First Nation on Manitoulin Island, who spoke to the class about plants as teachers and medicines.
Brenda Wastasecoot, an assistant professor at the Centre for Indigenous Studies, spoke about the importance of ceremony and culture as they relate to mental health. And Sylvia Plain, the owner and operator of the Great Lakes Canoe Journey Education Program from Aamjiwnaang First Nation, spoke about the role of traditional practices and physical activity in wellness.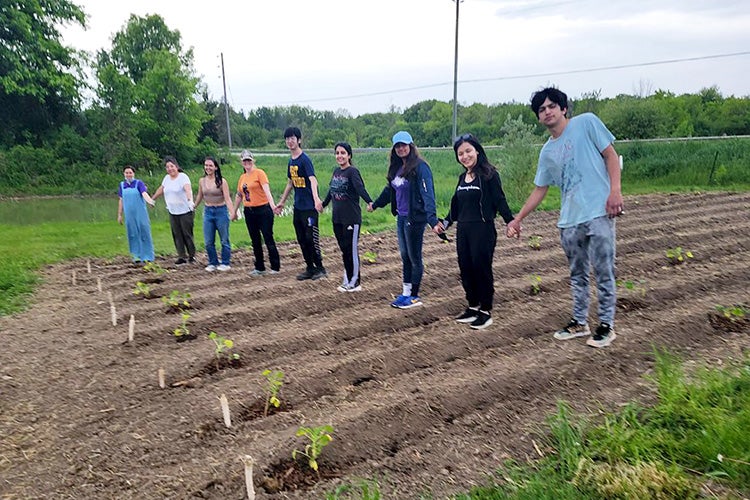 Students in the Indigenous Holistic Health course plant rows of corn and crookneck squash (photo by Terrylynn Brant)
"We heard from a new guest speaker every week, exposing us to a multitude of perspectives, ideologies and issues faced by Indigenous people in health care," says Allana Nakashook-Zettler, a third-year chemical engineering student who enrolled in the course to explore her own Inuit heritage.
"Their knowledge is invaluable – and to see the cultural competency and awareness demonstrated by the speakers, and Professor Jeffrey was amazing."
The course's grading system didn't include tests. "Tests are very culturally centric, and they really don't work for some people," Jeffrey explains. "So I really focused on the assignment design. In a final assignment, I asked them to critically reflect on, 'How has this learning affected you? What changed or surprised you about this learning journey? How will this inform your future self?'"
Much of that reflection came from a three-day field trip to a cultural teaching and learning facility run by Six Nations of the Grand River called Chiefswoods Park.
There, the students learned from Indigenous teachers about Indigenous history, plant ecology, medicinal plants and agriculture. The class also took part in traditional games including stickball, a precursor to lacrosse. According to World Lacrosse, stickball games were once major events that took place over several days, involving 100 to 100,000 players.
"It was welcome relief from some of the heavier material, and it was hilarious," Jeffrey says about playing the sport. 
Another highlight was a tour of Seedkeeper's Garden, owned and operated by the Mohawk writer, Terrylynn Brant. She mentors on food security, growing and preserving the heritage seeds of her people and revitalizing Indigenous agricultural ways.
"As a group, we prepared the soil for seedings by outlining the rows, hoeing and laying soil," Nakashook-Zettler says. "Then we planted corn seedlings of a type of corn she is working to revitalize, which was really impactful to me because it shows how resilient and hard at work Indigenous people are at maintaining cultural practices."
Sruthy Balakumar, a second-year life sciences student and member of St Michael's College, says the field trip and the course will have a lasting impact.
"I will remember and use the skills I learned in this course through all aspects of my life," says Balakumar, who is studying human biology and cell and molecular biology, working towards a specialist in global health.
Through the course, she learned to look at medical issues through an Indigenous lens, she says. "As a global health major, this course has given me a better understanding of a variety of relevant topics to my field including neuroscience, research ethics, nutrition and mental health."
Jeffrey says teaching the course was a joy.
"To hear from Indigenous people in their own words, to take students out on the land for land-based education – we need to do more of that," she says.
"Seeing the student engagement, I was just so happy that it worked for them. And it worked for me. It was a transformative experience for all of us and that's exactly what education should be."
Arts & Science