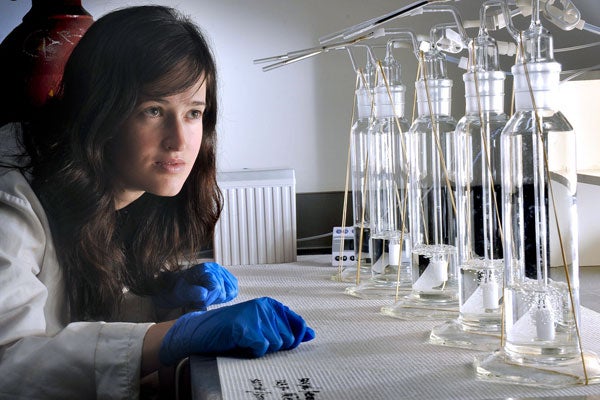 Towards a sustainable future: recycling glass and plastics from U of T laboratories
Hospital for Sick Kids, other institutions following U of T's lead
When Reno Strano started as a casual employee at U of T in 1994, campus recycling was in its infancy. But that was the year the University adopted the first university Environmental Protection Policy in North America, pledging to do as little harm to the environment as possible. 
Since then U of T has achieved one of highest rates of landfill diversion in the country – diverting 72 per cent of its waste from landfill in 2012-2013. And Strano, who became St. George campus waste manager in 2003, has overseen much of that progress.
Maintaining U of T's recycling standards takes work, Strano says. One challenge is that a new group of students needs to be made aware of U of T's recycling programs each year. And then there's human nature:  "People are not naturally wired to think about their waste," Strano says. "Most people don't think about how much waste goes into producing and shipping the things they want or what happens to it after they are done with it. 
"We put systems in place but human nature being what it is, I'm constantly running around trying to remind people 'hey put that here, put that there'."
Strano (pictured at right) and his staff of four meet the challenge through attendance at campus events such as orientation events for new students, emails, posters and other communication channels. They also try to make recycling easy for students, faculty and staff through strategic placement of green bins and blue boxes, and through special programs such as the lab glass and plastic recycling program.
They rely on help from U of T's caretaking and grounds keeping staff, and from a dedicated group of volunteer environmental coordinators who act as liaisons between their own offices, departments or faculties and the Office of Waste Management. 
Strano is especially proud of the lab glass and plastic program. Before the program started three-and-a-half years ago, U of T was sending about 20 tonnes of lab glass and plastic to landfills every year. 
"Just look at the medical buildings on campus," Strano says. "Because of the nature of what they are, they produce a lot of waste. You do your experiment and you can't reuse it again because it's contaminated. But there's a large amount of stuff that isn't dangerously contaminated – it's not hazardous per se, but in a lab you can't reuse it – all the flasks, all the bottles, all the tubes, all the petri dishes, a whole variety of things like that – it all has to be disposed."
The program is still being rolled out across campus. Labs each have a bin for non-contaminated glass and a bin for non-contaminated plastic. Approximately 23 tonnes of material was recycled last year. The lab glass recycling program is now being adopted by other institutions, such as the Hospital for Sick Children. 
Recycling is very important for the university, Strano says. "There are financial concerns – recycling produces a lot less waste and it saves money. Plus, we have provincial legal obligations for doing certain aspects of recycling." More important, he says, it's good for the planet. "You have to be a good citizen of the Earth and try not to waste things."
The list of items that can be recycled at U of T ranges from animal bedding to x-ray film, reflecting U of T's diversity. Strano urges the campus community to check out the list and to think before tossing something in the garbage can. 
"Put things in the right container, that's the basis of everything."
(Learn more about U of T's recycling programs.)
Terry Lavender writes about global issues and local impacts for the University of Toronto.