'Totally dedicated': U of T researcher honoured for contributions to diabetes research, treatments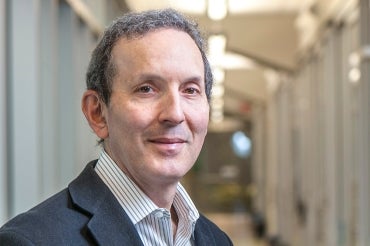 Dr. Daniel Drucker, an internationally renowned diabetes researcher whose discoveries led to the development of two new treatments for Type 2 diabetes, is being honoured with the 2019 Harold Hamm International Prize for Biomedical Research in Diabetes.
A senior investigator at Sinai Health System's Lunenfeld-Tanenbaum Research Institute and a professor in the University of Toronto's department of medicine and department of laboratory medicine and pathobiology, Drucker is being recognized for his pioneering diabetes research focused on a group of hormones called incretins, which help the pancreas produce insulin to use the energy it receives from food.
When working properly, incretins help the body control blood glucose and insulin secretion, regulate appetite, control the absorption of nutrients from food and convert those nutrients to energy. However, in Type 2 diabetes, an incretin called glucagon-like peptide 1 (GLP-1) is in short supply or is affected by a protein that makes it inactive. Drucker's laboratory uncovered the pathways that led to the development of two drug therapies that mimic and enhance GLP-1 so it can work naturally.
"Dr. Drucker's discoveries have been revolutionary in diabetes research," said Jacob Friedman, director of the Harold Hamm Diabetes Center at the University of Oklahoma.
"His dedication to this field has resulted in new treatments for millions of people around the world."
The Hamm Prize recognizes and encourages lasting advances in the field of diabetes research. It is awarded to an individual who has either demonstrated lifelong contributions to the field or realized a singular advance, especially in leading toward a cure. The honour comes with a $250,000 award – the largest of its kind in the world – and will be officially conferred this fall.
"This honour bestowed upon my research group is further affirmation of the scientific excellence in metabolism research at the Lunenfeld-Tanenbaum Research Institute and the University of Toronto," Drucker said. "Since 1921, and the discovery of insulin, Canadian scientists have continued to make important contributions to understanding the factors causing diabetes and the development of new diabetes medications.
"I am very pleased that the work of our group, including many students and post-doctoral fellows, that has developed over a period of 25 years – from basic science discovery to clinical impact – has been highlighted for recognition by the Harold Hamm Diabetes Center."
Drucker was chosen for the prize by an international jury of diabetes scientists, including Dr. Jay S. Skyler of the University of Miami. Skyler, who has known Drucker for many years, said he is driven not only to understand the basic biology of the body's state during Type 2 diabetes, but to translate his discoveries into new therapies.
Drucker is someone who is "totally dedicated to getting the correct answers and doing science the right way," Skyler said.
"He is tenacious, and he has added more to our knowledge of this general space than anyone. He is truly an outstanding recipient of the Hamm Prize."
Medicine