The "Toronto Star" looks into U of T's legendary ghost story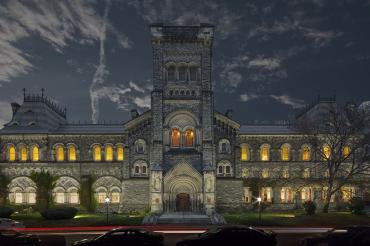 The Toronto Star delves into the story of U of T's legendary ghost, which is said to occupy University College.
As legend has it, 160 years ago stonemason Paul Diabolos killed another stonemason Ivan Reznikoff with his axe. Reznikoff' ghost is said to have wandered the campus until his body was found 30 years later during a fire at University College.
Of course, it was all over a girl. Diabolos was in love with Reznikoff's fiancée. He is believed to have carved a gargoyle modeled after Reznikoff into the college and another gargoyle of himself, appearing to be laughing. 
Richard Fiennes-Clinton, who leads historical and "haunted" walking tours of the campus, says he has never seen any documentation to support the story.  He believes much of it may not be true. 
"I do tell people that it's a legend, it's probably been embellished over the years," he told the newspaper. 
The Star found no mention of a body found at University College in newspaper archives. 
Nor could it find anyone with the names Reznikoff or Diabolos included in the census of 1851 or 1861. There are some facts, however, about University College being built between 1856 and 1859, primarily by European workers, according to The Star.
And the newspaper found facts to support that the college did catch fire on Feb. 14, 1890, when a kerosene lamp was knocked over.