Toronto makes pitch to be world's 'Stem Cell City' with new, state-of-the-art lab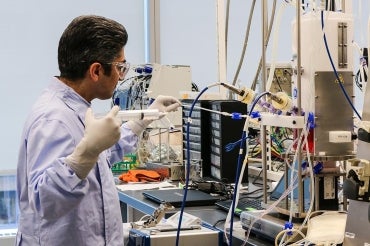 With a prized view overlooking Queen's Park, a trio of tiny bioreactors are quietly creating millions of stem cells – the building blocks of life and the foundation of some of the most promising medical treatments of the future.
Housed in the new Centre for Advanced Therapeutic Cell Technologies (CATCT) at MaRS, the bioreactors, which are used to feed and grow new cells, are the smallest of several located on site in the state-of-the-art lab. CATCT is seeking advanced manufacturing solutions to industrialize the cell manufacturing process to meet the needs of cell therapy companies around the globe.  
The centre, funded by the federal government's FedDev progam and GE Healthcare for $40 million, is integral to the operations of CCRM, a leader in developing and commercializing regenerative medicine technologies and cell and gene therapies.
CCRM and its 10th-floor neighbour Medicine by Design, a University of Toronto initiative, are at the heart of an emerging global regenerative medicine powerhouse populated by biotech startups, multinational corporations and hospital and university researchers clustered in Toronto's Discovery District.  The Ontario Institute for Regenerative Medicine is also housed here.  It funds "disease teams" to move therapies to clinical trials.  
All of that activity is why Toronto is quickly becoming known as "Stem Cell City," said Vivek Goel, U of T's vice-president of research and innovation, borrowing a term often used by Michael May, president and CEO of CCRM and a U of T alumnus.
CCRM is helping to "bring all the pieces together" to build on the 1961 discovery of pluripotent stem cells by University of Toronto researchers, biophysicist James Till and hematologist Ernest McCulloch. It was a "no brainer" to support CCRM as its institutional host, Goel told the audience at CCRM's recent official opening.
"It was a once-in-a-generation opportunity to do this," he said, later asking Till, who was seated in the audience with his family, if he could have ever imagined the day when their discovery would have led to the creation of an entirely new industry.
Till, with a smile, shook his head "no".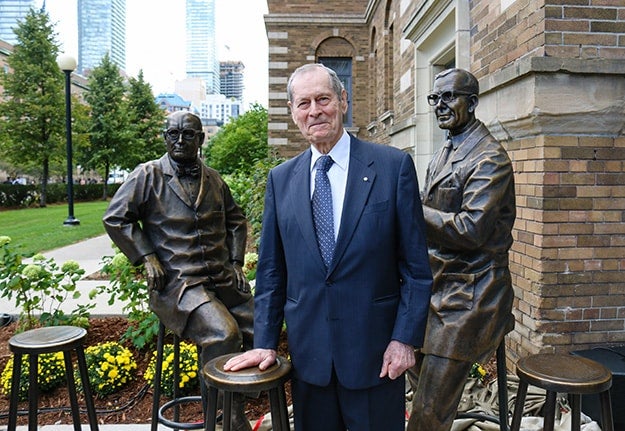 Biophysicist James Till in front of a new permanent sculpture commemorating the discovery of stem cells by Till and hematologist Ernest McCulloch, which was unveiled on the north side of the MaRS building (photo by Jennifer Robinson)
In the decades since their discovery, regenerative medicine has emerged as a promising approach to disease prevention and treatment, harnessing the power of stem cells to repair, regenerate, or replace damaged cells, tissues, and organs affected by disease.
The future path for cementing Toronto's cutting-edge role in the field, which is growing exponentially more valuable every year, lies in continuing advanced research, commercializing discoveries, providing quality stem cell manufacturing and the ability to support clinical testing – all in Toronto, said May.
"If we are the leaders of [stem cell] manufacturing, the companies we create here will be sticky," he explained.
Already, pharmaceutical giant Bayer AG and venture capital firm Versant Ventures have made Toronto the home to one of the largest Series A financing the biotech world has ever seen – US$225 million to create BlueRock Therapeutics, also located in New York and Cambridge, Mass., which promises to turn stem cell science into real-world treatments for the heart and for degenerative brain diseases.
"Why Canada? Why Toronto? The answer is simple," Jerel Davis, a managing director at Versant Ventures, said when the news was announced last December. "We go where the science is best."
The BlueRock announcement followed on the heels of Medicine by Design, established in July 2015 with a $114-million grant – the largest single research award in U of T's history – from the federal government's Canada First Research Excellence Fund.
Medicine by Design is accelerating discoveries in regenerative medicine research to improve treatments for conditions such as heart failure, diabetes and stroke. The initiative brings together more than 100 researchers from across U of T and its affiliated hospitals to collaborate at the convergence of engineering, life and physical sciences, mathematics and medicine. It works with CCRM, which provides it with commercialization and regulatory advice services.
Dr. Ger Brophy, general manager of cell therapy for GE Healthcare, said the regenerative medicine industry is at an inflection point with the recent approval by the U.S. Food and Drug Administration of a new leukemia treatment.
Called Kymriah and produced by global drug giant Novartis, it's considered to be the first gene therapy cleared for the American market.
The important work being done at CCRM, Brophy said, is "underpinning translational activities" like this in regenerative medicine because of its "white-hot relevant technical and clinical skills."
"Canada is proving itself well in this developing space," he said.
In addition to the formal opening of the new space for CCRM, a new permanent sculpture commemorating the discovery of stem cells by Till and McCulloch was unveiled on the north side of MaRS, east of the Queen's Park subway entrance.
The installation by sculptor Ruth Abernethy, who also designed the Glenn Gould statue outside the CBC's Toronto headquarters, was commissioned by Dr. Allen Eaves, chairman, president and CEO of Vancouver-based STEMCELL Technologies, a global biotechnology company.  Eaves is also a member of CCRM's board of directors.  
UTC