From Toronto to Kyrgyzstan: How U of T computer science is going international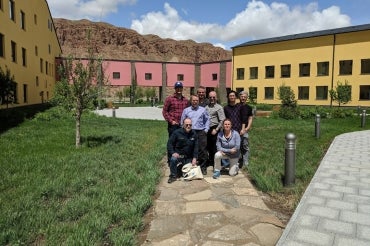 Along Kyrgyzstan's ancient trade route between China and the Mediterranean, known as the Silk Road, is the small town of Naryn. It's a place where cars stop for the rush-hour herds of sheep, horses and yaks, which continue to fuel the area's economy. Away from the town's centre, unexpectedly rising next to the Tien Shan Mountains, are yellow, red and pink buildings, forming a most Instagram-worthy setting for learning.
It's here – where old world meets new – that the University of Central Asia will establish its first computer science curriculum with the support of the University of Toronto's department of computer science.
"We'll be part of a huge mission that will have long-term effects on Central Asia, from helping improve the quality of education to invigorating the rural economy," said Paul Gries, an associate professor, teaching stream, who was part of a U of T computer science visit to the region.
From atop the University of Central Asia in Kyrgyzstan
The University of Central Asia is a secular, private and not-for-profit university founded by the governments of Kazakhstan, Kyrgyzstan, Tajikistan, and the Aga Khan Development Network.
U of T President Meric Gertler and Munk School of Global Affairs distinguished researcher Shamsh Kassim-Lakha, who is also chairman of the Central Asian university's board of trustees, signed a memorandum of understanding to work together on curriculum and faculty development, faculty and student mobility and joint research collaborations.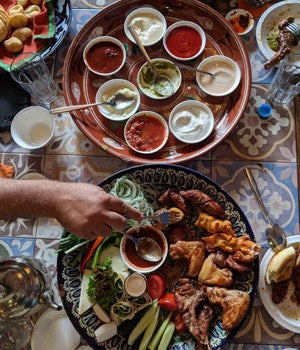 "International collaboration is more necessary than ever, in our efforts to create knowledge and to educate global citizens for leadership in the 21st century," said President Gertler. "For this reason, U of T is delighted to partner with the University of Central Asia in the advancement of our common goals. We look forward to the many mutual benefits that will arise from the relationship between our two institutions." 
Last year, administrators from the University of Central Asia visited U of T computer science. Steve Engels, an associate professor, teaching stream, helped facilitate the early stages of the partnership, and visited Naryn when the campus was still under construction.  
"For our own benefit, it gives us a chance to take a second look at the work we're doing and reorganize some of our own curriculum," said Engels, who worked closely with David Liu, an assistant professor, teaching stream, on the initial phases of the program design.
"It's an honour to be part of the Aga Khan's mission to create centres of education in developing countries."
The U of T faculty met with students who will take the computer science courses they've designed, starting next year. And, they were able to enjoy some of the food specific to the region (photos left and right).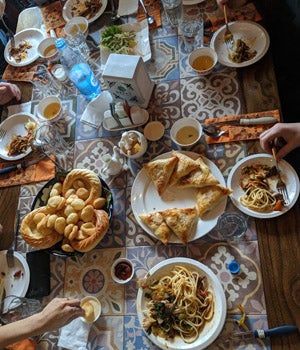 "The students gave us a lot of context. Other local universities teach programming from the start, and the students felt they were behind, as they're in the preliminary year of a five-year program," said Gries. "We reassured them that the groundwork they were doing was going to help them when they start learning computer science – it's a tool, and in order to use the tool properly, they need to understand the context in which it is applied."
Industry will also be a vital part of the Central Asian university's success. Local software company, SpalMalo, shared the challenges they face when seeking talent, as educated students typically move on to wealthier regions or countries, so exposure to local opportunities through internships and placements will be key. 
Like the town itself, population 35,000, the Naryn campus is small: Only 15 students per class, though eventually there will be two cohorts and 30 computer science students in total, whereas more than 350 undergraduates will graduate from the U of T computer science program this spring.
Faculty will also live on Naryn campus which also offers media and communication studies. University of Central Asian campuses in Tajikistan and Kazakhstan will focus on other subjects from earth and environmental sciences to business and engineering.
"It was an incredible experience," said Gries of visiting Kyrgyzstan. He will plan the university's second-year software design course.
The UCA/U of T partnership was made possible with support from the federal government.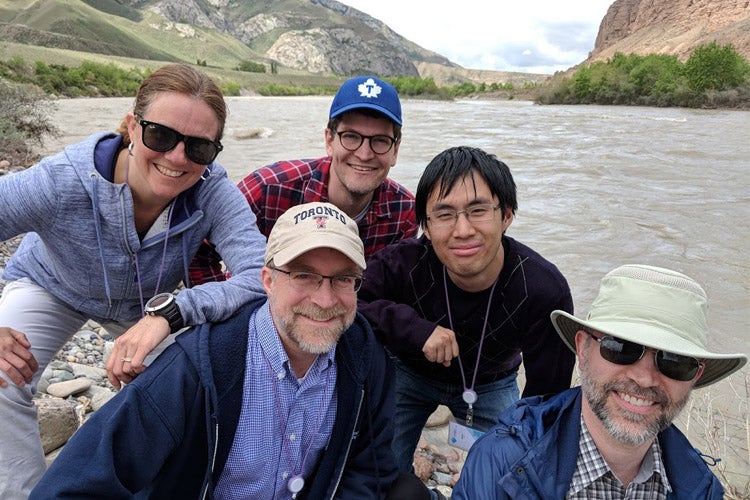 From left to right, Associate Professors, Teaching Stream, Michelle Craig and Paul Gries; Assistant Professor Alec Jacobson; Assistant Professor, Teaching Stream, David Liu; and Associate Professor, Teaching Stream, François Pitt; by the Naryn River and Tien Shan mountains in Kyrgyzstan (photo by Kyros Kutulakos)
Computer Science