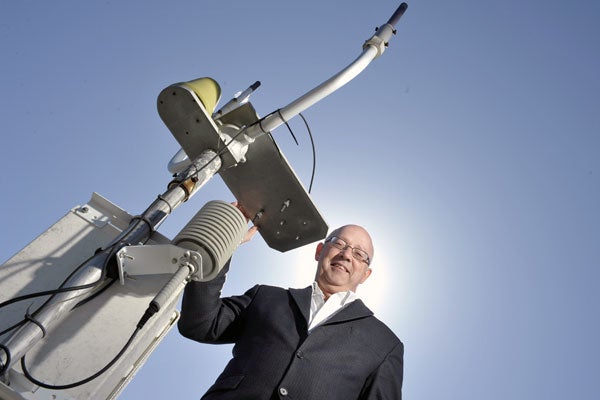 Toronto Conference on the Changing Atmosphere – 25 Years Later
This June marks the 25th anniversary of the Toronto Conference on the Changing Atmosphere, which brought together more than 300 international scientists and policy makers from 46 countries for what became a seminal moment in putting climate change on the global agenda.
On June 28, 2013, the University of Toronto Scarborough will host a symposium to mark the anniversary and to reflect on what has happened since that conference took place.
Writer Don Campbell spoke to Professor William Gough, UTSC vice-dean, Graduate Education about the issue of climate change and what has changed since 1988.
In what significant ways has the global climate changed in the past 25 years?
Since 1988 the world has continued to warm. The 1990s and 2000s are the warmest two decades on record and seven of the last 10 years are among the 10 warmest years on record. All in the top 10 occurred in 1998 or later. In Canada's north we have seen an unprecedented, and probably irreversible, reduction of multi-year sea ice. Evidence is mounting that changes are occurring not only to the average temperature, but also a substantial increase in temperature and precipitation extremes.
How is awareness about climate change different now than it was 25 years ago?
In 1988, the questions we faced were: is the climate warming? If so, why? Now the questions are: how will climate change affect regions? What are we doing to prepare for climate change? What are we doing to reduce greenhouse gas emissions?
What is the most important contemporary issue about climate change that no one could have predicted 25 years ago?
Physically, the rapid disappearance of Arctic sea ice has surprised us by outstripping climate models.
In the 1980s and 1990s, climate change discourse largely focused on reducing emissions and now, sadly, the stage is shared with adapting to climate change. I think we were far more optimistic that action could take place and thus adaptation would not be needed. More subtly, even engaging in an adaptation discussion then would have diverted the discussion away from emission reduction, a wedge that would have allowed those reluctant to reduce emissions to stall even more.
Do you think the participants would be surprised by the struggling international policy response in the intervening years since that first conference?
Sadly, no. We are optimists, but grounded in realism. Political will is hard to galvanize. To be fair, reducing greenhouse gas emissions is far more complex than reducing the chemicals that were destroying the ozone layer or the chemicals causing acid rain. These latter issues are not fully resolved, but it was much easier to focus on the sources and develop mitigating strategies.
Greenhouse gases, especially carbon dioxide, strike at the core of economic success and a whole host of social issues come to the table. I still believe solutions are possible, but recognize the almost mind-boggling complexity it would require. We need the best minds to work on this and to work together.
How important is Obama's recent speech outlining the first-ever US climate change strategy?
That's a good question. It is certainly helpful that he is addressing this issue finally. I think it will have an impact, but there is considerable doubt that the ambitious reductions are achievable.
The Toronto Conference on the Changing Atmosphere – 25 Years Later takes place June 28, 2013 at the Faculty Club, 41 Willcocks St., University of Toronto.  
Don Campbell is a writer with the University of Toronto Scarborough.