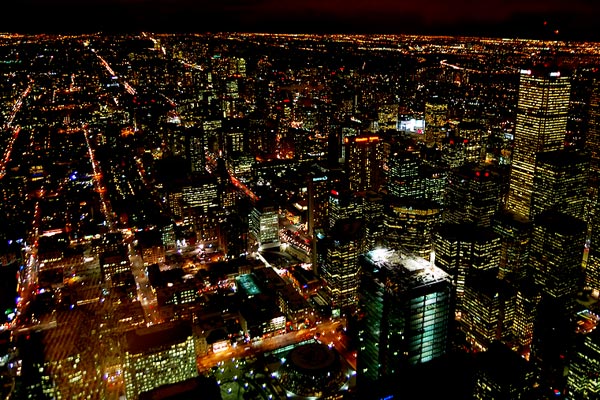 Toronto: Canada's startup and entrepreneurial capital
U of T plays key role in Canada's high-tech hub
Entrepreneurs don't have to be in Silicon Valley to become the next great business success story. Toronto now ranks fourth among the world's top 25 start-up ecosystems, according to Start-up Genome, a project that maps the success rates of start-ups. Toronto ranks just behind Silicon Valley, New York City and London.
The Startup Genome report provides a comparative analysis of entrepreneurial ecosystems to give insight into which hubs are evolving and which are leading the pack.  In a recent speech to the Toronto Board of Trade, University of Toronto President David Naylor talked about Toronto as an innovation hub, and its potential to become both a regional and global engine of job creation.
"The Toronto metropolitan region is Canada's startup and entrepreneurial capital, something few people realize," said Naylor. "As of February 2012, 36 per cent of Canada's top 100 startups have their homes in the region. On top of that, the OECD has concluded that Toronto has the fourth highest rate of entrepreneurship of any region in the OECD.
"At the University of Toronto and our partner hospitals, the entrepreneurial activity has ramped up to the point that we've recently repurposed most of the Banting and Best buildings on College Street as incubation space. We haven't even had time to advertise it," Naylor said.  "But I suppose it's fitting, somehow, since Banting and Best were integral to one of Canada's greatest innovations." 
U of T, a hub within the Toronto ecosystem, has always been an innovation leader. The University's discoveries alone have led to the establishment of nearly 250 spin-off companies. In 2011 alone, 25 start-up companies were launched and generated almost 200 new invention disclosures.  Bump Technologies Inc., founded at the Department of Computer Science (DCS), is the success story of an innovative masters' thesis turned entrepreneurial venture.  Anand Agarawala and his advisor Professor Ravin Balakrishnan developed BumpTop, a physically realistic desktop organizing software in 2004 during Agarawala's graduate studies at DCS. The unique start-up was later purchased by Google.
U of T faculty member Cynthia Goh and her co-researchers have also commercialized three spinoff companies to date, including Axela Biosensors. Axela has commercialized an instrument with the potential to revolutionize the practice of medicine by enabling point-of-care diagnostics in low resource settings. The company was named one of the top Life Science companies in Canada in 2005.
U of T student Nilesh Bansal and his faculty advisor Nick Koudas launched the social media monitoring company Sysomos in 2007. With its unique data mining aggregation and content aggregation technology, Sysomos has redefined social media analytics.  Clients of the 25-employee company include Shell, Proctor and Gamble, Disney and Microsoft. This Canadian company was acquired by Marketwire for $34-million.
"U of T plays a central role in Toronto's growing reputation as an innovation hub," says Professor Paul Young, Vice President, Research.  "We have the strongest research community in Canada and are actively putting the tools and infrastructure in place to help our researchers to innovate.  Our Innovations and Partnerships Office is a vital component in this drive, as are our partnerships with MaRS Innovation, our partnership hospitals, private sector research enterprises such as IBM and entities like the Centre for Commercialization of Regenerative Medicine.  The priority now is to continue to build and refine these innovation resources for our researchers."