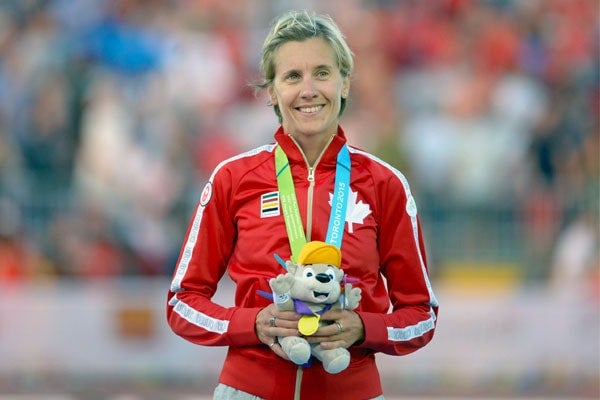 Toronto 2015 Pan Am/Parapan Am Games: highlights of the first weeks
The torch relay for the Parapan Am Games starts on August 3 and opening ceremonies are scheduled for August 7 – just enough time for the city to catch its breath and restart the countdown.
And time enough for one last look back at the first weeks of the Toronto 2015 Pan Am/Parapan Am Games.
U of T's Rosie MacLennan kicked off the torch relay, followed by students, staff, faculty and alumni who took turns carrying the flame through Toronto and farther afield. (Read more about U of T's torchbearers.)
The Scarborough and downtown campuses welcomed thousands of people to competitions for archery, diving, field hockey and more – as well as to U of T Houses. Members of the University community turned out by the hundreds to offer support and volunteer. (Read about the physicians and therapists keeping athletes in the Games. Listen to an episode of the Cities Podcast.)
And then there were the 21 U of T athletes – students and alumni – who competed in the Games, smashing records and winning medals – even if it meant running with a shoe half-off. There were gold medals for  U of T trampolinist MacLennan; rower Kate Sauks and badminton's Michelle Li (who also picked up a bronze in the women's doubles) and silver medals for equestrienne Belinda Trussell and hurdler Sarah Wells (Wells also won a bronze medal in 4X400m relay). Swimmer Zack Chetrat picked up a bronze when he smashed the Canadian record for 200m butterfly and there were two bronze medals for Lucinda Nowell in rhythmic gymnastics. Amanda Woodcroft and Alex Thicke picked up bronze medals in field hockey; and first-year student Anqi Luo won a bronze medal in table tennis. PhD student and runner Sasha Gollish won a bronze medal in the 1500m race, despite almost losing one shoe.
As we wait to see what the Parapan Am Games will bring, here are just a few of the highlights from the Games so far: