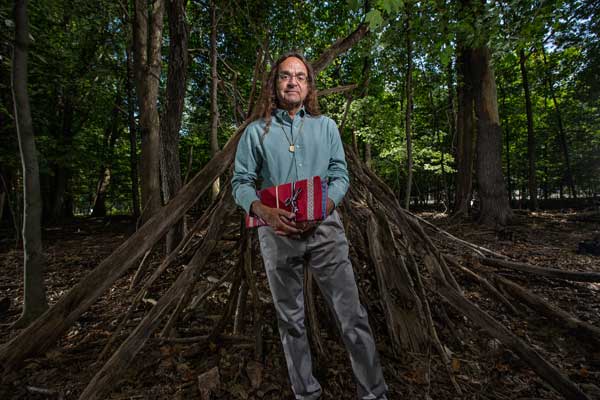 Toronto 2015 Pan Am/Parapan Am Games and the wisdom of Cat Criger
Indigenous elder began working with the Games three years ago
Cat Criger is ready to help competitors and volunteers alike at the Toronto 2015 Pan Am/Parapan Am Games.
"I'm very much looking forward to this," said Criger, who will be serving as Aboriginal chaplain at the Multi-Faith Centre in the Games' Athletes Village.
"Part of the joy of working at the university is the chance to meet people from every culture on the planet. The Pan Am Games brings together people from two continents spanning half the globe, plus various islands. It is of great fascination to me."
Criger, whose father was a Cayuga from the Six Nations of the Haudenosaunee, is the University of Toronto Mississauga's Aboriginal elder. He will be on hand to assist participants in coping with any stresses brought about by the Games. But his involvement with the Pan Am Games began three years ago. That's when he was invited to serve as elder for the Aboriginal Leadership Partners, the group that has responsibility for ensuring the Games involve Indigenous peoples in a variety of ways, including employment and legacy.
"He's everything you would want in a calm resource," said Kenneth Ross, the senior manager of Aboriginal relations for the Pan Am Games. "It's important to have a calm guy with teachings so a committee can get through difficult bits to reach consensus."
Criger's work with the committee led to consulting work with Le Cirque du Soleil last year, advising the creative minds about how to integrate concepts from Indigenous culture into the opening ceremony for the Pan Am Games and explaining what was appropriate and inappropriate.
"It was a unique honour," Criger said.
Criger also served as the elder for some of the local torch-bearing ceremonies leading up to the Games, explaining the symbolism of carrying fire.
During the Games, Criger will be on hand at the Multi-Faith Centre to provide what he calls "neutral, spiritual support" to athletes and others. He will talk with them about anything that is on their minds, whether it is winning, losing or relationship issues.
"I am there for sharing wisdom, providing some life philosophy," Criger said. "To be an elder is to be recognized by the community as having lived through things. We are supposed to listen to everybody with the heart, filter what we've heard with our hearts and spirits in a non-judgmental way – using the lens of aboriginal philosophy – and come up with the best overview or approach."
Criger will also serve as a resource on Indigenous issues and practices. He anticipates that athletes will be curious about a culture that may be new to them and plans to hold some traditional ceremonies such as a smudge ceremony or a sunrise ceremony, to give them a window into Indigenous culture.
"However we can enrich the athletes' experience, we will," Criger said. "At this age, they are still impressionable and can still make changes in their lives, but they are also mentors for the youth who follow in their footsteps.
"We want to support them while fostering intercultural and interfaith understanding."