Stephen Toope nominated to lead Cambridge University
Munk School director thrilled to return to alma mater as first non-British vice-chancellor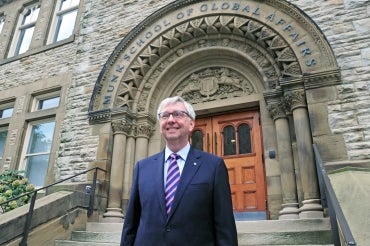 Professor Stephen Toope, director of the University of Toronto's Munk School of Global Affairs, has been nominated as the 346th vice-chancellor of the University of Cambridge.
Subject to the approval of the university's governing body, Toope will become vice-chancellor on October 1, 2017, succeeding Sir Leszek Borysiewicz. He is believed to be the first non-Briton to serve as head of Cambridge in the institution's 800-year history.
"I am thrilled to be returning to Cambridge," said Toope, who earned a PhD from Cambridge in 1987. "I look forward to working with staff and students in the pursuit of academic excellence and tremendous international engagement – the very mark of Cambridge."
U of T President Meric Gertler said he was delighted to see Toope's accomplishments recognized.
"While we are very sorry to be losing him, this is a great honour and tremendous opportunity that reflects the depth of Professor Toope's scholarship and the strength of his academic leadership," said Gertler.
"During Stephen's tenure as director, the Munk School has continued to enhance its reputation as one of the world's leading institutions of global affairs, culminating in its admission to the elite Association of Professional Schools of International Affairs. We are proud to know that one of our most distinguished leaders will soon be leading one of the world's great universities."
Toope was chosen after an international search led by Ian White, Master of Cambridge's Jesus College.
"Professor Toope has impeccable academic credentials, a longstanding involvement with higher education, strong leadership experience and an excellent research background," White said.
Borysiewicz agreed. "We are delighted to be welcoming a distinguished leader with such an outstanding record as a scholar and educator to lead Cambridge."
Toope told U of T News he had mixed feelings about the appointment, as it meant he would be leaving the Munk School and U of T.
"I really enjoy being here at the Munk School. Both the School and the University of Toronto have been tremendous to me. I'm very proud of the work that we've done in trying to articulate more clearly the purpose and aspirations of the Munk School."
Professor David Cameron, dean of U of T's Faculty of Arts & Science, said he was pleased that Toope will continue to lead the Munk School for another year before heading to Cambridge.
"In the short time that Stephen Toope has been at U of T, we have benefited greatly from his academic leadership, and I am glad that we will have another year of what my kids would call his 'quality time'," Cameron said.  "While we will be sorry indeed to see him go, we are happy to be able to contribute, through Stephen, to the global world of higher education."
Founded in 1209, the University of Cambridge is one of the oldest and most prestigious universities in the world. It consists of 31 constituent colleges with 18,000 students from all cultures and corners of the world. Cambridge consistently ranks as one of the world's best universities, placing fourth globally in the recent Times Higher Education World University Rankings. Its scholars and alumni include Isaac Newton, Charles Darwin, John Maynard Keynes, Sylvia Plath, John Cleese, E.M. Forster, Oliver Cromwell, the Prince of Wales, and former Indian prime minister Rajiv Gandhi.
Besides his PhD from Cambridge, Toope also has degrees in common law and civil law from McGill University, and graduated magna cum laude with his AB in History and Literature from Harvard University (1979).
He was president and vice-chancellor of the University of British Columbia from 2006-14. Previously, he served as president of the Pierre Elliott Trudeau Foundation, and dean of Law at McGill University.
Toope has a distinguished academic law career. He publishes in leading international journals on international dispute resolution, international environmental law, human rights, the use of force, and international legal theory, and has lectured at leading universities around the globe.
He has served the public in many roles, including as chair of the United Nations Working Group on Enforced and Involuntary Disappearances, as fact-finder for the Commission of Inquiry into the Actions of Canadian Government Officials in relation to Maher Arar, as a member of the Commonwealth Group of Experts, Consultation on the Constitution of Sri Lanka, and as research director, Office of the Special Representative concerning the Royal Commission on Aboriginal Peoples.
In recognition of his service and accomplishments, in 2015 Toope was inducted as an Officer of the Order of Canada and received honorary degrees from both the University of Alberta and the University of British Columbia. He has also been awarded the President's Award of Distinction for the United Way of Canada (2014), the John Read Medal of the Canadian Council of International Law (2015) and the Queen Elizabeth II Golden Jubilee Medal (2012).
---
U of T News reporter Terry Lavender sat down with Stephen Toope to discuss the news of his nomination as vice-chancellor of the University of Cambridge.
How did you feel when you heard you were nominated to be vice-chancellor of the University of Cambridge?
I was completely surprised. I didn't know that there was actually a search going on. It was completely out of the blue.
How did your family react?
I have three kids who are going to be in Canada for the foreseeable future. We're going to have to make that work. They're all very supportive and encouraging but I think they also recognize there will be some complexities with North Atlantic travel.
In 2012, Mark Carney, head of the Bank of Canada, was chosen to head the Bank of England. And now you've been chosen to lead the University of Cambridge.
The head of the Royal Mail [Moya Greene] is a Canadian as well, so there are a few Canadians floating around in prominent roles in England!
Will you be calling on Mark for advice?
Luckily I do know Mark, and I probably will actually call upon him for advice about deeper understandings of British society.
You did your PhD at Cambridge. Are you looking forward to going back?
That's part of the excitement for me. I had a wonderful time when I was at Cambridge. It was extremely rewarding and the university's ability to attract people from all around the globe was apparent every day. So that part of this opportunity is very encouraging and exciting.
You've been a university president before. How do you think heading Cambridge will compare to being president of UBC?
Every university has similarities and strong differences. Obviously, the basic functions are similar. The impulse towards knowledge through research, learning and teaching is very present in all institutions, but the particular ways that that impulse expresses itself are quite unique. So I suspect that there will be things that seem very familiar and there will be things that seem very new. I'm going to have to be very adept at listening and making sure that I understand before trying to weigh in too quickly with suggestions.
Will there be a transition?
I certainly will talk with the outgoing vice-chancellor, I'm sure quite often, and I certainly will want to learn from him. He's very distinguished and I think he's been an excellent vice-chancellor, so I will have much to learn.
What are you most proud of during your time at Munk School?
I really enjoy being here at the Munk School. Both the School  and the University of Toronto have been tremendous to me. I'm very proud of the work that we've done in trying to articulate more clearly the purpose and aspirations of the Munk School through a planning exercise that we undertook. So we now have a plan for the future of the Munk School. We have had a couple of curriculum reviews as a result of that. We now have a review of the curriculum of the Masters of Global Affairs program, which will continue.
I should say that I'm here for another year. I don't start until October or maybe sometime in September of 2017, and I will be 100 percent engaged in the affairs of the Munk School for that time.