Time to act on climate change is now, Suzuki tells U of T sustainability conference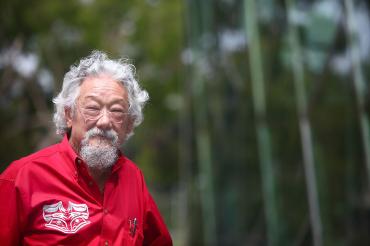 Listen to science and take action.
That's the message from David Suzuki, the renowned environmental activist, who addressed a University of Toronto audience via video link last week at a global sustainability conference.
"Who the hell do we think we are?" he said. "We think we can do things without unintended consequences. 
"We are at a moment without any precedent in the 4.5 billion years Earth has existed…We are so powerful that we are the main force altering the physical, biological and chemical properties of the planet. This truly is the Anthropocene (human-centred) epoch."
Suzuki's keynote speech and call to action closed out the second day of the three-day conference, Sustainability: Transdisciplinary Theory, Practice and Action, organized by Professor Shashi Kant and the staff and students of the master's program in sustainability management. The conference at U of T Mississauga drew 365 attendees from around the world, as well as 215 speakers and panelists. The audience included students, academics and representatives from industry, government and not-for-profit organizations.
Kant's vision is a global one and he ensured that the mix of presenters was also global, broadening the perspective of attendees and reinforcing the idea that everyone must work together to create a sustainable world. The conference explored sustainability from transdisciplinary perspectives, and included seven keynote talks, 10 panels, four training workshops, and 43 concurrent sessions on such diverse topics as sustainability and the sacred, sustainability in urban areas, designing lifelong learning communities to nurture SMART city ecosystems and enhancing sustainability of public transportation through design excellence.
"Sustainability is not limited to the environment, but it includes social, economic and cultural dimensions," Kant said. "I wanted our campus and others to understand that we all have a role to play in sustainability. We are all in this mess; we've all contributed and we're all responsible for this, and we all together, using a transdisciplinary approach, have to address it. We need everyone: academics and activists alike."
It's co-operation that Suzuki believes must happen soon, before greenhouse gas emissions cause temperatures to rise further, before Earth's protective ozone layer is destroyed and before forests and the healing oxygen they produce are razed.
"We're using chemicals that spread throughout the air, water and soil," Suzuki said. "We're all filled with toxic chemicals; we're plasticizing ourselves as well as the ocean and driving species to extinction. We're undermining the richness and abundance of our planet and making it less livable for all species."
Humans don't consider the consequences of their power, however, and with the advent of technology, they became more and more powerful, Suzuki said. People didn't consider the downside of many of their innovations until disasters occurred – banning DDT as a pesticide, for example, only after its genetic effects were apparent. Despite warnings from groups of respected scientists beginning in 1992, we paid no heed, and now, Earth is at a crisis point, he said.
"It's taking a 16-year-old child [Swedish activist Greta Thunberg] to tell us to listen to science," Suzuki said. "In the name of the economy, we're heading straight toward the loss of the future for our children and grandchildren. This is a terrifying moment in time.
"It's crazy for us to act as if climate change is only an issue for the Green Party. We need to act together. We need all Canadians to come together like they did when the Raptors won the NBA Championship.
"We must elect governments who say we're at war with greenhouse gas emissions. We must stop thinking about how to pay for this because we have no choice."
When students in attendance asked what they could do besides voting, Suzuki talked about a peaceful "revolution," with a march on Ottawa and a takeover of Parliament Buildings so students could hold a mock Parliament to pass the necessary green laws.
"I hope to see grassroots groups help people reduce energy use by 20 per cent," Suzuki said.
The main message of the conference, says Kant, was that "we all have a role to play in sustainability and anything and everything is possible with love for all and nature, and commitment for a change."
UTM