Tiff Macklem, dean of U of T's Rotman School of Management, appointed governor of Bank of Canada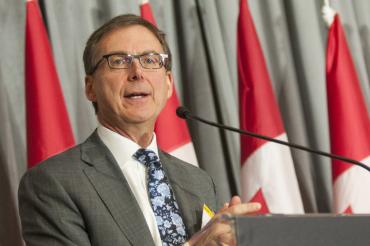 Tiff Macklem, dean of the University of Toronto's Rotman School of Management, has been appointed the next governor of the Bank of Canada.
Macklem, who will take over from current Governor Stephen Poloz on June 3, will be charged with leading Canada's pre-eminent macroeconomic institution, the policies and actions of which have a huge impact on the everyday lives of Canadians.
In addition to being accountable for the implementation of monetary policy and providing strategic direction and leadership, the governor of the Bank of Canada is also an active player in global economic and financial policy through participation in multilateral institutions such as the G7, the G20 and the Financial Stability Board.
"It has been an enormous pleasure to be the dean of Rotman these last six years. I am very proud of what we – the students, faculty and staff – have achieved together," Macklem said.
"I will bring with me everything I have learned from so many at Rotman and U of T as I take on my new role leading the Bank of Canada."
U of T President Meric Gertler congratulated Macklem on his appointment and said the Bank of Canada would be in good hands under his stewardship.
"The Canadian economy, like the rest of the world, has entered a time of unprecedented challenges", said President Gertler. "Looking at Tiff Macklem's outstanding accomplishments at Rotman over the past six years and his brilliant record at the Bank of Canada before that, I know that his energy, expertise and wisdom will serve the country extremely well."
"On behalf of everyone at the University of Toronto, I congratulate Tiff on his appointment to this key leadership position in our country, and I thank him for his many exceptional contributions to the Rotman School and to U of T."
Macklem was appointed dean of the Rotman School of Management on July 1, 2014. His re-appointment was announced by the university in November of 2018.
He is credited with creating a diverse and inclusive environment and adding depth to the school's offerings by launching specialized graduate management programs in fields like data analytics and health care. He championed experiential learning, expanded opportunities for Rotman students in Canada and abroad, and supported the global growth of entrepreneurship initiatives such as the school's Creative Destruction Lab, a seed-stage program for massively scalable science-based companies.
He also established new research and education centres, including the Institute for Gender and the Economy, the Financial Innovation Hub in Advanced Analytics, the TD Management Data and Analytics Lab and the David and Sharon Johnston Centre for Corporate Governance.
In December 2019, Macklem oversaw the launch of Rotman's new strategic plan, which laid out four key goals to ensure that the school is a place of bold research, transformative teaching and learning, and dynamic public engagement. Dubbed "A Catalyst for Change," the plan builds on the successful implementation of the previous plan and leaves Rotman well prepared for the future.
Since arriving at Rotman, Macklem has also chaired the Global Risk Institute and the Government of Canada's Expert Panel on Sustainable Finance.
"Tiff Macklem has raised the international stature of Canada's top business school, fostered an impressive network of alumni around the world and empowered students, faculty and staff to imbue their work with a remarkable spirit of innovation and collaboration," said Cheryl Regehr, U of T's vice-president and provost.
"With the launch of specialized graduate programs and the expansion of experiential learning and multi-disciplinary collaborations, he has left Rotman perfectly positioned to produce world-leading business talent, research and ideas for decades to come."
UTC