Tiff Macklem, the Bank of Canada's next governor, on his time at U of T's Rotman School of Management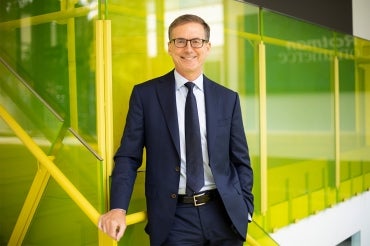 As students prepare to graduate from the University of Toronto's Rotman School of Management, their dean of six years is similarly embarking on an exciting new chapter.
Tiff Macklem, who has been the school's dean since 2014, has been appointed the next governor of the Bank of Canada, effective June 3.
In his new role at Canada's central bank, Macklem will oversee the implementation of monetary policy and wield influence on global economic and financial policy through participation in institutions like the G7, G20 and Financial Stability Board.
Macklem served as the bank's senior deputy governor before arriving at U of T.
With his time at Rotman drawing to a close, Macklem recently chatted with U of T News writer Rahul Kavapalle about his experience at U of T. He shared his thoughts on the evolution of business education in a fast-changing world and provided words of encouragement to students who are graduating amid the global uncertainties brought on by the pandemic.
---
Can you tell us about your time at Rotman?
My six years here have been deeply enriching. The unrelenting commitment of Rotman faculty to careful, often painstaking research; their courage to challenge conventional thinking; and their commitment to evidence-based solutions have inspired me to set the bar very high. And the unwavering ambition of our students to make the world a better place has made me more confident in our future.
I have also learned a great deal in my time here. Two things stand out in particular: First, the power of many great minds. Universities are wonderfully decentralized and democratic institutions, with new ideas and initiatives bubbling up from every corner. In many ways, I describe the role of dean as providing sunlight, water and fertilizer to the best ideas, helping faculty, staff and students take them to the next level. This facilitation function of leadership has more impact than anything you actually control.
Second, people truly want to help – so don't be afraid to ask and get diverse perspectives. One of the great pleasures of being dean is the many interesting people you meet and work with – from world-renowned scholars, to CEOs of large companies, to students with the earliest germ of an idea. Most of the best ideas I had at Rotman came from consulting with others and putting our heads together. Getting a diversity of perspectives made everything better.
What accomplishments are you most proud of?
There have been so many successful initiatives and innovations over the past six years, from more flexible, student-focused curricula, to new specialized programs, to new ways of teaching teamwork, leadership and entrepreneurship, to new research centres, institutes, labs and hubs. These are the fruit of lots of hard work, leadership and determination from our faculty, staff and students. Watching them take flight has been very rewarding.
But more important – and more enduring – is the evolution of the culture at Rotman. As I prepare to leave for the Bank of Canada, there is a strong culture of leadership across the school, with world-class scholars and inspiring teachers stepping up to take on leadership roles. The new leadership team – faculty and staff – is stellar, and there is a next generation of leaders behind them. The school is more diverse than ever: Gender equality is within reach in all our programs and the international, career and cultural diversity of our classrooms has grown. 
More important still, there is a culture of inclusion, helping us all broaden our horizons. The school is also more connected with the university than ever before, more outward looking and more inviting to the community. Our institutes and labs have become magnets, drawing leading organizations to the school, and our alumni around the world are increasingly engaged, supporting our students and faculty. This culture of leadership, inclusion and openness is now a promise embedded in our tagline: "Here's where it changes." Initiatives will come and go, but the strength and culture of the Rotman community leave me more confident than ever in the future success of the school.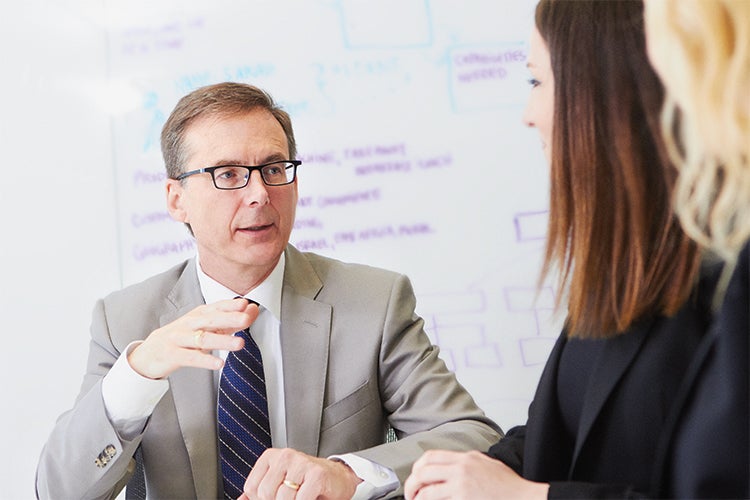 Tiff Macklem, pictured here in 2015, cites a long list of successful initiatives at Rotman over the past six years, including more flexible, student-focused curricula, new specialized programs, new ways of teaching teamwork, leadership and entrepreneurship, and new research centres, institutes, labs and hubs (photo by Gordon Hawkins)
You oversaw the launch of several new programs at Rotman, including graduate level programs in health care and data analytics, to name a few. What was the thinking behind them?
New specialized graduate programs have been created at the intersection of strong market demand and deep faculty expertise, focusing on areas where the school can be a global leader. With graduate degrees in risk management, data analytics and health care and life sciences, the specialized programs have been very successful, quickly attracting exceptional students. These programs have broadened the choice and opportunities for students and have enabled us to build on our expertise in hot new areas, creating new content and courses for all our programs and fuelling new faculty research in pressing areas of inquiry.
What will you miss most about academia?
There is a lot I am going to miss about Rotman: Our students' earnest questions and unbridled enthusiasm; faculty insights that cut through the noise and the staff's where-there's-a-will-there's-a-way ingenuity. I am particularly going to miss the buzz in the Rotman building. Our students bring a tireless energy, a hunger for knowledge and a desire to test themselves. Every time I walked into the building I was energized. I have really missed that buzz over these last two months of the COVID-19 lockdown. I am also really going to miss the ideas, the creative ferment, the unexpected collisions and connections, and the vibrant debate. Universities are magical places – and Rotman is a gem among gems.
Is there anything you will miss about U of T, in particular?
The breadth and excellence of U of T is simply stunning. There is a world-leading expert at U of T on almost everything. The Rotman School is surrounded by academic excellence across the sciences, humanities, social sciences, law, engineering, architecture, medicine – and the list goes on. It's a veritable feast at your doorstep. U of T is both a wonderfully decentralized collection of world-leading scholars and vibrant community that comes together to tackle societies most wicked problems. Rest assured: I will be calling with questions and challenges.
How has U of T's reputation as one of the world's leading hubs of artificial intelligence, research and innovation influenced the way the business education and training is taught?
What has changed in recent years is that tech is no longer a sector – it is every sector, every organization. New technologies like AI are changing business models and the way we work. Whole new services and products are being developed, and business models are being reimagined. U of T is at the forefront of new technologies like AI, but Canada has historically done a poor job of turning scientific leadership into commercial success. That needs to change. At Rotman we have been working on this in two directions: by exposing management students to the cutting edge of technology, and teaching tech experts the management skills they need to apply new technologies. Through the Creative Destruction Lab, students are working with cutting-edge science-based ventures, gaining first-hand experience commercializing science. And in new programs like the Masters in Management Analytics, we are teaching students with strong digital and tech skills the management skills to leverage new technologies.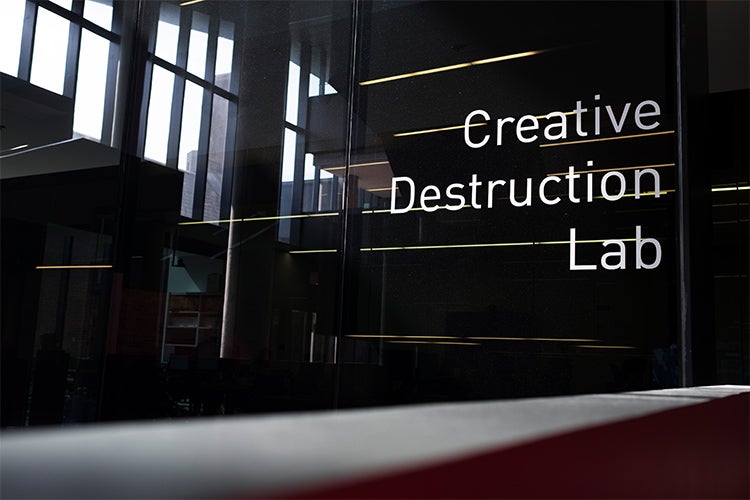 The Creative Destruction Lab, a seed-stage accelerator founded at Rotman, is built on the idea that business judgement is a scarce resource (photo by Geoffrey Vendeville)
You mentioned CDL, which has expanded rapidly over the past few years – both in the scope of the programs it offers and its global footprint. How do you account for the success of the program and how has it influenced Rotman's culture?
I attribute the success of the CDL to three things: The quality of the thesis, tremendous leadership and unparalleled partnership with the business, venture and academic communities. Like most great ideas, CDL is founded on a simple thesis: The magic of Silicon Valley is business judgment and that's our scarcest resource. CDL is Professor Ajay Agrawal's brainchild to test this thesis by connecting the most promising science-based ventures with the very best business judgment in a structured, objectives-based program. The genius of Ajay and his team has been rapid experimentation combined with impeccable execution and a relentless commitment to tapping the very best business judgment. Ajay also got a lot of help from a dedicated group of successful local entrepreneurs who believed in his vision and wanted to do something for Canada. CDL has itself grown rapidly from a startup to a scale-up with one-part sheer determination and three parts partnership, with leading VCs, large corporations and top universities around the world.
The brilliance of CDL is that three missions are being realized at once and each reinforces the other. It's simultaneously accelerating the innovation ecosystem, delivering unique and exceptional learning experiences for students at the intersection of entrepreneurship and new technology, and providing new insights into the characteristics of successful ventures and the commercial application of science.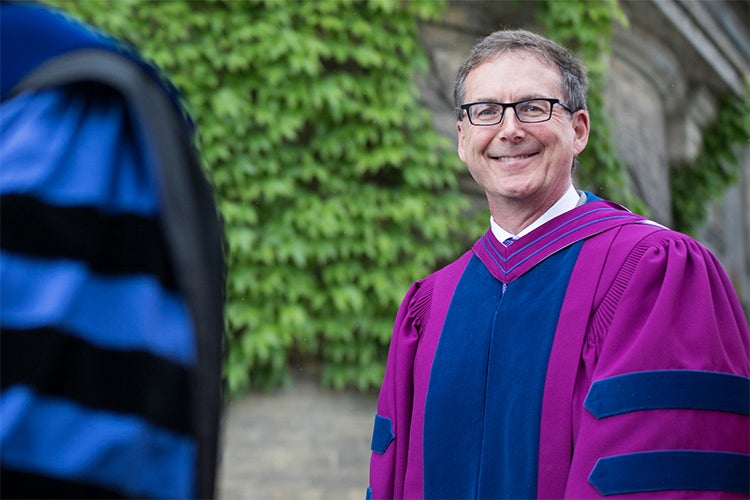 Tiff Macklem, pictured here at a convocation event in 2017, says Rotman grads are equipped "to be a catalyst for positive change in business and society" (photo courtesy Rotman School of Management)
As U of T prepares to mark spring convocation, what message would you like to share with Rotman students who are graduating and preparing to enter the job market amid the uncertainty brought about by COVID-19?
You are graduating at a very difficult time, a time of great disruption. But I am very confident in your future. You are tremendously well-equipped to be a catalyst for positive change in business and society. You have already made a difference in the lives of your classmates, professors and community. You have built a formidable intellectual and practical foundation that will bolster your success in whatever you pursue. You have made friendships that will last a lifetime. And perhaps most importantly, you have learned about yourself – your goals, dreams, talents and passions. All of this will travel with you as you set out to put your stamp on the world.
Any final thoughts?
I have loved my six years at Rotman. From the start, I was warmly welcomed by the faculty, staff, students and alumni, and I have had tremendous support from so many at every step along the way. I will now watch with interest as Rotman takes its next leap forward. And I will be quietly cheering you all on.
UTC