Through storytelling fellowship, three U of T Scarborough students reimagine an ancient Tamil epic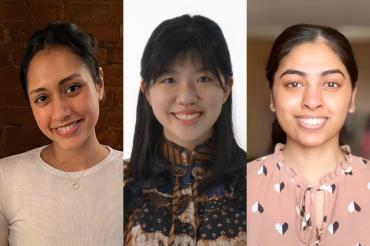 Students from the University of Toronto Scarborough are reimagining an ancient Tamil epic, bringing it to life in ways that honour its tradition while adapting it for the 21st century.
Through the inaugural U of T Scarborough Library Sophia Hilton Storytelling Fellowship, three U of T Scarborough students were awarded an eight-month opportunity and $4,000 to explore the art and practice of storytelling. This year, the fellowship focuses on the Tamil epic The Legend of Ponnivala Nadu. The title is translated into English as The Land of the Golden River, specifically referencing the Kaveri waterway in India. 
The tale begins with the Goddess Parvathi, who created nine farmers and told them to cultivate an expansive, forested land. It follows these men and their families across three generations – through triumphs, defeat, famines, curses, power struggles and gods trying to be helpful. The story's several principal Hindu deities are faced with the wider challenge of defending a broad set of morals while maintaining balance, fairness and wellbeing in the cosmos at large.
The fellowship was made possible by a donation from the Sophia Hilton Foundation, led by U of T anthropologist Brenda Beck, a specialist in Tamil folklore and the Indian state Tamil Nadu. She is mentoring students throughout the fellowship, which runs until March.
Under her guidance, they are learning how to tell dynamic stories and hone their creative skills.
"My passion is to help make this story relevant to Tamil-Canadians today so that many more students whose families have roots in this cultural area can feel proud of their unique, rich and, to date, largely unknown folk heritage," Beck says. "This story deserves recognition in the same class as any of the other great epics known to the world. Any and all listeners will be enriched by learning more about it."
The students will develop, test and execute a variety of storytelling delivery strategies for both online and in-person audiences. Their storytelling abilities will also be tested as they explore a wide variety of teaching plans and topics to develop innovative story-teaching approaches. They have creative freedom to explore mythical and symbolic themes, social justice issues, economic development and the impact on society, immigration and more. 
The students come from diverse scholarly and arts backgrounds – a testament to the fellowship's innovative structure that encourages interdisciplinary approaches to storytelling.
Christy Lorentz, a second-year journalism and English major at U of T Scarborough, applied to the fellowship because storytelling always fascinated her.
"I felt like this fellowship was calling my name," she says.
Lorentz adds that she most enjoys telling stories through movement using her background in ballet and performance. She hopes to choregraph dances inspired by the themes in The Legend of Ponnivala Nadu.
"There is a universal quality to dance that enables it to transcend linguistic boundaries and make up for where words fall short," Lorentz says.
She also credits the fellowship's potential effects on her work as a journalist. 
"This fellowship will allow me to actively refine my storytelling and communication skills so that I can better empathize with people and authentically represent their stories in my journalistic career, building meaningful connections that transcend geographical and cultural boundaries."
Shajaky Parameswaran, a third-year neuroscience major, will be focusing on the women in the story, along with their actions and relationships. She wants to combine both visual and written elements in her final production of the ancient tale. 
"I hope to find connections between the modern day and The Legend of Ponnivala Nadu, and share a story where women of all forms can feel empowered and inspired," Parameswaran says.
Coming from a Tamil cultural background herself, she saw the fellowship as a chance to learn more about her heritage. 
"I saw it as an opportunity that would allow me to connect with my language and culture."
Raina Daniel, a fourth-year philosophy and media studies major, hopes to turn The Legend of Ponnivala Nadu into a live performance series. She credits novelists Gabriel García Márquez and Arundhati Roy as inspirations. 
"As someone who has grown up witnessing the relationships in a close-knit, intergenerational family, different depictions of the dramas, joys and sorrows within a bloodline are always fascinating," Daniel says.
A dancer with a love of music, she is excited to experiment with different mediums to explore how The Legend of Ponnivala Nadu translates across various modes of expression.
"The beauty of dance and music is that they are some of the earliest forms of storytelling – ancient legends packaged in a catchy and entertaining way that can be remembered and passed on," Daniel says. 
"I suppose I just love the idea that these early forms live on today, and we can continue to invent new ways of passing on our favourite tales."
All three students are currently working together to create a series of podcasts about The Legend of Ponnivala Nadu. They hope to create an archive that can be widely shared later this year. The stories created through the fellowship will also be recorded for the U of T Scarborough Library's Digital Tamil Collections. 
UTSC