Three U of T undergraduate students on why they added Indigenous content to their studies
As a first-year student, Daniella Dziamba's interest in Indigenous studies was piqued during Democracy, Dictatorship, War and Peace, an introductory political science course in the Faculty of Arts & Science. 
"After completing a unit on the residential school system, I started to independently study Indigenous issues," says Dziamba (left), who is now in her fourth year at Victoria College pursuing political science and minoring in Indigenous studies.
"I realized there was a whole world of information that hadn't been taught in high school, and I wanted to educate myself about the original inhabitants of this country."
Dziamba is one of many undergraduate students in the department of political science who are incorporating the study of Indigenous Peoples, languages and governance frameworks into their studies – and for a variety of reasons.
"Recognizing that there is a lesser known history of Canada was the first step toward my interest in learning not just about Indigenous political issues, but about culture and tradition as well," says Dziamba.
Riley Yesno (left), a third-year member of Victoria College who is double majoring in political science and Indigenous studies with a minor in women and gender studies, is an Anishinaabe Indigenous rights advocate from Eabametoong First Nation. She grew up in Thunder Bay, Ont..
On top of her studies, Yesno has forged a path as a public speaker and writer, having participated in the Prime Minister's Youth Council and global events like the UN Climate Change Conference and the World Forum on Gender Equality.
Yesno says her immersion in Indigenous studies "is a way to keep me grounded and expand my understanding of my history, culture and community."
"I'm passionate about political processes and curious about the strengths and limitations of political institutions as change-making vehicles," says Yesno. Pursuing both Indigenous studies and political science has helped her realize how much the two fields of study complement and challenge each other in ways she could never have anticipated.
"The most rewarding experience has been creating a network of amazing mentors, friends and colleagues – both inside and outside the classroom," says Yesno of her time at U of T.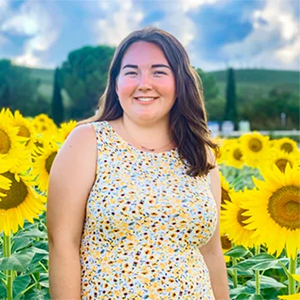 Third-year student Chiara Perry (left) shares Yesno's belief in the complementarity of Indigenous studies and political science. "I've really enjoyed comparing and contrasting the viewpoints of both programs. I've been able to apply the knowledge I've gained in Indigenous studies to my political science courses, particularly when writing essays."
Perry is completing a double major in political science and Indigenous studies with a minor in Italian culture and communication studies. She incorporated Indigenous studies into her course planning with the specific career goal of practising law and focusing on treaty rights.
"In high school, I participated in U of T's Youth Summer Program in the area of law advocacy, where I was first introduced to the topic of Indigenous law," says Perry, a member of St. Michael's College. 
"I was fascinated by how Indigenous law incorporates historical, spiritual and legal aspects of Indigenous culture into present-day Canadian law. I knew then that I wanted to pursue a career in Indigenous law."
Perry cites two language courses taught by Assistant Professor Ryan DeCaire as formative to her experience. In Introduction to Iroquoian Language and Intermediate Iroquoian, she learned not only the intricacies of the Kanien'kehá:ka (Mohawk) language, she also encountered diverse issues in Iroquoian culture, traditions, history and politics.
"I think all students should take at least one course in Indigenous studies to help them gain a better understanding of the people who occupied the land that the University of Toronto is built on," Perry says.
What are these students planning after their time at U of T comes to an end?
Listening to Indigenous voices and perspectives "is something I will continue to do after graduation," says Dziamba. "Taking Indigenous studies has had a deep effect on my career aspirations and I hope to use my privilege as a non-Indigenous person to bridge the gap that exists between Indigenous Peoples and settlers in Canada."
As for Yesno, she says that, "If you had asked me when I started my degree if I had political aspirations, I would have said absolutely. Now, I don't think that's really the path for me, but I hope I'll be able to find a way to bring my passions for community-building and storytelling together."
(inset photo of Riley Yesno by Lisa Macintosh)
Arts & Science