Three renowned senior faculty members at U of T are teaching small first-year courses – and learning along the way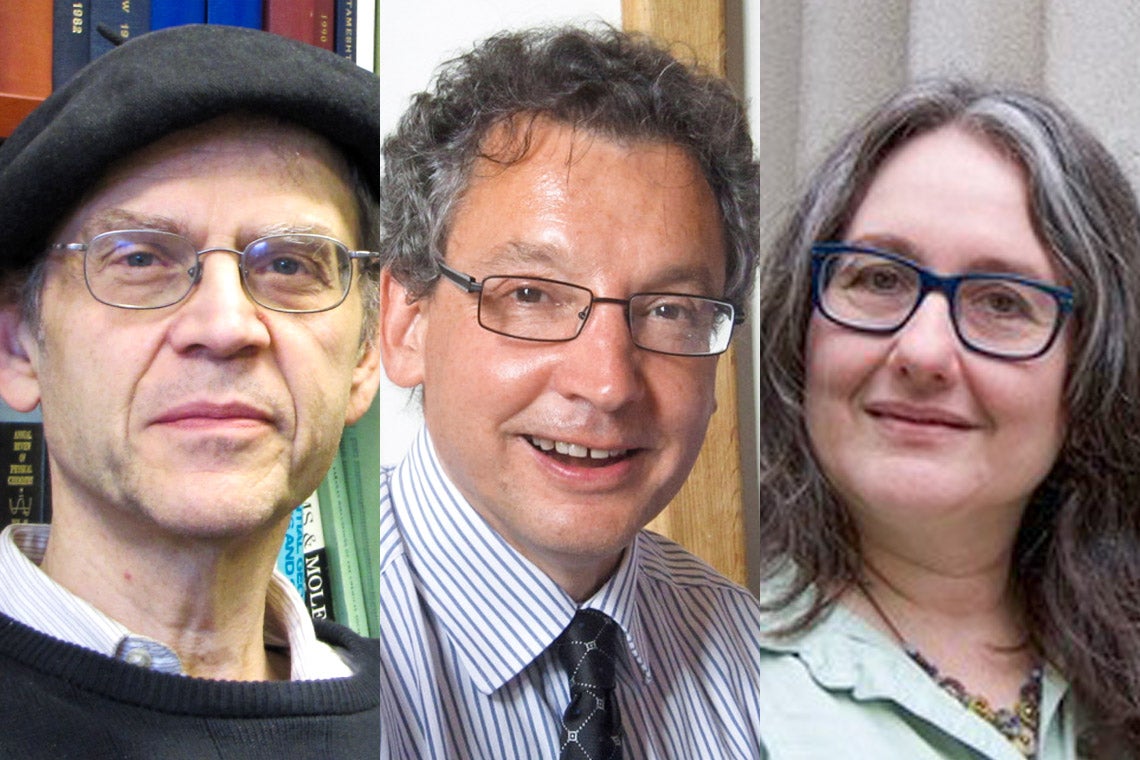 A fellow of the Royal Society of Canada, a Guggenheim Fellow and a CIC Palladium Medal winner: Three senior faculty members in the University of Toronto's Faculty of Arts & Science are taking their expertise to small seminars of first-year students this year – and discovering more about the undergraduate experience in the process.
David Dyzenhaus, a University Professor in the Faculty of Law and the department of philosophy, is teaching a first-year course called Trump, Illiberal Democracy and the Rule of Law. His course could not come at a more opportune moment as questions about impeachment and the rule of law dominate the news cycle.
"For first-year students at the beginning of September, it's their first time at university and they're so interested in learning," says Dyzenhaus, a fellow of the Royal Society of Canada. "They're ready to learn in a way that you don't always encounter in other students."
It's one of three courses – the largest with only 27 students – that offers an intimate atmosphere where students just starting out on their university journey can study with world-renowned scholars.
Naomi Seidman is also excited about teaching a first-year seminar. The Chancellor Jackman Professor of the Arts in the department for the study of religion and the Centre for Diaspora and Transnational Studies has spent much of her career teaching older students.
"I've never really taught new undergraduates," says Seidman, who is teaching a seminar on the Bible and how it speaks powerfully – and in many voices – about the experience of displacement and migration.
"I thought teaching one of these courses would be a way for me to have a small class and for the students to get an experience of university that they might not otherwise get in first year – and it's so much fun," says Seidman, who was honoured with a Guggenheim Fellowship in 2016.  
"It's such an interesting class, and an unusually diverse group of students. Starting post-secondary studies can be challenging, but it's also an exciting time: Suddenly, everything you thought you knew comes under scrutiny and you start questioning things."
Paul Brumer, also a University Professor, shares Seidman and Dyzenhaus's conviction that teaching first-year undergraduates is a rewarding experience for both teachers and learners. A theoretical chemical physicist in the department of chemistry, Brumer is teaching a course called The Quantum World and its Classical Limit.
"A small first-year class like this gives both the students and the faculty an opportunity to better understand the level at which students enter university," says Brumer, one of the youngest recipients of the CIC Palladium Medal, the highest award of the Chemical Institute of Canada. "We get to know their concerns – not just about the class material, but the university experience itself."
Brumer's class is open to all students including non-science majors, which he sees as an opportunity to teach more than just the minutiae of quantum mechanics, which is the study of the behaviour of subatomic particles like protons and electrons. 
"I also try to make this class about how to think more generally," says Brumer, citing the spread of misinformation online as a particularly troubling issue. 
"Quantum mechanics sounds very puzzling when you try to talk about it, so I think this opens students up to the issue of whether or not there are other puzzling things they should be questioning and trying to understand. I emphasize that we need to rely upon experimentation, proof, confirmation and verifiability, regardless of what subject we're talking about." 
Seidman and Dyzenhaus's seminars also focus on the kinds of analytical and critical thinking skills that can be applied outside of the classroom.
Dyzenhaus peppers his classes with plenty of real-world examples from cases that are currently before the courts or have recently been decided, such as the SNC-Lavalin affair or the Quebec government's ban on wearing religious symbols.
And Seidman's class on the Bible and migration is topical as the world engages in heated discussions about national borders, asylum, immigration and refugees.
"Contemporary politics and the Bible might seem like two really different things," says Seidman, "but these days, we've got people marching around with signs that say things like, 'Be kind to the stranger for you were a stranger in the land of Egypt.' That's a quote related to the Bible and it's suddenly being used in a pretty intense way in political discourse on issues of migration."
"I hope my students recognize that academic work, while it may at times seem esoteric or not relevant to our day-to-day lives, is actually a really helpful way to comment on the news and contemporary issues."
Arts & Science