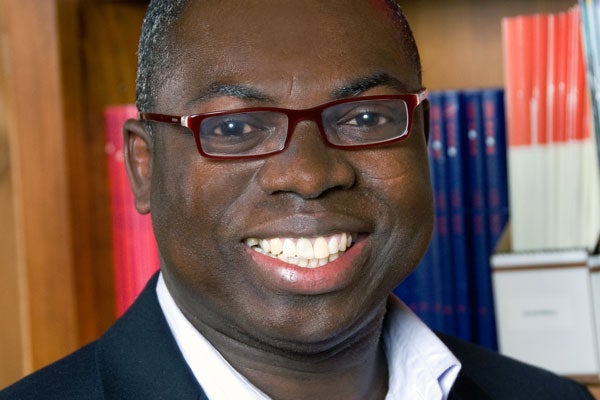 Thomas Tieku: serving the global community
Community engagement is one of the cardinal features of New College, but few people realize how many New College professors are involved in different causes at the local, national and global levels.
Jointly appointed to New College and the Munk School of Global Affairs at the University of Toronto, Assistant Professor Thomas Tieku of African Studies reflects on the work he does outside the classroom.
Like most of my colleagues, I wear many hats outside of the classroom, but the two works that take a considerable amount of my time when I am not teaching or doing research are anti-poverty initiatives and conflict mediation work.
I am a member of a group of academics led by Yale University Philosopher Thomas Pogge who have come together under the auspices of the Academics Stand Against Poverty (ASAP) to build consensus on effective anti-poverty objectives that will replace the expiring United Nations Millennium Development Goals (MDG) in 2015. In collaboration with a coalition of over 380 Civil Society Organizations, ASAP is providing academic input to the United Nations' post-MDG High Level Panel, led by the British Prime Minister David Cameron. This is very timely and important work, and ASAP has already introduced a number of items to UN's official agenda, including a requirement that participation of those living in poverty be made a prerequisite for post-MDG success.
I have also had the privilege to provide expertise in the mediation of several civil wars. Since the mediation work is done on a strictly confidential basis, I unfortunately cannot speak of this work specifically here. I can however speak of the annual African Union High Level Retreat for Mediators and Special Envoys which I attend. The main goal the annual retreat is to provide opportunities for AU mediators to review successes and failures, and to draw lessons from the organization's mediation in conflicts over the past 12 months. 
This year's retreat was held in Cairo, Egypt from November 3-4, 2012, and brought together selected former African presidents, retired African UN diplomats, senior AU management, the leadership of the UN system, Western Ambassadors accredited to the AU and conflict management experts from Canada, France, United Kingdom and the United States of America.
This year I had the honour of addressing delegates on the topic of peace education in a plenary session, and was more than thrilled when the outcome document for this year's retreat, titled The Cairo Declaration, included a suggestion for the AU to work towards the integration of peace education in African school curricula.
In ways that are not immediately obvious, these works enhance my teaching and the overall experiences of our students back at U of T. The mediation work often gives me new insights into the latest negotiation strategies, processes and tactics, which are then transmitted to the students in my classes. This ensures their coursework is both current and relevant for a changing world. They have also occasionally put me in a position to help students challenge conventional, outdated academic wisdom.
Through the mediation work, I have also been able to lay the groundwork for initiatives such as the International Course Module which provides opportunities for students to enhance and develop their analytical and research skills through international field trips that take place during reading week.
In February 2012, I led a group of 15 students from New College's African Studies program to Addis Ababa, Ethiopia, where they met with officials from the African Union, the United Nations' Economic Commission for Africa, the European Union delegation to the AU and the Canadian and American Embassies in Ethiopia. My work outside the classroom allowed me to create a bridge for our students to experience first-hand the organizations they had been reading about. (Photo courtesy Hillary Burch)
I am able to participate in these global initiatives mainly because I luckily found myself in New College where community engagement is celebrated. It is indeed gratifying to be part of a college which creates the necessary space for its faculty members to step outside of their comfort zones in the Ivory Tower to contribute to the greater good of their communities.
Read more articles from Re:New, the 50th anniversary edition of New College magazine.