They started here: U of T recognizes top inventions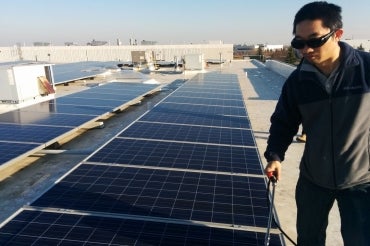 Some of the most inventive minds at the University of Toronto are stepping into the limelight.
This year, the U of T Celebrates Innovation event recognized four ground-breaking inventions – created here on our campuses – that have the potential for global impact and commercial appeal in medicine, electronics and energy production.
The event on May 17 also fêted the nine winners of the Connaught Innovation Award, who are sharing $750,000 in funding to accelerate the development of promising technologies at the university.
Helping celebrate and recognize these innovation leaders was special guest Ontario Lt.-Gov. Elizabeth Dowdeswell, who took part in the ceremony as part of her first official visit to the university. Nobel Prize winner and University Professor John Polanyi was also on hand to lend his congratulations to the winners.
"Having our work recognized by the university through this award is an incredible honour. Such amazing work is produced by the faculty and students at the University of Toronto every year that being selected among this group is a very humbling experience," says Invention of the Year Award winner Kacey Prentice.
The U of T PhD graduate and her co-inventors, Professor Michael Wheeler and research associate Feihan Fay Dai of the department of physiology, have created tests using a substance known as CMPF to help predict people at risk of developing diabetes much earlier than current methods allow. They believe CMPF could hold the key to possibly predicting and preventing diabetes.
Other inventions recognized this year include:
DeepBind, which combines artificial intelligence and genomic medicine in the first-ever deep learning application for determining the specificities of DNA- and RNA-binding proteins. The team behind the invention is postdoctoral fellows Babak Alipanahi and Andrew Delong, as well as Professor Brendan Frey of U of T's department of electrical and computer engineering.
Phantin, an anti-dust, self-cleaning coating technology that can help keep solar panels clean, resulting in greater energy production and less maintenance. The team behind the invention is research associate Cheng Lu and Professor Cynthia Goh of U of T's department of chemistry.
Printem, which enables anyone to manufacture electronic circuit boards with the patented Printem film and a standard office printer. The team behind the invention is PhD student Perumal Varun Chadalavada and Professor Daniel Wigdor of U of T's computer science department.
With the growing amount of innovation activity across our campuses, determining the year's top inventions is a challenge – which is great news, says Vivek Goel, U of T's vice-president of research and innovation.
 "We generate ground-breaking ideas at U of T – we always have. But we're also committed to ensuring these ideas are applied to benefit society. One important way to help this happen is by supporting more and more of our researchers as they seek to take their ideas and commercialize them," Goel explains.
"This year, we're recognizing four outstanding inventions – and the teams behind them. The scope of these inventions and their potential to improve people's lives around the world is truly limitless. We look forward to seeing where they go next."
Since 2010, U of T and partner hospitals have emerged as leaders in the creation of research-based start-up companies. Helping fuel this growth are nine campus-linked accelerators and more than 60 entrepreneurial program and course offerings under the umbrella of the Banting and Best Centre for Innovation & Entrepreneurship.
In 2015 alone, these accelerators worked with more than 225 student-led startup teams and supported more than 80 new companies that attracted nearly $20 million in investment and generated $2.5 million in sales.