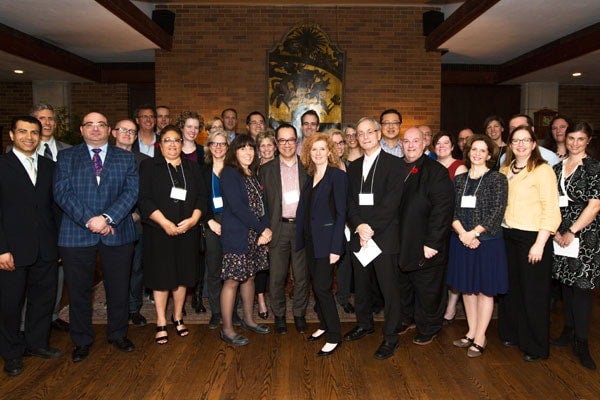 These teachers are transforming the learning experience at U of T
Celebrating 2014-2015's award-winning educators at the Excellence in Teaching Reception
They've engaged undergrads by breaking ground in the development of Massive Open Online Courses, technology-enhanced learning, inverted classrooms and more.
And they've mentored and inspired students at every level, across faculties and divisions.
Vice-President and Provost Cheryl Regehr celebrated these pioneering educators at the second annual Excellence in Teaching reception on Nov. 3, welcoming recipients of diverse teaching awards from across the university's disciplines.
"You find creative ways to transfer your passion for inquiry to the next generation of thinkers and problem solvers," Regehr said. "You infuse our learning environment with energy and innovation that inspires your students and your colleagues. You exemplify the gift of outstanding teachers who help their students expand their horizons and discover new ways of thinking."
Regehr presented the four inaugural Early Career Teaching Awards to UTM biologist Fiona Rawle, UTM historian Kyle Smith, UTSC biologist Aarthi Ashok and astronomer Mike Reid from U of T's downtown campus. U of T News recently profiled these award-winning early career faculty members whose work demonstrates an exceptional commitment to student learning.
FIONA RAWLE, BIOLOGY (associate professor, teaching stream, department of biology, UTM)
"I was able to see how passionate and dedicated she is about eliminating academic barriers and improving student success," said Ashna Khanna, a fourth-year student of biology for health sciences and psychology at U of T's Mississauga campus, who met Rawle in her first-year class.
"Over the years, I've gone to Professor Rawle for advice and encouragement. She mentored me and provided me with the confidence to take on challenges in my academic career that I never imagined possible." 
KYLE SMITH, HISTORICAL STUDIES 
(assistant professor, department of historical studies, UTM)
"His uniqueness in teaching is his ability to expand the material beyond the books," said Hammad Khan, a sociology PhD and one of Smith's former Christian history undergraduate students. "His use of pop culture, art, literature and material from other academic disciplines in topics of religion make his lessons insightful and fun."
MIKE REID, ASTRONOMY 
(lecturer, department of astronomy and astrophysics, Faculty of Arts & Science)
"Mike conveys the sort of enthusiasm you dream about from all teachers," said Jesse Hildebrand, a recent U of T alumnus and founder of Science Literacy Week. "He shares many inspiring opportunities, such as looking through a telescope at the rings of Saturn. My favourite university experiences happened in his class." 
AARTHI ASHOK, BIOLOGY 
(associate professor, teaching stream, in the department of biological sciences at UTSC)
"Professor Ashok promotes abstract thinking and inquiry by constantly reminding students that anything is possible in the field of science and that we have still much to uncover," said Aarushi Bansal, a fourth-year human biology and psychology student who learned cell biology with Ashok.
Shafique Virani, Distinguished Professor of Islamic Studies at the University of Toronto's Mississauga campus and former winner of the President's Teaching Award, said he nominated Kyle Smith for the Early Career Teaching Award.
Virani explained that as past chair of the department of historical studies, he sought to recruit faculty with a passion for teaching undergraduates. He worked with Carol Rolheiser, director of U of T's Centre for Teaching Support & Innovation, to develop a hiring process that would let teachers shine – this included a sample lecture to undergrads with student evaluations contributing to the final decision.
"That protocol helped bring in a number of amazing people, including Kyle Smith, who is a brilliant researcher as well as a brilliant teacher. And the two really shouldn't be thought of as separate," said Virani. "Kyle is such a great teacher because he's able to communicate cutting-edge research endeavours he's involved with to his undergraduates – and I think that excites students a lot."
"That connection between research and teaching is what sets U of T apart from many places," he said. "For a professor to come in and let students know about the newest discoveries – What are things that we know now that we never knew before? – teachers like Kyle bring those questions to life because they're involved in answering them right now."
Re-thinking and re-inventing the undergraduate experience is one of three priorities recently announced by University of Toronto's President
Meric Gertler
.
(Read more about the Three Priorities)
His one-pager describing U of T's refreshed approach to undergraduate education sets out the goals of preparing students effectively for lifelong success, demonstrating how teaching programs prepare students for successful careers and create larger social benefit, anticipating and leveraging recent developments in teaching and learning technologies and more.
(Read the one-pager)
Also recognized at the Excellence in Teaching reception were a diverse range of teaching-stream faculty, including winners of:
Faculty and divisional teaching awards
University-wide awards
Teaching awards from student groups
Awards from external organizations (e.g., 3M Teaching Awards, Ontario Confederation of University Faculty Associations, etc.)
Early Career Teaching Awards
Regehr noted Gertler's keynote remarks from the 2014 Teaching and Learning Symposium, where he spoke of many tens of thousands of students emerging from the classes, tutorials, libraries, labs and offices of U of T's outstanding teachers "better prepared for a lifetime of learning."
"I want to thank you for being the pedagogical pioneers and innovators that make the University of Toronto a fantastic place to learn," concluded Regehr.