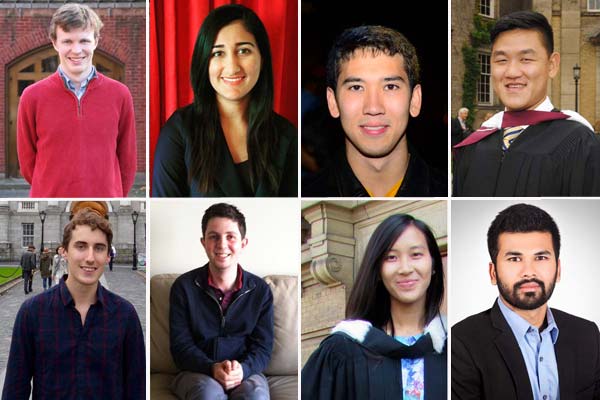 These eight U of T undergrads were invited to Dublin thanks to their research: global Undergraduate Awards
Papers explored fuel savings in space, mindfulness and the student experience, pacemaker tech and more
As U of T undergrads, their research explored such diverse topics as the properties of things, fuel-efficient satellites, the role of botany in The Faerie Queene and improved cancer tests. 
Their papers, written during their final years of undergraduate study at U of T, were so impressive they made the Highly Commended list at this year's Undergraduate Awards – the international competition for top students from around the world.
To make that list and receive an invitation to the awards' Global Summit in Dublin starting Nov. 10, a student's academic paper or research must be ranked in the top 10 per cent of more than 5,000 submissions. The competition is open to students in their final or penultimate year of studies, which means U of T's eight participants are already alumni.
This year's finalists and their categories are:
Raghav Singal - Engineering and Built Environment
Dominic Liao-McPherson - Engineering and Built Environment
Xiyu [Tim] Liu - Engineering and Built Environment
Misha Boutilier - History
Ira Halpern - Literature Pre-1710
Roshaan Wasim - Literature Pre-1710 & Literature 1710-Present
Dean McHugh - Philosophy & Theology
Winnie Lieu - Psychology
U of T News profiled all of this year's Highly Commended alumni in a series on the Undergraduate Awards. Below is a wrap-up of all participants.
---
The series began with a look at Raghav Singal's improved model for cancer scanning and Winnie Lieu's work on psychology and student mindfulness.
Singal (right) "I believe in making the world a better place, and cancer is one of the biggest problems faced by us."
Lieu (left) "I wanted to see what research had been done on mindfulness in higher education settings, given that mindfulness has been gaining momentum in university campuses as a method to better address student mental health needs."
---
Next, U of T News spoke with Ira Halpern about his paper on botany in the Faerie Queene, and with Dean McHugh about his paper on tropes and properties in philosophy.
Halpern (right) "I found that botanical imagery served as a way of accessing themes in The Faerie Queene such as decay, the transience of pleasure, and death – great stuff for an English specialist."
McHugh (left) "Some philosophers talk about properties as abstract things (red-ness or atom-ness, for example) existing above and beyond the physical world. But I think that's a bit too mystical. Theory should strive to be grounded in concrete reality."
---
Roshaan Wasim's work research was recognized twice by the awards, once for her work on medieval plays and again for an exploration of post-apocalyptic literature.
Wasim "I became interested in [post-apocalyptic literature] after reading about several landmark legal cases in which judges around the world stopped deforestation projects by specifically citing the right of future generations to survive in centuries to come."
Read about Wasim and her research
---
Misha Boutilier, commended for his work on foreign policy, roundly thanked U of T supporters including Tina Park, Mairi MacDonald, Robert Bothwell and colleagues from his work with the university's Canadian Centre for the Responsibility to Protect.
Boutilier "By exploring misperceptions that led to [U.S. involvement with the 1971 India/Pakistan crisis], the essay may shed light on other cases in which great powers support states actively committing mass atrocities for strategic reasons."
---
The Undergraduate Awards series wrapped with a look at Dominic Liao-McPherson's research on satellites and Tim Liu's work on body-implanted electronic devices.
Liao-McPherson (left) "Unfortunately, it costs fuel to keep spacecraft in a desired orbit. So we looked at ways of reducing the amount of fuel needed by taking advantage of forces caused by the Earth's magnetic field. The control strategies to accomplish this were the main focus of my research."
Liu (right) "As a biomedical systems engineer, I am extremely passionate about bringing these implantable devices to life and providing new treatment options for those in need."
---