Theatre Erindale marks 30th season with classics, contemporary Canadian productions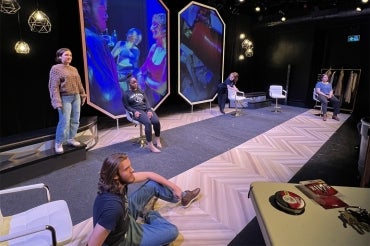 On opening night of their most recent production – Five Faces of Evelyn Frost – Theatre Erindale projected a QR code on the side of nearby Deerfield Hall to point to more information about upcoming performances.
"It was fascinating to see people scan the code, then turn around in surprise and see the Erindale Studio Theatre," says Mike Slater, operations manager at Theatre Erindale, the production company of the theatre and drama studies program offered by the University of Toronto Mississauga in partnership with Sheridan College. "It's amazing how many people ask 'Is there a theatre on campus? Can I see a show? Is it open to everyone?'"
The answer to all three, says Slater, is yes – and that has been the case for three decades.
Now in its 30th season, Theatre Erindale features performances by TDS students, who earn an advanced two-year conservatory diploma in professional actor training from Sheridan concurrently with a four-year specialist degree in performance history, theory, dramatic literature and dramaturgy from U of T Mississauga.
"It's six years of study in four years," says Meredith Scott, program coordinator and herself a graduate of the program.
Each TDS student works on at least two shows per year, all without missing any classes.
"It is a challenge to fit in rehearsals, which are Monday to Thursday evenings and all day Saturday, because we can't take them out of their daytime classes," says Slater, noting that rehearsals have to be scheduled around the school calendar.
Theatre Erindale's ongoing season includes works by William Shakespeare and Virginia Woolf, as well as two contemporary Canadian productions: Five Faces of Evelyn Frost by Quebecois playwright Guillaume Corbeil – which was wrapped up earlier this month – and Cockfight, a comedy by Toronto-based, Dora Award-winning playwright Kat Sandler, scheduled for February and March.
It's a genre the TDS program likes to emphasize for both artistic and practical reasons.
"This is the industry the students are going to go out into," says Scott. "Many of them may end up being part of these new works."
Contemporary Canadian productions keep the local industry strong, says Holger Syme, TDS's director of theatre, drama and performance studies.
"New Canadian work is the focus of government funding in Canada, which is why there is so much of it," says Syme. "Because of that support, even places like Stratford and Shaw – that ostensibly focus on playwrights from the U.K. – now regularly feature contemporary Canadian plays.
"We'd be doing our students a disservice if we didn't expose them to that work."
Another bonus of contemporary Canadian productions is access to the creators, says Syme. That's the case with Cockfight, which Theatre Erindale adapted with Sandler's assistance to better align with the gender balance of the class.
"As written, it is a play with a lot of masculinity, and that's not how we will be casting it," says Syme. "But the author, probably the most successful local director of her generation, was very excited about the idea of restaging and worked with us to rethink the play."
Slater says this graduating class is especially appreciative of being in front of live audiences after beginning their studies during COVID-19 lockdowns, when shows were created and performed online.
"You miss that reaction" with an online audience, he notes. "You know where the jokes are, but when the audience isn't there, you don't know if it lands the same. You just have to hope they are laughing at home," says Slater. "The cast really feels it when they don't have live audience feedback."
Syme noted the lockdown created many other challenges for theatre students. "All the productions were happening from home," he says. "The theatre staff also had to learn a lot of new skills – video-editing and trying to make live streams from 12 different homes, or on a three-camera setup – so they developed new instincts for that as well."
Scott says they considered this hybrid path when choosing works for this cohort's final year that would round out the students' education.
"There was a lot of conversations about choosing shows that challenged their theatrical training and used the muscles for live performance, physical and vocal dexterity that maybe they didn't get to practice as much in first and second year," she says.
The TDS program's third-year students are working on two productions: The Devised Project 2024, in which they create a show from scratch under a guest director; and this year's classic project, Julius Caesar, which they must condense into a 90-minute stage show.
"It's about embracing flexibility by changing classical text to create not a brand-new version, but one that takes advantage of what you can do with an old text – which is whatever you wish, because you don't need the same permissions and co-operations that you need from a living playwright," says Scott. "It allows students to explore a lot more possibilities in the script."
The third-years have been split into two casts of 12 for the production, meaning two edits.
"What's exciting is that audiences will see how different it can become in the hands of two different sets of artists," says Syme. "Even classics can yield wildly distinct performances. It gives it an air of unpredictability, which makes such exciting theatre."
---
Here are the five remaining shows in Theatre Erindale's 2023-2024 season:
Julius Caesar – Shakespeare's Roman Tragedy, with two texts performed by two casts, guided by two different directors (on now until Nov. 18)
Orlando – Virginia Woolf's tale of an Elizabethan nobleman who wakes one day as a woman and then traverses centuries without aging (Nov. 23-Dec. 2)
The Devised Project 2024 – an original work created by third-year TDS students under the guidance of an established director (Feb. 8-10, 2024)
Cockfight – Dora-Award-winning playwright Kat Sandler's heartfelt comedy about three foster kids growing up into a complicated family of their own making (Feb. 15-March 2, 2024)
As You Like It – Shakespeare's comedy about a duke who turns his woodland exile into a commune full of people in love with the wrong people (March 21-30, 2024)
UTM