Testing continues at Faculty of Medicine as prep for lab retrofits gets underway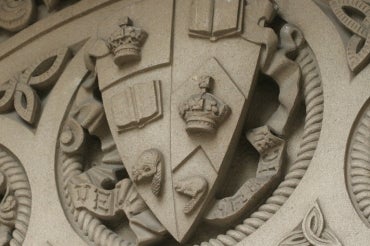 The University of Toronto is reviewing recent incidents where testing showed asbestos fibres in samples of dust found in lab-related rooms in the Medical Sciences Building (MSB) on the St. George Campus.
Asbestos was commonly used in building materials from the 1950s-1980s and is most hazardous if it is airborne and inhaled in high quantities over long periods of time. More than 200 air samples taken throughout the building to date have been tested and all have been below the occupational exposure limit for asbestos fibres. Extensive air testing will continue – and all tests indicate no evidence of hazardous levels of asbestos in the building's ventilation system.
"The health and safety of our students, staff and faculty is our paramount concern. We have been actively sampling air quality throughout the building since construction began last fall and during the recent incidents. All air quality testing has been well below the occupational exposure limit for asbestos," said U of T Vice-President Operations Scott Mabury, also a professor of chemistry. 
"We are doing our best to keep our students, staff and faculty informed, and to ensure they have access to occupational health experts who can address any personal health and safety questions. 
"As well, we are conducting a thorough review of procedures to trace the source of the asbestos fibres found in the dust samples and take concrete measures to minimize the risk of any possible breach in future."
A major renovation of labs at MSB – part of U of T's $190 million LIFT project to improve labs across all three campuses – began in November 2016 with a construction project to safely remove asbestos in seven locations on the third, six and seventh floors of the approximately 50-year-old building, which is standard practice for this type of work at U of T.
An occupational health physician and expert in environmental and workplace health – Professor Ray Copes of the Dalla Lana School of Public Health – has volunteered to review the results and provide an independent perspective.
"All of the air samples I've seen are well below occupational standards for asbestos in industrial workplaces," Professor Copes said. "That, along with the relatively short period of exposure, indicates that any potential risks to health in building users would be low. However, some further analysis of the air monitoring results may help provide useful additional information on the upper limit of any risk."       
Following completion of this work, there have been three events showing asbestos fibres in dust samples in February and March. These locations were immediately closed and thoroughly cleaned and tested.  
All air samples from all tests have been below the occupational exposure limit for asbestos. Asbestos fibres in dust are stable and are only released during vigorous agitation such as sweeping.
Two labs are currently closed as the university awaits the results of additional tests, beyond those officially required.
"The Ministry of Labour has visited the site and has not issued any orders or given direction to take further actions than those already in place" said Robert Thomas, Chief Technical Officer, Pinchin Ltd, expert in asbestos-related cleanup and monitoring.
"We want to assure our students, faculty and staff that we're meeting their concerns with effective health information, ongoing air quality testing, clear communications and – most critically – putting measures in place to prevent any future issues," Faculty of Medicine Dean Trevor Young said.
UTC