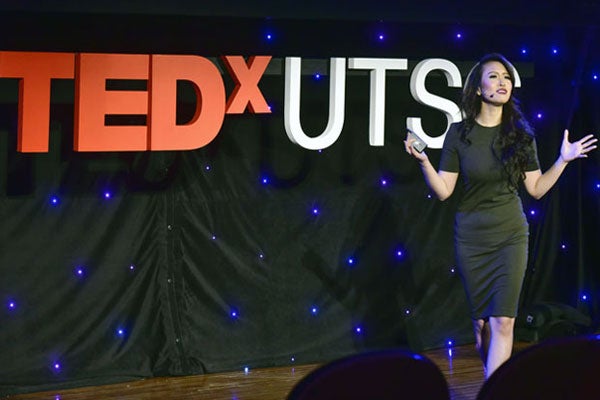 TEDxUTSC brings big ideas to U of T Scarborough campus
Sayada Nabi is a student intern at the University of Toronto Scarborough. Below, she shares her impressions of the TEDxUTSC conference held on Jan. 30.
Dare to know – that was the theme of the fourth TEDxUTSC conference, as a diverse range of speakers and performers shared tales of their quests for knowledge and self-discovery, encouraging audiences to reevaluate the way they think.
University of Toronto Scarborough alumna Valerie Visani started the day off with her presentation about what life is like for the students she teaches in the Democratic Republic of Congo. She discussed the obstacles and depths of corruption students have to combat in order to receive an education.
"I hope that you start the conversation for education...across Africa and the globe for students who are just fighting for their fair chance at a basic human right," Visani said.
U of T Scarborough student and Oneida woman Diane Hill explored "what it means to be a university student as well as being a native woman, navigating a post-secondary institution." She talked about her need to get in touch with her heritage and urged that education about Indigenous issues become mandatory in the Canadian post-secondary education system.
"How do you create community for yourself in a colonized world?" Hill asked.
Presentations by Associate Professor Shafique Virani and Associate Professor Maria Assif addressed the consequences of stereotypes and role of education in dealing with societal issues.
"When you construct stereotypes about others you are reducing the whole group to one particular instance in history," said Assif, whose expertise includes such topics as racism, colonialism and the literature of Arab women.
"When we are presented with only a certain subset of a story we are liable to make errors of judgment and wrong decisions," Virani echoed the sentiments. An Islamic studies expert, Virani is also known for his global volunteer work and support for schools in disadvantaged communities worldwide.
Keeping the audience on their toes, one presenter came with more than just a speech and a slide show. Admirers call him the father of wearable technology, and his presentation was packed with gadgets from the future. Only the future was now, and Steve Mann brought it to the audience.
Mann discussed augmented reality and demonstrated how the newest wearable technology works, to the fascination of the audience.   
Along with the talks that focused on education and technology, several of the speakers challenged the audience to discover more about themselves.
Melanie Blackman, U of T Scarborough's community development coordinator, urged the audience to find the rhythm of their lives, even if it requires stepping out of their comfort zone. 
UTSC alumnus Hamza Khan's presentation was a cautionary tale about his honest account of burning out due to his competitiveness and desire to constantly over achieve. "Burn bright, not out," Khan said. 
The conference concluded with Maliha Chishti reminding the audience "To do good, you have to be good."
Sayada Nabi is a student at the University of Toronto Scarborough