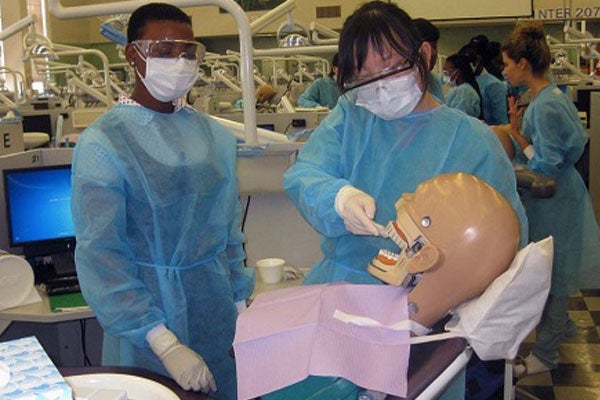 A taste of university for high school students: lectures, labs, dissections
Summer mentorship program in its 19th year
Trey Robinson is going places. The charming, confident high school senior is eager to help others, and through this year's Summer Mentorship Program, he's discovering how a career in health can help him do just that.
An honour roll student, Robinson is one of 48 high school students participating in the 2013 Summer Mentorship Program (SMP), an outreach initiative run by the Faculty of Medicine's Office of Health Professions Student Affairs.
Now in its 19th year, the program provides students from traditionally underrepresented communities with the opportunity to discover careers in health professions — including medicine, social work, pharmacy, dentistry, and nursing — by pairing them with current U of T students, faculty and staff.
"My guidance counsellor suggested I apply to the Summer Mentorship Program, and I'm very happy I did. I'm exploring different career paths, networking with health professionals and discovering new opportunities. The other day we made dental moulds. I couldn't do that in high school," says Robinson.
More than 600 students have graduated from the Summer Mentorship Program since it first began in 1994. Of the 238 SMP alumni that were sampled in a recent survey, 96 per cent have completed or are pursuing at least one university degree. Just over 80 alumni are pursuing a professional program in the health sciences, with 22 of them having completed or working towards a medical degree.
"SMP speaks to the Faculty's mission of social responsibility and leadership while being a transformative and meaningful experience for so many of the students. We look forward to continuing our relationship with these students after they have completed the program," says Ike Okafor, senior officer, Service Learning and Diversity Outreach Office of Health Professions, Student Affairs.
SMP students take part in a variety of health-related activities including dissecting cow eyes, working with cadavers to learn about the body's various systems and doing hands-on placements in hospital. They also visit the University's various health-related faculties and departments such as the Faculty of Kinesiology and Physical Education, Physician Assistant Program and Medical Radiation Sciences Program.
Through partnerships established this year, students also participated in placements at TAIBU Community Health Centre—which provides primary health care services to the GTA's black community — and Anishnawbe Health Toronto, a care centre that works to improve the well-being of Toronto's Aboriginal population. The program also introduced grants for students from the Aboriginal community — made possible by the Access Empowerment Council — to cover living expenses and transportation to and from Toronto.
Sessions on engineering research and the legal implications of health were also added, with support from U of T's law and engineering faculties.
"The Access Empowerment Council has made a five year pledge — with hopes to continue beyond — to empower Aboriginal youth through the Summer Mentorship Program. They will benefit from this unique opportunity and return to their communities as confident citizens and future ambassadors," says Diana Alli, president of the council.
For Robinson, SMP is an opportunity to do what he loves most — learn.
"My SMP mentors have a wealth of knowledge and they're always willing to share it. It's very inspiring to see them setting and achieving huge goals such as becoming doctors, dentists or nurses," says Robinson, who is considering dentistry as a potential career path.
Jessica Lee, another SMP participant, shares Robinson's sentiments. A recent high school graduate of Aboriginal-Vietnamese decent, Jessica's experience in the Faculty's anatomy labs is exactly what she needs before starting her Kinesiology degree in the fall.
"Initially I was a bit freaked out while working with real human body parts, but the things I've learned will come in handy during my university studies," Lee remarks.
The enthusiasm of students like Robinson and Lee inspires Professor Herbert Ho Ping Kong (Department of Medicine) to take SMP participants under his wing. An internist at University Health Network, Ho Ping Kong has been a mentor in the program for over 15 years. He enjoys working with students who complete placements at Toronto Western Hospital.
"It's really encouraging and remarkable when you see former SMP students who have gone on to medical school and beyond," he says.
Suniya Kukaswadia is a writer with the Faculty of Medicine at the University of Toronto.