Taro, mulberries and mangroves: undergrads explore the meaning of multiculturalism in Hawaii
"We were able to see issues particular to Canada in a new way and make a sober assessment of multicultural issues"
When the University of Toronto's  Bonnie McElhinny and six of her anthropology students think about Hawaii, it's not the lovely beaches, the surfers or the volcanoes that first come to mind. Instead, they picture the indigenous Hawaiian culture and activities such as taro farming, mulberry harvesting and clearing mangrove swamps.
During Reading Week, the associate professor was one of a number of Arts & Science faculty who led an International Course Module (ICM) – intensive hands-on learning experiences for undergraduate students in international settings. The goal of the trip was to study a multicultural society – other than Canada – up close and in person as part of their course Critical Perspectives on Multiculturalism and Settler Colonialism.
"The ICM offered students a comparative perspective," McElhinny said. "In Hawaii, no one group is a numerical majority, and there is significant migration from the same Asian countries as there is in Canada, as well as a significant indigenous presence.
"Both Hawaii and Canada say they address multiculturalism better than the mainland United States, and this was an opportunity to compare ourselves."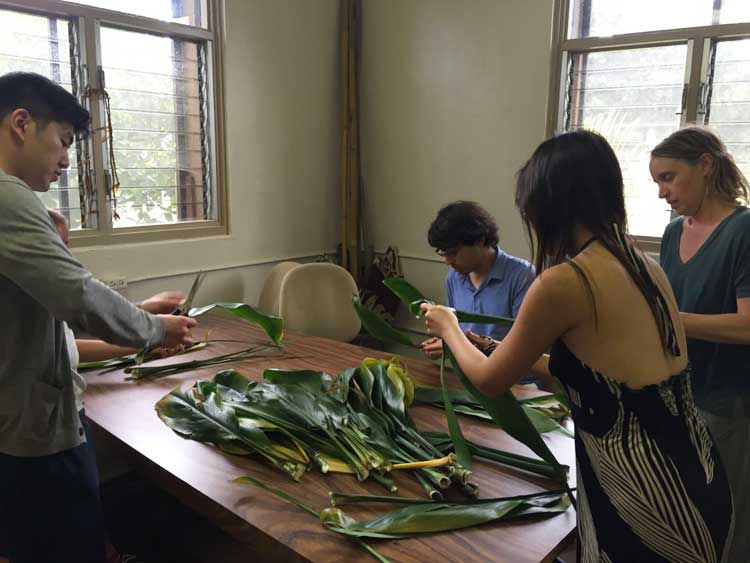 (Above: students make leis out of tea leaves at the University of Hawaii Manoa/ photo by Mirae Lee) 
The group was based in Honolulu at the University of Hawaii Manoa (UHM). Their ICM involved them in three types of activities:
An undergraduate conference with students from UHM and from Sweden focusing on indigenous and multicultural issues;
Visits to a number of sites that offered the public history of multiculturalism, such as museums; and
participation in a series of civic engagement activities with UHM that addressed various social problems in Hawaii.
The community activities, which included the aforementioned taro farming and mulberry harvesting, helped "build community in ways that were attentive to indigenous issues and to the multicultural nature of Hawaii," McElhinny said.
Taro fields in the Waipio Valley, Hawaii (photo by John S. Lander/Getty Images)
Students said they found the experience both memorable and enriching.
"Through participant observation, we learned the viewpoints of the indigenous Hawaiians," said Christopher Tsuji, a fourth-year specialist in socio-cultural anthropology. "We were actually getting to understand how they see themselves and their community's relationship with the land."
Mirae Lee, a third-year double major in socio-cultural anthropology and art history, said it was fascinating to find that whenever Hawaiians saw the multi-ethnic group from Toronto, they just assumed the students were locals, since Hawaii has such multicultural diversity.
"For me, this experience gave me awareness that although I'm an Asian immigrant to Canada, I'm still a settler on indigenous land," she said. "I'm a settler, not just an immigrant."
Crystal Gao, a third-year student in socio-cultural anthropology and urban studies, said the experience "made course material come to life."
"We were able to see issues particular to Canada in a new way and make a sober assessment of multicultural issues. Before we left we did some readings by the scholars we would meet at UHM. Then we got to engage and see them in action which allowed us to draw on new possibilities and find new ways of thinking."
Upon their return to Canada, the students made a poster presentation at the Arts & Science Undergraduate Research Fair and will also be making a presentation to their classmates. The students who did not take part in the ICM, had opportunities to visit community organizations and sites in Toronto to complement their classroom experiences.
"My goal was to ensure an enriched experience for both groups of students," McElhinny said.
She is eager to offer the ICM experience to her class again next year.
"I could see how engaged the ICM students were," McElhinny said. "I saw them thinking deeply about Canada. They always had an interest, but I could see them engaging intensely with these questions."
"Home always means something different when you return from an experience of this type," McElhinny said.
(photo below by Mirae Lee)