Talking geopolitics in Russia... and snacking on local delicacies: U of T students
This time next week, PhD candidate Kirstyn Hevey plans to be in Moscow collecting information for her research on Russian politics firsthand through factory tours and interviews with the country's top brass.
In her spare time, the second-year political science student wants to find a hole-in-the-wall to sample authentic borscht, caviar and responsible amounts of vodka.
"Russian food definitely doesn't have a great reputation, but I love it," she said. 
Hevey will be among delegates from 10 countries heading to the exclusive Stanford U.S.- Russia forum.
In its ninth year, the forum brings together students from around the world to discuss cyber security, trade, arms control and many other topics at a fall conference in the Russian capital. The eight teams then work on collaborative projects before meeting again at Stanford University, in California, in the spring. 
Alexis Lerner was a delegate at last year's forum and is now its director of research. She is working toward a PhD in the department of political science and the Centre for Jewish Studies at U of T. Her dissertation is about "authoritarian reaction to oppositional sentiment in the post-Soviet region." She is also behind another project on post-Soviet graffiti as a form of protest, which she wrote about in Foreign Policy. 

"The goal of the forum is to bring together scholars from nations in conflict to solve shared problems," Lerner told U of T News on the phone from downtown Moscow. "It's really a pleasure to discuss complicated issues in contemporary international relations and public policy with such a diverse and intelligent group of people."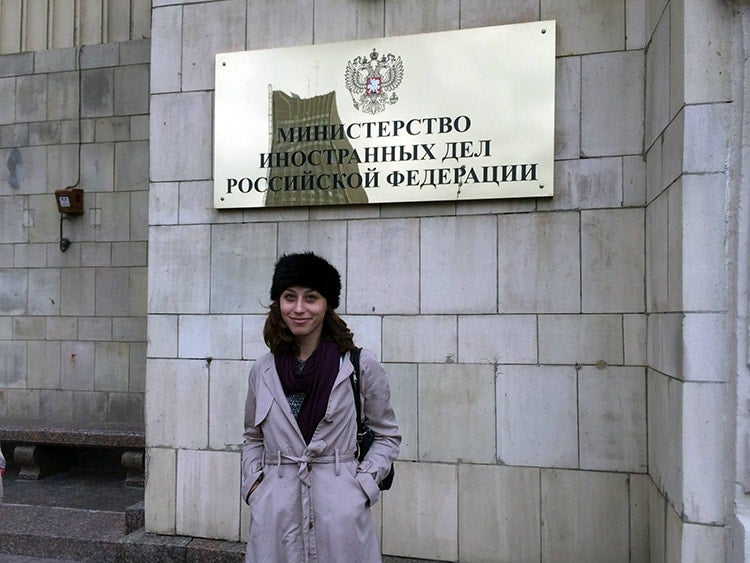 PhD student Alexis Lerner in Moscow (photo courtesy of Alexis Lerner)
The students are split into working groups of up to five people, mixing Russians and Americans. In the past, many have came from Ivy League schools – Harvard, Princeton and Yale – while others travelled from universities in the United Kingdom, Italy and Afghanistan.
In Moscow, the students will visit the foreign ministry and sit down with the former U.S. ambassador. They will also be presenting their research at the National Research University Higher School of Economics. 
Hevey's group is focusing on Russia's aviation industry. Until now, they've been holding project meetings over Skype. This will be the first time they meet in person.
In between her group's presentation and other planned events, Hevey hopes to sneak in visits to Lenin's Tomb and Red Square. 
The delegates will spend the second leg of the trip in Tyumen, a city of about 1.4 million in central Russia. Hevey is bringing her ski socks and long johns.
"It's -27 C there right now, so that'll be fun," she said with a laugh. 
UTC