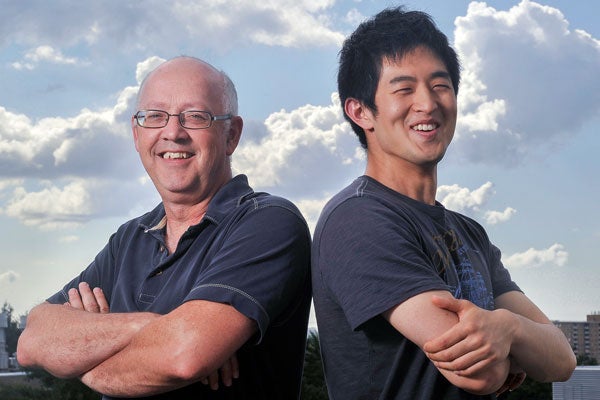 Talking about the weather
A conversation about rain: Bill Gough and Jerry Jien
Torontonians are still picking up the pieces following the massive rainstorm that swept through the city one week ago and experts are still debating how to deal with severe weather events in the future.
Last week, U of T News published a Q & A with Professor Jennifer Drake about the flood (read the Q & A). Today, University of Toronto Scarborough Climatology associate professor Bill Gough and third-year Environmental Science doctoral student Jerry Jien, who recently published a paper together on the impact of hurricanes on extreme rain events in southern Ontario, discuss the conditions that created the massive rainfall July 8, why flooding was so severe, and the need for a national strategy on storms and sewage.
Gough: In my memory, the most extreme rainfall prior to Monday's event I experienced occurred on July 14, 1987 when I was a second year doctoral student at McGill. In a matter of a couple of hours over 102 mm of rain fell. From my seventh floor window I watched as Sherbrooke Street filled with water and became a river. This time I was driving home from UTSC along the 401, encountering waves and waves of rainfall. Our power was out for eight hours but, thanks to renovations a few years ago, no flooding in the basement. Where were you, Jerry?
Jien: I missed most of the rain, but felt the immediate repercussion of the historic Monday night storm. I heard the news of the flood damages while in Vancouver scheduled to come home to Toronto on the next day. The ride on 192 TTC Rocket from Toronto Pearson Airport to Kipling was the first time I took this route at night and, with no electricity in the immediate surrounding area, we travelled through eerie pitch black Toronto-West neighbourhoods. Arriving at Kipling Subway station, riders were re-routed to shuttle buses since the subway from Kipling to Jane station was still unusable from the flooding Monday night. The darkness along the shuttle bus route caused me to worry about the safety of that area.
Gough: We've heard from Environment Canada and the media that the rainfall on Monday night set a record for one day, eclipsing Hurricane Hazel in 1954. Could you provide some context to this?
Jien: Yes you are right, it didn't take long for meteorologists/climatologists to review and pinpoint the rainfall record of the Monday evening storm.  Environment Canada has now reported the precipitation amount was 126 mm at the Toronto Pearson Airport weather station, largely falling between 4:30 and 6:30 pm.   It is not only one of the most intense rainfall events the city has ever witnessed within such a short two-hour span, this also breaks the single-day record set by Hurricane Hazel almost 60 years ago. That rainfall was 121.44 mm and was measured from the same location.
Gough: Extreme weather events are often remembered as lived experiences, as the many stories shared Tuesday morning attest. My parents were living in Toronto at the time of Hazel and have vivid memories of it. My mother remembers she was on the last bus that crossed the Humber River before the bridge was washed out. How was the Hurricane Hazel event different from Monday's storm?
Jien: The Monday storm was caused by a thunderstorm squall line and fueled by the release of latent heat after a day of intense surface warming. Hazel originated as tropical cyclone or hurricane, and developed over warm Atlantic water.
There are a couple of other aspects that may have been missed when comparing these two extreme weather events.
First, the duration of the two differed dramatically. This week, 126 mm of rain fell in two short hours during the busy evening rush hour, causing havoc as commuters travelled home for the day. Hazel was credited with 121.4 mm of rain in southern Ontario, which had already accumulated 31.8 mm of rain during the day before. So that meant there was a total accumulation of 153 mm, exceeding the recent storm by 27 mm. In total output the two storms were similar, but contrasted strikingly in intensity.
Second, the Monday night storm was missing an important aspect which a storm of tropical origin inherently possesses. Storm damage is often exacerbated by the intense wind gust of a rotating tropical storm. Although wind was not a dominant factor in the Monday evening storm, a combination of a powerful wind gust and heavy precipitation could have lengthened the nightmare of extended power outages and infrastructure damage, and even inflicted serious injuries and casualties. For example, with a wind gust that is greater than a typical summer afternoon storm, wind-related damage was responsible for the only human death in Toronto attributed to Hurricane Sandy, which in remnant form struck the city last fall. In the case of Hazel, a less informed and less-prepared Toronto experienced 81 deaths.
Gough: Finally, Jerry, this event comes on the heels of the devastating flood in Calgary. Is there something we need to learn from these events?
Jien: The fact that the downtown districts of two of Canada's larger cities, Calgary and Toronto, are largely covered with concrete pavement may have anthropogenically worsened the respective flooding situations by preventing surface uptake of rainfall. With more intense and possibly more frequent weather events expected in the future, a renewed national strategy for our storm and sewage systems is a high priority to more effectively handle runoff from rainfall. Even before Monday's event, rain this spring and summer has already inundated us with 50 to 75 per cent more rain than we would normally get, and that has stressed the local storm sewage system. If we act, we can minimize the impacts of a variety of future extreme weather events. With the expectation of more intense rainfall, public infrastructure must be updated accordingly. 
Bill Gough is an associate professor and vice-dean, Graduate Education and Program Development, with the University of Toronto Scarborough.