Talk it Out: U of T students provide free mental health counselling through online clinic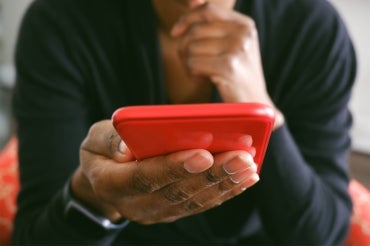 Mechelle Thomas, a student at the University of Toronto's Factor-Inwentash Faculty of Social Work (FIFSW), is providing weekly online counselling to a young man who would otherwise be on a long waiting list for mental health services. The young man has no privacy at home and does not want his family to know that he is seeking help – so he speaks to Thomas from a park bench near his apartment.
The unique connection is made possible by the Talk it Out clinic, a partnership between the faculty and several community agencies.
It offers free online or phone counselling to Greater Toronto Area residents who have been disproportionately affected by COVID-19, including Black and other racialized young people. Students in the faculty's master of social work program deliver the counselling as part of their practicum under the supervision of professional staff and faculty members.
"I wanted to be part of this clinic because of its priority populations," says Thomas, a second-year student who is studying Indigenous trauma and resiliency.
Having worked as a community health nurse for over a decade, Thomas says she was inspired to return to school to study social work after years of seeing clients and families struggle with mental health issues without access to adequate support. "The Talk it Out clinic is reaching those individuals," she says.
The idea for the clinic came to Lin Fang, an associate professor of social work and the clinic's founding director, during the early months of the pandemic. 
"I and many of my colleagues were feeling paralyzed and powerless, and we started thinking about how the faculty could help," says Fang, whose research focuses on mental health in racialized communities.
"It quickly became clear that marginalized populations were experiencing the most negative impacts from COVID-19, including mental health concerns. At the same time, our students were having trouble finding practicum placements because of pandemic restrictions."
Fang recognized the mutual benefits of bringing the two groups together: COVID-affected community members would receive timely access to mental health services and social work students would gain much-needed experiential learning opportunities.
The dean, faculty and Factor-Inwentash Faculty of Social Work Alumni Association quickly threw their support behind the initiative and the advancement office secured a major donation from Janis Rotman, in addition to support from CIBC and the Telus Community Foundation.
"FIFSW's innovative faculty and dedicated students are helping meet an urgent need for increased mental health support through the Faculty's new online clinic," says Rotman. "I am delighted to support this initiative and the Factor-Inwentash Faculty, which is doing amazing work in communities and touching lives."
One of the first challenges, says Fang, was finding a way to engage the target communities. She began consulting community health centres in neighbourhoods with large Black and racialized populations. "We discovered that many of these centres had clients on waiting lists for mental health care. Creating a program to bridge this gap fit perfectly within the faculty's mission of increasing our community impact through training and service."
The community health centres were receptive to the idea of referring clients to the new clinic, but wanted to ensure that centre staff would remain closely connected to the clinic team. Another priority was easing the transition to counselling for clients.
Basma Hakem, a youth wellbeing worker at the Jane Finch Community and Family Centre and U of T alumna, says many of her clients have little to no experience with therapy, let alone with an unknown provider outside their neighbourhood. "Affordability is a big issue, and so is the challenge of taking time off work to travel to an office," she says. "Stigma around mental health is also a barrier in some racialized communities."
For these reasons, Hakem says it's vital for counsellors to foster trust from day one. To do this, the clinic team developed a "warm handoff" approach, where a community centre staff member attends the first online meeting with their client.
"We act as a middle person who introduces the client to the counsellor and the therapy process," Hakem says. "The goal is to make the client feel as comfortable as possible, because we already have a relationship with them. It's a way of saying, 'You trust me, and I'm telling you that you can trust this person.'"
Sylvia Delgado, the inaugural clinic manager at Talk it Out, is a trauma counsellor at the Black Creek Community Health Centre, a graduate of the faculty's Indigenous trauma and resiliency field of study. She ensures the community partners remain involved after the first session and schedules regular check-ins where the counsellors and faculty supervisors share non-confidential information about clients' progress.
"We also work together as a team when clients have finished their counselling to make sure there's a safety net of services in place at the referring community centre," Delgado says.
In addition to the Black Creek Community Health Centre, the community partners include: Jane Finch Community and Family Centre, Parkdale Queen West Community Health Centre, TAIBU Community Health Centre and Unison Health and Community Services.
Delgado is currently in discussion with other potential partners, but counselling capacity is still limited. To date, 33 clients have been referred to the six student counsellors.
The clinic uses a brief therapy model, which involves six to eight sessions designed for people who are experiencing mild to moderate distress. "These are the individuals who have been falling through the cracks in the system more than ever during the pandemic," says Fang. "There tend to be more services available for people with serious mental illness, but we're seeing a steep increase in those experiencing isolation, anxiety and depression."
Before the clinic launched in March, students received comprehensive education and hands-on training – such as simulations on the online counselling platform – to prepare them for handling these issues and others, ranging from family conflict and peer bullying to policy and racial distress trauma. They also had to become deeply familiar with the centres and clients they would be serving through research and interviews.
For non-racialized students with no prior community experience, this is a crucial step, says Delgado. She shares her knowledge of intergenerational trauma and anti-Black racism based on over a decade working in child welfare in racialized communities.
"It is imperative that social work students gain the skills and knowledge of working from an anti-Black racist lens when working within these communities," says Delgado. "I believe that this placement offers them this level of reflection."
Both Thomas and Delgado hope that more Black and racialized students will choose to be part of the clinic in the future. "What I hear from my clients is that it feels good to be in the space we've provided, where they can talk to somebody who looks like them," says Thomas.
Clients have also said the online or phone format is more accessible than in-person counselling because it eliminates travel time and expenses.
"So far, the feedback from clients has been very positive," says Hakem of the Jane Finch centre. "They love the fact that they've been able to access services so quickly. Demand is already increasing through word-of-mouth."
Professor Dexter Voisin, dean of the Factor-Inwentash Faculty of Social Work says the free, online clinic is among the first of its kind for a faculty of social work in North America.
"The COVID-19 pandemic has shown us that telemental health is creating access to mental health services for persons who have been falling through the cracks, hesitant or unable to access traditional in person services," he says. "There is increasing demand for this mode of delivey, and it is exciting that our students can be trained to be effective telemental health service providers."
To assess the clinic's success, PhD students in social work are collecting data on clients' mental health before and after counselling. The long-term goal, says Fang, is to create a model that could be replicated by other social work faculties.
"We're starting out small, but we want to be part of a much bigger rethinking of mental health care service delivery. The demand is only going to increase post-pandemic, and we need to be creative in building access for the people who need it most."
Social Work