Syrian revolutionary who is now a U of T grad student speaks at UN Human Rights Council event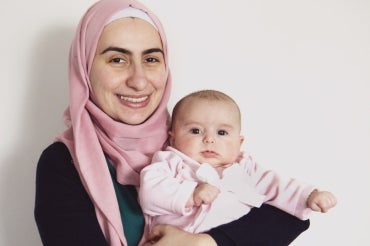 Five months ago, Noura Al-Jizawi was a Syrian revolutionary turned master's student at the University of Toronto.
Seven months pregnant at the time, U of T's Scholar-at-Risk has since given birth to her daughter, Naya. And while she plows through her academic work at the Munk School of Global Affairs, juggling classes, assignments and exams – all, while being a new mom – Al-Jizawi has not let up on her Syrian activism.
On Monday, she will be presenting at a side panel to the 37th Session of the United Nations Human Rights Council in Geneva, focusing on the forceful displacement of people in Syria, and advocating for the rights of refugees and internally displaced people in future negotiations with the government of Bashar al-Assad. Italy-based No Peace Without Justice and the Euro-Syrian Democratic Forum are organizing the event, which is co-sponsored by the governments of Belgium, Canada, Denmark, Liechtenstein, the Netherlands and Sweden. 
"We will be sharing as activists and eyewitnesses, as well as sharing our concern that people forced to displace, they will have the right to return home in the future, and they will not lose their property rights," Al-Jizawi says. "We will also be promoting the rights of people who are still suffering under siege."
In recent days, eastern Ghouta, which has been under siege for years, has come under particularly intense bombardment, with 400 civilians reportedly killed this week and hospitals and clinics under attack. Even as the UN Human Rights Council prepares to meet in Geneva next week, the UN Security Council is deliberating a ceasefire to allow emergency humanitarian deliveries and medical evacuations. More than 465,000 Syrians have been killed in the conflict, over five million people have fled Syria and six million remain displaced in the country since 2011, according to the UNHCR. The crisis, which has been described as the worst humanitarian disaster of our time, has left more than 13 million people in need of assistance inside Syria.
The side event in Geneva hopes to recommend procedures to the UN Human Rights Council about putting in place procedures to protect and guarantee property rights for displaced Syrians, advocate for the right to vote for those who have been forcibly removed from their homes, and push for resettlement operations to be halted in areas where Syrians have left en masse.
As a university student, Al-Jizawi helped launch the Syrian uprising in her hometown of Homs seven years ago. She was detained several times by Assad's forces, underwent torture and had family members who were arrested and beaten up before she fled to Turkey. There, she became a vice-president of the Syrian opposition, one of the few female leaders in the national coalition against the regime.
Last fall, Al-Jizawi came to U of T through the Scholars-at-Risk scholarship, which is a partnership between the School of Graduate Studies and Massey College. The program offers financial support to 24 graduate students and academics who have fled war or persecution.
Looking ahead to the future of Syria – to a time after the war ends – Al-Jizawi says it's important to remain hopeful and to think strategically beyond just activism. Hence, her pursuit of a master's in global affairs.  
"For the future of Syria, we won't need only activism experience," she says. "We need academic experience. We need to be thinking about innovative development strategies for a country destroyed totally – buildings, institutions and humans."
UTC