'A sustainable life for ourselves and the planet': U of T researcher on religion's role in saving the environment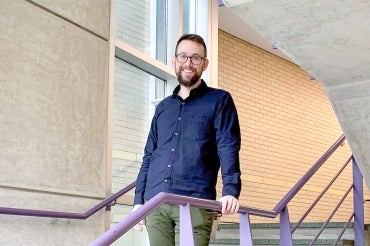 Sometimes religion doesn't catch up to current circumstances as fast as it should.
That's according to Tanhum Yoreh, a scholar of religion and environment at the University of Toronto. 
Yoreh's new book, Waste Not: A Jewish Environmental Ethic, aims to build bridges between ancient wisdom and contemporary global challenges so that faith communities have accessible pathways to environmental engagement.
"Faiths and religions haven't really been at the tip of the spear of the environmental movement," says Yoreh, an assistant professor in the School of the Environment in the Faculty of Arts & Science.
"But religion is an organized structure that can have a strong impact on the hearts and minds of people who are connected to it – if faith leaders wanted to activate that power."
Focusing on the Jewish concept of bal tashḥit – a prohibition against wastefulness and destruction – Yoreh's book traces how the prohibition has been historically interpreted and how it might be relevant to today's climate crisis.
There used to be a strong connection between bal tashḥit and the prohibition against self-harm – and Yoreh says he is hoping to bring it back.
"It's a common narrative in current secular environmentalism: We should care about the environment because we're harming ourselves," he says.
Born and raised in Toronto, Yoreh has lived in Montreal, Cambridge, Mass. and Jerusalem, where he led a neighbourhood planning study for ultra-Orthodox Jewish communities that sparked his interest in the connections between environmentalism and canonical Jewish texts.
"These communities who were supposed to be championing Jewish law, including the prohibition against wastefulness, were not doing it in a way that I expected. So, I became curious about why that was."
Yoreh claims that, for traditionalists, there need to be pathways to environmentalism that don't involve inserting new meaning into texts, but rather take meaning out of texts and traditions.
"Wastefulness is universally abhorrent," he says. "How it's framed within a religious context and related to environmental issues is where the challenge and the opportunity lies."
He thinks religious communities can harness the opportunity to connect their congregants to environmental ethics through the practice of their faith, and that ancient texts can reveal environmental wisdom that is relevant to the present moment.
"For example, the self-harm notion is an incredibly simple, beautiful and powerful message that really resonates with people. And that type of wisdom is found in abundance – not just in Jewish texts, but throughout all the ancient traditions." 
The School of the Environment, which Yoreh joined in 2017, is a hub for students, researchers and scholars from across the disciplines, bringing together many different perspectives to bear on today's pressing environmental challenges.
"The richness of the conversations that we're able to have and the diversity of students that take our courses is phenomenal," says Yoreh. "It's something I haven't really had anywhere else." 
Yoreh enjoys seeing his students discover connections between religion and the environment.
"There are multiple ways to reach a sustainable life for ourselves and the planet," he says. "And if some of these paths are within religion, then they need to be clear, well-articulated and accessible to the people who are going to gravitate towards them."
UTC