Sustainability research gets boost from DC microgrid at U of T Engineering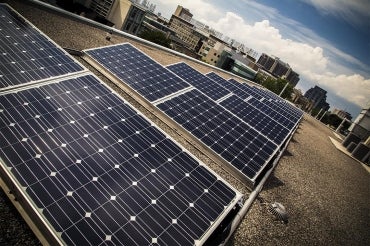 Researchers and students at the Faculty of Applied Science & Engineering now have access to commercial-scale solar arrays and energy storage facilities – with the ability to collect real-time data – thanks to a new, direct-current (DC) microgrid.
Located in the Energy Systems Lab at the Edward S. Rogers Sr. department of electrical and computer engineering (ECE), the microgrid passed its final commissioning stage and became fully operational in October.
"The microgrid forms the backbone of future DC research within our laboratory," Professor Peter Lehn said. "It's a golden opportunity to develop cutting-edge solutions for current societal needs, especially in the area of sustainability."
Microgrids are distributed energy grids that have their own generation sources, storage units and load; because they generate power from a cluster of local sources, they suffer less transmission loss than centralized AC power grids. And they can better integrate renewable energy sources, such as solar and wind, with battery energy storage systems and emerging DC loads.
Many modern loads – such as LED lighting, high-efficiency air conditioners and ventilation fans – demand DC energy as their input, which traditionally had to be converted from AC, incurring energy loss.
"The DC microgrid is a local, fully autonomous power system with ability to seamlessly exchange power with the AC utility when needed," says Lehn. "It's cheaper and more efficient.
"For example, electric vehicle fast chargers powered by DC microgrids can achieve huge charging powers without need for costly upgrades to the existing AC utility infrastructure."
He adds, "For the future architecture of distributed energy resources, look to DC microgrids."
The microgrid in the Energy Systems Lab offers a glimpse of this future. Many of its vital processes are housed in a nondescript cabinet called the DC Microgrid Protection Panel, which an untrained eye might walk by.
"That panel is the heart and soul of the whole system," says Afshin Poraria, manager of the lab. "This is where every signal from subcontrollers and various detection devices converge.
"This collection of data is then used for decision-making and monitoring. It gives us a clear window into the operation and health of the entire system."
This project has taken many paths and involved many supporters, both internal and external. Alumnus Lauri Hiivala and his wife Jean Hiivala donated funds that were put towards the lithium-ion battery. ARDA Power supplied the DC microgrid platform and, in January 2019, WorleyParsons came on board as consultants.
"This project is the first of its kind in the university research setting," said Michael Cantin, vice-president of operations at WorleyParsons, "and is attributable to the vision of the University of Toronto and the unique microgrid technology provided for the project by ARDA Power."
"The DC microgrid is an example of what's possible through the strong commitment and dedication of ECE professors, staff and alumni," said Professor Deepa Kundur, chair of ECE. "This exceptional infrastructure enables us to advance research, and inspire and more innovatively train future leaders in the field of sustainability."
Poraria, who proposed the project long ago and helped see it through many hurdles, called it "the result of great collaborative work.
"It's very exciting to see it finally come to fruition."
Faculty of Applied Science & Engineering