To support students from Ukraine, Innis College hosts event with director of 'Winter on Fire' documentary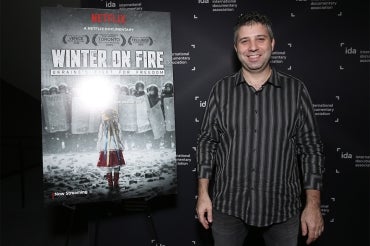 The University of Toronto's Innis College is hosting a special event next week to support students displaced by Russia's invasion of Ukraine.
The fundraising event on April 19 will feature a screening of the Oscar-nominated documentary Winter on Fire: Ukraine's Fight for Freedom by director Evgeny Afineevsky, who will be in attendance. Yuliya Kovaliv, Ukraine's ambassador to Canada, is also scheduled to give remarks.
The film – which is also available for streaming on Netflix – documents the civil unrest in Ukraine from 2013 to 2014 after then-president Viktor Yanukovych decided not to sign an agreement forging closer economic ties with the European Union. Ukraine's parliament ultimately voted to impeach Yanukovych, who later fled the country.
Afineevsky says the documentary provides important context for what's taking place in Ukraine today.
"There's a lot of messages in the movie – the importance of being united and being together, the value of human rights and the importance of freedom of speech," he said in a phone interview from Los Angeles.
"It's important to show people that, united we are able to achieve things."
The event will raise money for the Innis College Ukrainian Community Scholars at Risk Award, which aims to support displaced students, including those from Ukraine, who are seeking to continue their education at U of T. Guests are being asked to make a minimum $50 donation in support of the fund.
U of T plans to match donations to the Innis College award, as well as to the university's Scholars at Risk fund up to $1 million. 
Following the screening, Afineevsky will participate in a Q&A moderated by Lucan Way, a professor of the department of political science in the Faculty of Arts & Science and Munk School of Global Affairs & Public Policy.
"Through its events, Innis College consistently highlights the power of film to illuminate defining social moments," said Charlie Keil, principal of Innis College. "We hope that this screening will remind attendees of the terrible human cost of the current situation in Ukraine."
Afineevsky said Winter on Fire shows Ukrainains "fighting for their dignity," and now, we see the nation "fighting for every piece of their land."
Through the event at U of T, he said he wants to bring awareness to Russia's military invasion in Ukraine and help civilians as much as he can.    
"I just came back from Ukraine, what I saw and what I witnessed, it's important to share my voice as a human being, as a filmmaker, to the issues."
UTC