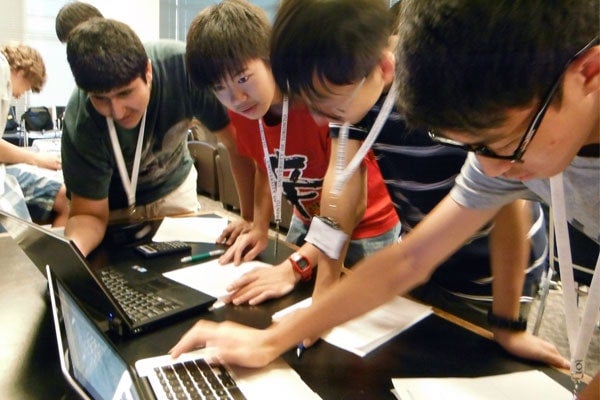 Summer math camps prove how the field equals fun
Math puzzles, fractal patterns in nature, the physics of chaos; everything you wanted in a camp minus the canoe.
This summer, the University of Toronto's Department of Mathematics hosted four different math and science camps. Three intended for students in grades four to 10, and a science camp for Ontario high school math teachers.
"We love showing how math is a rich and beautiful field," said Pamela Brittain, math's outreach and special projects coordinator. "Plus, this gives us a way to demonstrate all the different areas of math that can be studied."
One such opportunity was the one-week Science Unlimited camp. Run jointly by math, earth sciences, astronomy, chemistry, physics and computer science departments, this camp introduced Grade 10 and 11 students to different scientific disciplines through a variety of activities and lab experiences.
"The camp grabbed my curiosity when I read about it, I really wanted to be involved," said Jeremy, a Grade 10 student. "I like how the sciences explain day-to-day questions that I have. Anything you wonder, they can answer."
On the first day students were introduced to Combinational Game Theory – a concept that focuses on how games can be played in different ways and the strategies behind winning them – and discussed how game theory is applied in our everyday lives.
"I like how science explains how the world works, and how it is because of how it works," said 14 year-old camper Sayim. I wanted hands-on experience to remember this stuff, so this camp was great."
Students in grades four to 10 also enjoyed a week-long Summer Math Kangaroo Camp, which boasted hands-on activities such as scavenger hunts around campus to discover math properties in the world, magic tricks and problem solving.
The Canadian National Camp, a joint-effort with the Canadian Mathematics Society (CMS), welcomed students in grades seven to 10 from across Canada and helped prepare them for the Canadian and International Math Olympiads.
But the camps weren't only for students. The Classroom Adventures in Mathematics Program introduced Ontario high school math teachers to research currently being done by U of T faculty, interesting topics outside of the usual curriculum and helpful lectures on important issues such as dealing with students' math anxiety.
"This program gives resources from U of T that teachers can bring back to their own classes," says Brittain.
The camps, and other programs provided by the department, would not be possible without the help of U of T students and faculty. "These camps provide experiences that are outside the usual school curriculums. Students leave with a sense of wonderment," says Brittain. "We show them that if they continue to study math, there are some really incredible things they can learn, jobs they can get and research they can do."
Jessica Lewis is a writer with the Faculty of Arts & Science at the University of Toronto.