Summer in the city: U of T co-op students creating app for Rouge National Urban Park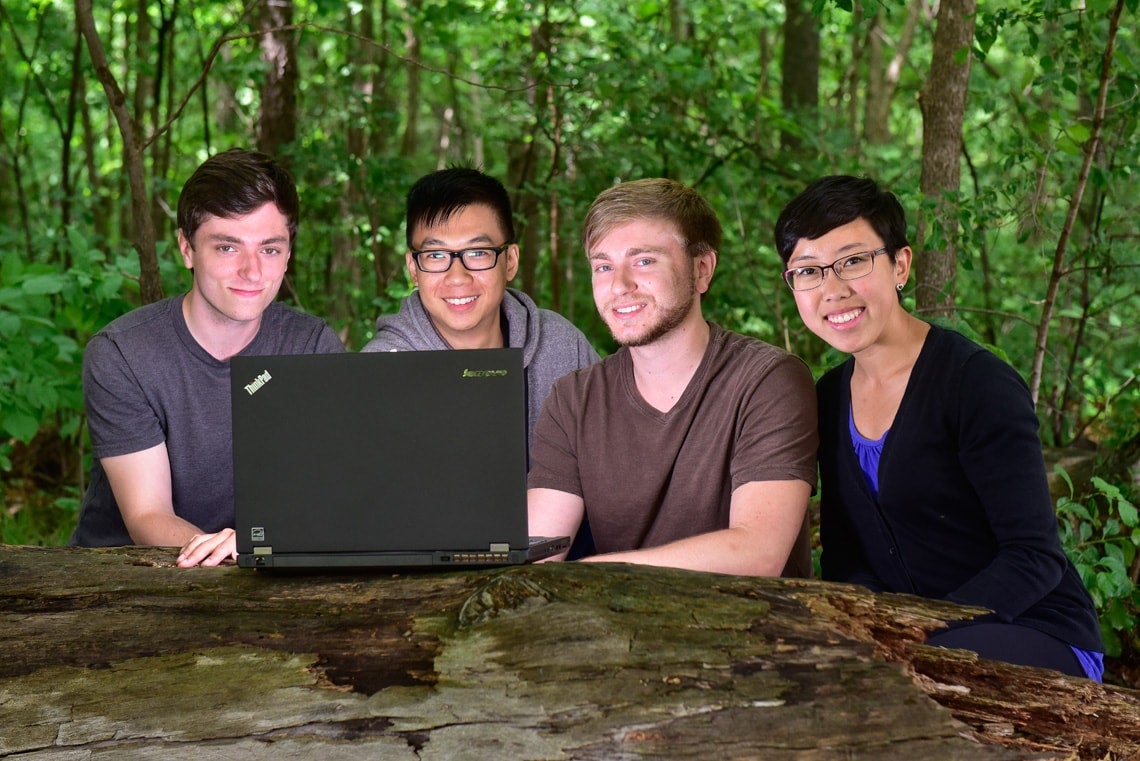 If you're hiking in Rouge National Urban Park and you want to know more about your surroundings, wouldn't you like to be able to pull out your smartphone and get instant, engaging information? 
Parks Canada certainly would. So, in May, four U of T Scarborough students began work on a two-year co-op project to create a content-rich app that people can use on visits to Canada's first national urban park, which will soon officially encompass Rouge Park near UTSC.
"We are using technology as a bridge to experience nature," says Kaitlyn Chow, a master's student in environmental science who will be a content curator/creator on the project for the next eight months. "We've been doing a lot of brainstorming. The overall theme is the idea of stories – there is a long, rich history in the park and we want to make it easy for people to digest."
Parks Canada has a formal partnership with U of T Scarborough and has hired a total of 23 co-op students over the past three summers. The app project grew out of discussions between Parks Canada officials and Gray Graffam, director of The Hub, UTSC's centre for innovation and entrepreneurship.
"They wanted to develop mobile technology for the Rouge National Urban Park, and we saw our co-op program as a natural way to do this," says Graffam. He will oversee the project at The Hub, and the app will be a joint intellectual property with the database housed at UTSC.
Chow is working with her fellow environmental science master's student, Winston Lee, in content creation, and two computer science undergrads, Derek Etherton and Alexander Cavanagh, on the tech side. All four have been asked to take regular hikes in the park to get to know it.
"This is a great opportunity for our students to work on a new endeavour and gain an understanding of something happening in our own backyard," says Dallas Boyer, manager, operations, arts and science co-op.   "And it shows the interdisciplinary nature of our areas of study – computer science students working with environmental science students. They will learn from each other."
The app will also grow with the park, as it expands to its full size of 79.1 sq km, including Rouge Park – some 50 times the size of High Park and located within easy reach of public transit.  The finished park will stretch from Lake Ontario to the Oak Ridges Moraine, including parts of Toronto, Markham, Pickering and Uxbridge.
"When it is complete, it will be the largest and best protected urban park in North America," says Omar McDadi, External Relations Manager for Rouge National Urban Park. "It will have 1,700 species of plants and animals, one of the most biologically diverse places in Canada. The app will help people learn about the wildlife and plant life, but there's so much more to the story as well. There is an agricultural community with working farms dating back to 1799, as well as 10,000 years of human history."
Not surprisingly, Chow says the first big challenge has been how to narrow the scope of the app. Etherton adds that the team must deal with the varying levels of signal in the park and decide how much information to build into the app versus download during use.
Meanwhile, they are among the few employees happy to hear their supervisors say, "Take a hike."