A suitcase full of moon rocks: Working with NASA, U of T's David Strangway brought a piece of Apollo 11 to Toronto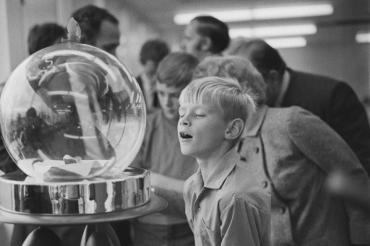 For at least one day in Grade 2, Susan Strangway was unquestionably the most popular girl in school. 
Her dad, David Strangway, was a University of Toronto geophysicist who worked for NASA beginning in the mid-to-late 1960s – just as the space agency worked toward the first manned trips to the moon. 
Strangway, who would go on to serve as U of T's president, was part of the team that organized and oversaw the preservation of moon rocks, and he brought some to Susan's school for a day of show-and-tell that made the local papers in the fall of 1969. 
"He was like a movie star," Susan told U of T News.
A local newspaper reported the U of T professor brought the moon samples to the school under police guard. "Dr. Strangway told us that the questions asked by his son's Grade 5 classmates were as fine a group of questions as he's ever been asked by adults," the then-principal Donald Cooper was quoted as saying.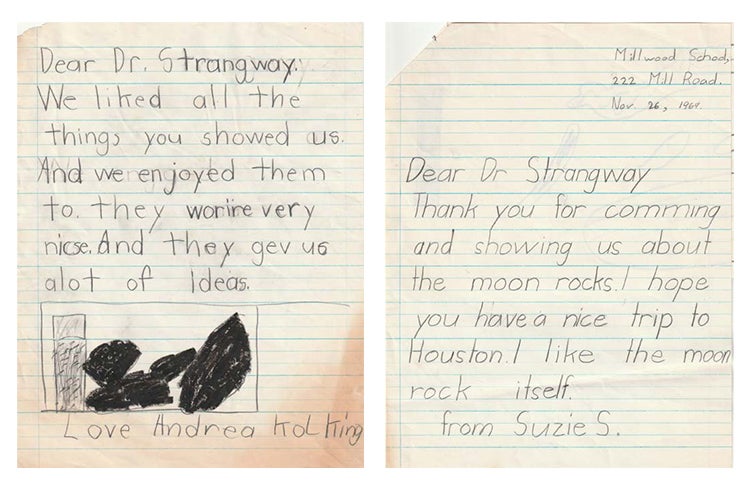 Fan mail from children to David Strangway after he visited his daughter's Toronto elementary school with samples of moon rocks and dust (photo courtesy of Susan Strangway)
With the 50th anniversary of the Apollo 11 moon landing this weekend, Susan and her sister Patricia, who both live in B.C., spoke to U of T News about their father's role at NASA and his time at U of T.
Strangway grew up in Angola with his Canadian missionary parents, but later returned to Canada to earn a bachelor's, master's and PhD at U of T. He taught at the University of Colorado and the Massachusetts Institute of Technology before being enticed back to Toronto to take charge of U of T's geology department.
On the night of July 20, 1969, Strangway watched on TV – with more than 500 million people around the globe – as astronaut Neil Armstrong took his first steps on the moon. 
"It was tremendously exciting to realize that the whole world was sitting rooted on this particular event and that before very long, I was actually going to have a piece of that stuff sitting right there; being able to measure something I'd always dreamed about being able to measure," Strangway recalled in an interview with the Toronto Star in 1994.
After the historic moon landing, Armstrong, Edwin "Buzz" Aldrin and Michael Collins returned to Earth with about 21.5 kilograms of moon rocks and dust – some of which eventually came to Canada in Strangway's luggage.
His daughters say their father packed the moon samples in his suitcase, the dust kept in glass jars and the rocks wrapped in dirty laundry.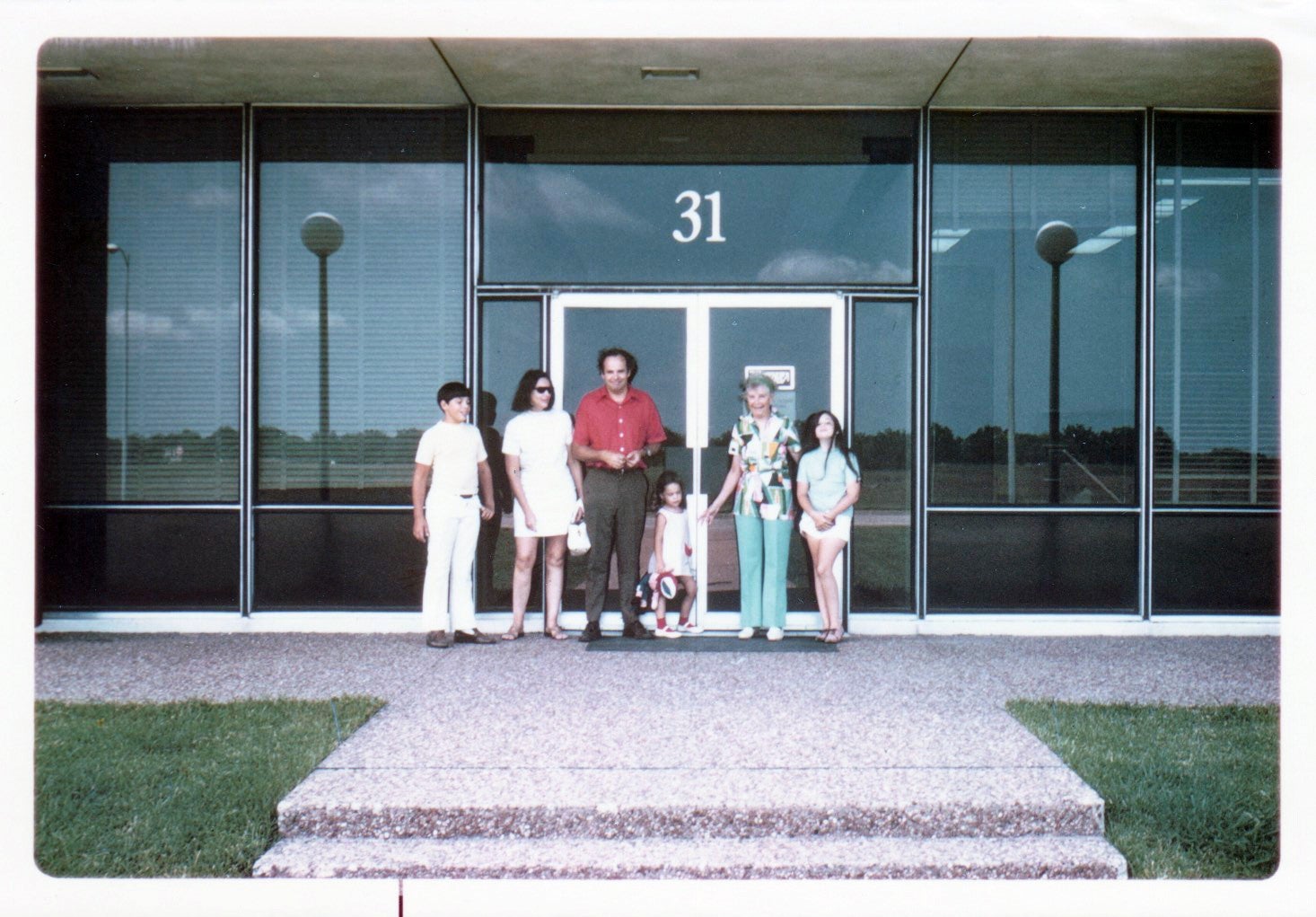 The Strangway family at NASA in Houston, Tex. From left: Richard, Alice, David, Patricia, David's mom Alice and Susan (photo courtesy of Susan Strangway)
The extraterrestrial material presented Canadian customs agents with a conundrum. His daughters say that Strangway answered honestly when asked if he had anything to declare. "He said, 'I've got a bunch of moon rocks and they waved him through," Patricia said. His declaration form apparently read, in part: "No. of packages: one; Contents: moondust; Appraised value: NCV (no commercial value) ... Place of Origin: Moon."
When customs officials later realized Strangway was telling the truth, they visited him at home. The government eventually issued him a "certificate of importation of foreign soil," he told the Star.
Strangway's involvement with NASA didn't end there. In 1970, he became head of the geophysics branch of NASA during the peak years of the Apollo program. He was involved in designing experiments, training astronauts to collect samples and helping choose a landing site for lunar modules. He received NASA's medal for exceptional scientific achievement two years later.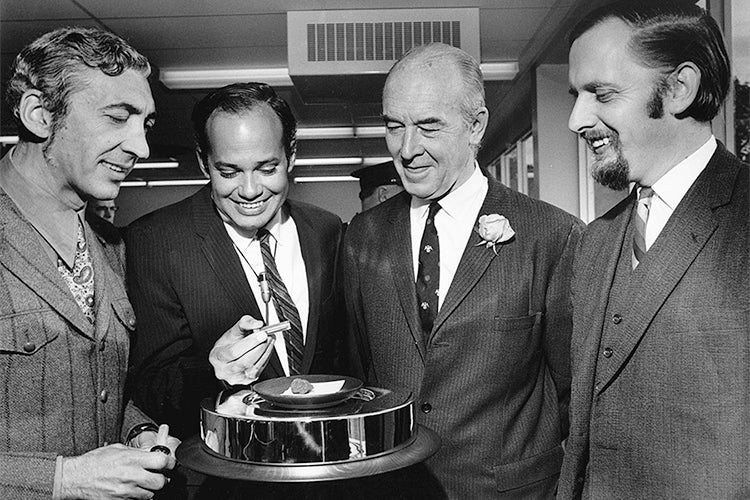 Left to right: Associate Dean Irving Spiegel, geophysicist David Strangway, Principal J. Tuzo Wilson, and Dean E.A. Robinson (photo by Robert Lansdale/University of Toronto Archives)
When he became chair of U of T's geology department after his years with NASA, Strangway helped land a $1-million federal grant and an expansion of the department's faculty and equipment. He established a Physical Properties Laboratory at Erindale College, now U of T Mississauga, where researchers investigated magnetic and electromagnetic properties of rocks – including moon rocks. 
He brought back $500,000 worth of NASA equipment on a long-term loan that was later entirely forgiven, according to the Vancouver Sun. 
When the first lunar samples arrived in Canada and were exhibited on campus, more than 3,000 people lined up for a peek at a moon rock that was smaller than a golf ball and a thimbleful of moondust. The samples were encased in a glass receptacle designed by the jeweller, Birks.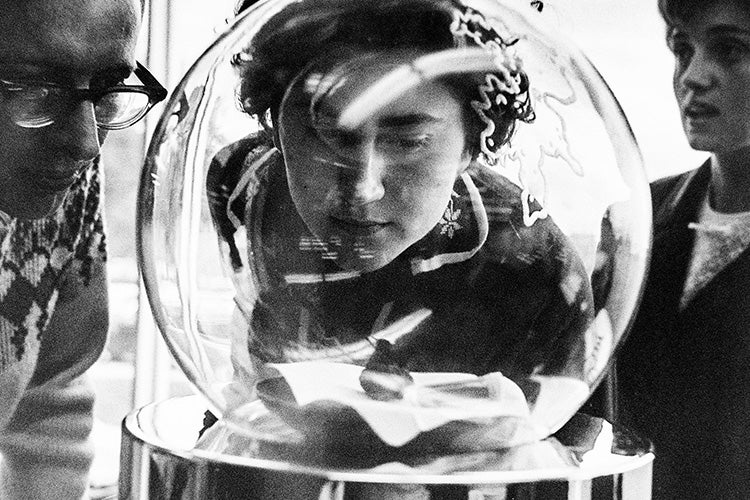 A moon rock and vial of moon dust on display at U of T in a glass orb designed by the jeweller Birks (photo courtesy of U of T Mississauga)
Strangway went on to serve as U of T President from 1983 to 1984 before taking the reins at the University of British Columbia for 12 years. 
His work on the Apollo program earned him celebrity status "everywhere he went for the rest of his life," according to daughter Patricia. 
"Despite all his illustrious accomplishments, people really are fascinated by the Apollo missions, as you can see 50 years later." 
Strangway's work with NASA remains a source of pride for his children, whose own kids have read about his accomplishments in textbooks. Earlier this week when Susan looked at the full moon, she thought of her dad.
"You brought me some of that." 
UTC