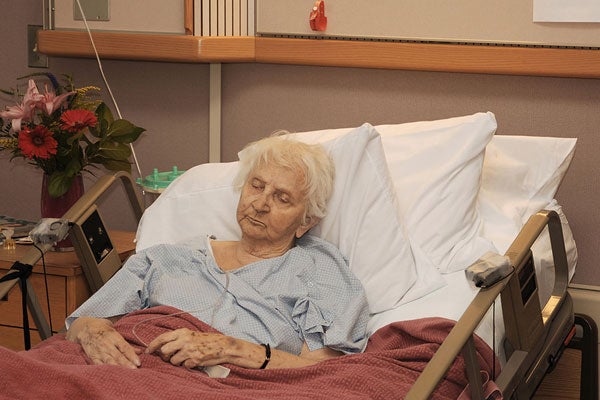 Study finds delirium after stroke linked to poorer outcomes for patients
U of T professor says recognition, prevention are crucial to recovery
Up to 30 per cent of patients hospitalized after a stroke develop delirium – a sudden state of confusion – and are five times more likely to die as a result, according to a new study from the University of Toronto and St. Michael's Hospital.
Researchers found patients who experience delirium after stroke are also more likely to be discharged to a long-term care facility, nursing home or have a longer stay in hospital.
"Early recognition and prevention of delirium are important for a quick recovery, better quality of life and timely discharge for patients who have suffered a stroke," said Dr. Gustavo Saposnik, a professor in the Department of Medicine and the Institute of Health Management, Policy and Evaluation.
Saposnik -- lead author of the paper and director of the Stroke Outcomes Research Centre at St. Michael's -- and colleagues analyzed 10 studies that looked at the four common outcomes in more than 2,000 patients with delirium: inpatient and 12-month death rates; length of hospital stay; and, care arrangements after discharge. The paper is published in Stroke: Journal of the American Heart Association.
Unlike dementia – a chronic, progressive mental disorientation – delirium is an acute, sudden state of confusion is often marked by lack of attention, disorientation and sometimes hallucination.
Patients can become delirious at any time after a stroke. However, when it occurs seven to 10 days later, it is commonly related to a complication such as a respiratory or urinary infection, instead of  the stroke itself.
Recognizing the associated risk factors, such as age, severity of stroke, infections, narcotic use, lack of oxygen and cognitive impairment, can help clinicians identify initial signs of delirium and use early interventions.
Saposnik said this research aims to encourage early detection and intervention to improve outcomes for patients and families, but further research is needed to understand the most effective interventions.
St. Michael's Hospital has developed the delirium prevention program to reduce the occurrence of delirium – especially in elderly patients – and to improve patients' experience.
The program is a multi-disciplinary team approach that uses simple strategies in everyday care to help keep patients oriented. Clocks have been installed in every patient's room along with whiteboards, on which the date is written daily; lights on the orthopedic unit and overhead paging systems are turned off at night to minimize confusion over time of day; and blinds are opened daily so patients have natural light rhythms.