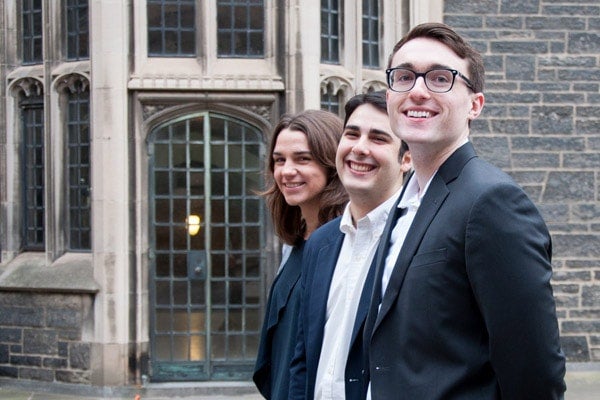 Student financial aid: improving access to U of T
Bursaries, scholarships, needs-based aid for students at U of T exceed $180 million per year
When Rhodes Scholar Kaleem Hawa talks about the importance of financial support for university students, he speaks from personal experience.
"As someone who was the recipient of a large grant to fund my education here at U of T, I can say without a doubt that it allowed me to pursue the work that mattered most to me, gave me confidence, and changed my life for the better," Hawa said.
"No student should be unable to attain a post-secondary education as the result of monetary concerns," Hawa said. 
His words echo a resolution adopted by U of T in 1998: "No student offered admission to a program at the University of Toronto should be unable to enter or complete the program due to lack of financial means."
That resolution means U of T steps in when the Ontario Student Assistance Program (OSAP) isn't enough. 
It's just one of the reasons why the university's total spending on student support (including needs-based aid, scholarships and bursaries) has grown from less than $8 million in 1992-93 to more than $180 million in 2014-15, said Vice-President and Provost Cheryl Regehr.  
Regehr added that students at U of T are more likely than their counterparts at other universities in Ontario to come from families where parents have income below $50,000.
"There is no doubt in my mind that our dedication to access, while easily justified as a social policy, pays great dividends in quality and diversity," Regehr said. "We want top performers regardless of their background or financial circumstances.  We believe increased access makes us stronger."
Students today have access to a range of government and university-funded support aimed at ensuring that financial need is not a barrier to gaining a university education. That means many students pay significantly less than the published tuition fees.  
Across U of T in 2014-15, the "net tuition" paid by U of T undergraduates who received OSAP was, on average, 51 per cent of the posted rates. The other 49 per cent was funded by grants from U of T, OSAP, and the relatively new Ontario Tuition Grant.
"To be supporting almost half of tuition expenses for so many undergraduates is clearly a remarkable accomplishment," Regehr said.  
Hawa is one of three U of T students heading to Oxford next year as a Rhodes Scholar. Like Hawa, his fellow Rhodes Scholars Jessica Phillips and James Flynn received financial support for their studies at U of T – and so did U of T Rhodes Scholars before them.
"U of T provides opportunities unlike any university in Canada," Connor Emdin, a Rhodes Scholar in 2013, told the Faculty of Arts & Science. "I was able to conduct research with talented faculty since my second year. I worked on an HIV-related clinical trial in South Africa, which opened my eyes to global health issues and the importance of public policy in determining the health of individuals in developing countries. 
"I come from a single-parent home, so it wouldn't have been possible for me to have these kinds of opportunities without scholarships." 
Jenny Nguyen, a Rotman Commerce student, talked with the Faculty of Arts & Science about the impact of student financial aid.
"Growing up, my family did not have a lot of money," said Nguyen. "My parents worked extremely hard and made many sacrifices for me to be here today."
Nguyen, who received The BPP-The Lawrason Foundation Award, said it "has provided some relief to my financial situation and motivates me to continue to work hard to achieve my goal of obtaining my CPA designation and contribute to my community through my extracurricular activities with the Rotman Commerce Women in Business and Rotman Commerce Accounting Society, and by volunteering with U of T's Take Action." 
Alumna Shirley Beatty said she established the William and Shirley Beatty Undergraduate Scholarships as part of the Boundless Promise matching program, to help students get the education they need and the undergrad experience they deserve, while avoiding debt.
"Hopefully, with a little bit of help from this scholarship they will have less of a financial burden. Perhaps they'll be able to enjoy the university experience more fully, as I did, and focus more on fulfilling their dreams instead of just dreaming them."
More information on tuition and access at U of T is available here: http://www.adm.utoronto.ca/financial-aid