Student club at U of T Mississauga to connect women in STEM, promote diversity and inclusion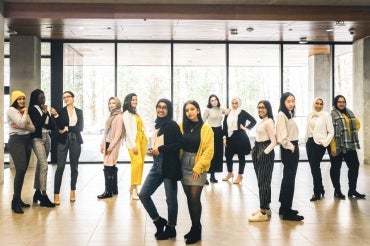 A new student club at U of T Mississauga is connecting women in science and computing studies with networking and career development opportunities.
Since its soft launch in December, the Women in Science and Computing club (or WiSC) has hosted three events, including an exam study session, a film screening and a career panel with a San Francisco-based leader in web development.
WiSC co-founder and president Vaneezeh Siddiqui is a second-year undergraduate student studying statistics, computer science and business at U of T Mississauga. She was attracted to the campus because of its reputation as a close-knit and diverse community with good research opportunities, but often found herself attending events on U of T's St. George campus in an effort to connect with other female students in her field.
"I wanted to have that community here at UTM," says Siddiqui, who founded WiSC in August 2019 by gathering a 14-member executive committee to plan networking events and outreach opportunities to connect, inspire and support its members.  
"Women in Science and Computing is a place where we can talk about what we're experiencing, find mentorship and peer support," Siddiqui says. "The mission is to create a place where everyone, particularly female-identifying students and minorities, feel supported in their journey and don't feel like they're doing it alone."
Siddiqui and Fatima Minhas, the club's external communications director, can both recount experiences where their expertise and ambition have been disregarded by some male classmates because of their gender.
"I've been told – more than once – that 'girls can't do math,'" says Minhas, a fourth-year student studying Earth sciences and mathematics. "To be thought of as less than equal or not good enough was a shock to me, and it made me feel unwelcome."
The women find strength in connection with other women in their fields. "You think you're having an experience in isolation, but when you talk to other women, you see that you're not alone," Minhas says. "There are other women in STEM who have the same issues in industry, in the classroom and in the lab."
Minhas says the club helps students connect outside of class and mix with peers across scientific disciplines. "WiSC unifies women in STEM on this campus," Minhas says. "We have each other, but how do we further that relationship through professional events, networking events and bonding events?"
With start-up funding from the U of T Mississauga Students' Union, WiSC launched its first event in January. The club hosted a career event with an all-female panel of engineers, product managers and technical leaders working with San Francisco-based tech giant Yelp. The session covered career paths, challenges and opportunities for women in the industry.
WiSC will also share information about student opportunities like hackathons, conferences and scholarships and help match students with others who might be interested in participating.
While the club is meant to connect women in STEM, the founders are heartened to see support from male classmates who are also attending events, incuding the group's official launch in early January that featured a screening of "Dream Girl," a documentary about women and entrepreneurship.
"Our events are open to all genders because we want to raise awareness about diversity and inclusion in STEM," Minhas says. "Those are the types of conversations that we want everyone to be a part of so they're aware that problems exist, but they also know how to approach a solution and be allies for their female peers."
"It's exciting," says Siddiqui. "That conversation was not happening at UTM, but now it is. We can help ensure that current and incoming students in computer science feel supported."
WiSC is planning a range of events over the Winter semester. On Jan. 31, WiSC will cohost the Citigroup Recruiting Visit career event in partnership with U of T Mississauga's Mathematical and Computational Science Society. To commemorate the International Day of Women and Girls in Science on Feb. 11, the club is planning a fireside student chat about imposter syndrome and what it's like to be a female student in STEM. In March, the group will host a panel of female faculty members to discuss academic career development.
UTM