Strong, successful, determined: In solidarity with Indigenous Peoples, U of T to mark Orange Shirt Day
Every year, Indigenous students, faculty and staff at the University of Toronto commemorate Orange Shirt Day, a nation-wide movement that spreads awareness of Canada's residential schools and the impact they had on Indigenous Peoples.
But this year's Orange Shirt Day commemoration at U of T – hosted by Indigenous Student Services on all three campuses, Indigenous Student Services at First Nations House and Hart House – will be a little different.
Most events are being held online because of the pandemic and occur amid the backdrop of a growing reckoning with various forms of racism including anti-Indigenous and anti-Black racism.
The roots of Orange Shirt Day can be found in the story of Phyllis Webstad, who, in 1973, at the age of six, went to the St. Joseph Mission Residential School, where she was stripped of the orange shirt she was wearing and forced to wear the school's uniform.
That's why Canadians are urged to wear an orange shirt on Sept. 30 to demonstrate their support for reconciliation and healing.
U of T News writer Rahul Kalvapalle recently spoke with Shannon Simpson, director, Indigenous initiatives, about this year's virtual Orange Shirt Day at U of T, the importance of spreading awareness about residential schools and the strong ties between anti-racism movements in the Indigenous and Black communities.
---
What are some of the highlights of this year's Orange Shirt Day program that you're most excited about?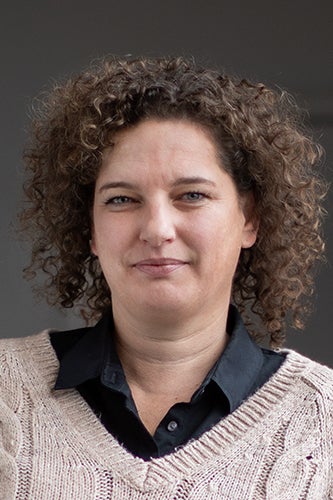 Even though Orange Shirt Day has shifted to a largely virtual format, it's actually bigger at U of T this year than it has ever been before.
We have a keynote address by Dr. Niigaanwewidam James Sinclair [professor in Native Studies at the University of Manitoba], who I'm always very excited to hear from, followed by a Q&A session. If anyone has any questions for Dr. Sinclair, they can drop them into the Zoom Q&A and we will moderate the questions as they come through.
We're also providing virtual backgrounds for Zoom and Teams, so people can use the Orange Shirt Day U of T backgrounds or icons to help spread the word. The website Indigenous.utoronto.ca has links to the orange backgrounds and the events. We're trying to gather everyone who's doing something specific around Orange Shirt Day – for example, University College will be serving up Indigenous food.
So, there are many things happening throughout the campus – both virtually and for those who are on campus, which I think is still important even if not many people will be on campus due to the pandemic.
What is the university's role in this year's events?
Orange Shirt Day has been going on for a number of years now and U of T has always participated with pockets of Indigenous involvement. But it has primarily been groups of Indigenous staff faculty and students who have done multiple different things across campus. This year, Tee Duke, assistant director of Indigenous initiatives at UTM, and Nythalah Baker, the director of equity, diversity and inclusion at UTM, suggested that U of T recognize it institution-wide, and U of T was happy to do this.
I'm really excited about that because this isn't about Indigenous Peoples acknowledging it – we want it to be an awareness opportunity for non-Indigenous people at U of T to engage in what this day means, and the impact residential schools have had on Indigenous communities. Making it institution-wide has really shifted it and made it bigger. The small pockets of activity will continue to happen, but bigger things will also happen. For instance, I'm very excited that Professor Kelly Hannah-Moffat [vice-president, human resources and equity] is issuing an institution-wide statement.
I'm just so glad that there is a really true, tri-campus institutional recognition of Orange Shirt Day this year. I think the more awareness we can foster and the more people who can learn the history and acknowledge the day, the better. Orange Shirt Day is growing at U of T, but it's also growing everywhere and it's on people's radar, which is great.
Why is it so important to engage non-Indigenous people in Orange Shirt Day?
Indigenous communities are aware of this day, we're aware of residential schools and we're well aware of the impact that it has had on our families, our communities and our nation. But often, that doesn't go as far beyond Indigenous communities as we'd like.
Even if the only thing the event does is get somebody who isn't Indigenous to google Orange Shirt Day, that's a start. It's a start in getting that person to figure out what Orange Shirt Day means, the story behind it, why we're doing this, what residential schools mean, what impact they have on Indigenous Peoples. Once you understand that and understand how much residential schools are a part of Canada's history, it starts to shift the way you think about Indigenous Peoples in Canada and how the relationship between Indigenous Peoples and Canada might not be what you maybe thought it was.
It makes people stop, think, learn and ask questions. That's important. Because there are a lot of misconceptions about Indigenous Peoples, so when you learn about different aspects of the history of Indigenous relationships with Canada, it can help frame where those misconceptions might have come from.
What role will residential school survivors be playing in this year's Orange Shirt Day at U of T?
It's a challenging day because a lot of people think we need to hear from survivors, and we need to get residential school survivors to share their stories. [But] it's obviously horrific and challenging to be a residential school survivor and having to share your story time and time again. Sharing it on the day that's recognizing survivors is exhausting, and it's asking a lot of our elders and survivors.
Having Dr. Sinclair give a keynote address is a way to show resilience and that we are acknowledging survivors, as well as people who didn't survive residential schools, without placing the burden on survivors on this day. It also shows the strength, success and determination of our younger generation – to show we're still here, we're still strong, we're still successful, we're still determined and we're still happy, and that there are things to be celebrated.
And we do have residential school survivors involved in the day. The student who will be introducing Dr. Sinclair is a residential school survivor, as is the elder who's going to give the welcome. But we really wanted to give them space within the event but not ask too much of them on this day.
How does Orange Shirt Day fit in with the growing awareness around different forms of racism in our societies?
I think Black Lives Matter and people fighting against anti-Black racism and anti-Indigenous racism – we're all supporting each other and understanding what's going on in our communities. There's actually a very large community of Black Indigenous people, especially here in the GTA, so there's a very strong connection between Black Lives Matter and Indigenous Peoples We want to continue supporting those members of our communities who hare having to deal with not so great things.
I think there are so many intersectionalities and underlying things that will always connect. We're hoping to reach out to the Black community and keep those connections strong and supported, and we will continue to support each other and be good allies for one another.                                                                     
UTC