'A story of great resilience': After fleeing Taliban, stranded U of T Mississauga student turns to profs for help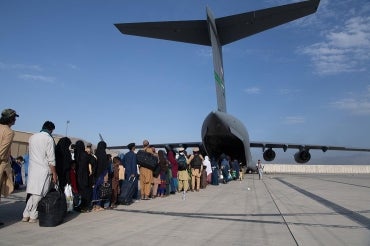 Exam season is a stressful period for many students – but for Sana Hashim it was also the moment when her world was turned upside down.
Hashim, 20, is currently in Dubai on a short-term visa after fleeing her home in Afghanistan last year. She was living in Kabul with her family when the U.S. military withdrew from the area after two decades at war with the Islamic fundamentalist Taliban.
"I went from being a university student with full-time parents to being a sole provider for my siblings," says Hashim. "Everything came crashing down on us. We're losing our identity, our home, our country.
She adds that, even before the Taliban's takeover, life had become extremely dangerous.
"We had kidnappings in our family and murders in our building, so we didn't go out often," she says. "From time to time, there would be bomb blasts that would require us to get out of our house and go somewhere else for the day."
Despite the upheaval, Hashim worked to keep up with her studies at U of T Mississauga, where she is pursuing a major in geographic information systems and a double minor in sustainability and business, science and entrepreneurship.
"My studies were the only thing in my life that was normal," she says. "There was constant chaos. The only thing that shielded me was my studies. When I focus on my studies, I don't have to focus on people dying or my own life being at risk."
Knowing the exit of U.S. forces would lead to turmoil in Kabul, her family put together an exit strategy without realizing how soon they would need it.
"One day we were at home and my father rushes in. He says, 'Quickly, come with me,'" Hashim recalls.
Neighbouring countries were closing borders to fleeing Afghan civilians, so Hashim's family activated a previously obtained United Arab Emirates (UAE) visa.
"My dad booked four tickets for the kids," she says. "We had a backpack with our clothes, a little bit of food, some money and then we were on a flight to the UAE.
"It was terrifying. Everything was so rushed. It was the last time I saw my parents."
Hashim realized she was now the guardian of her siblings, aged 12, 14 and 16.
"I'd never been on my own," she says.  "My father said, 'Sana, I trust you. You have to take on this responsibility and you have to take care of your siblings.' With my siblings crying, we just had to push through it."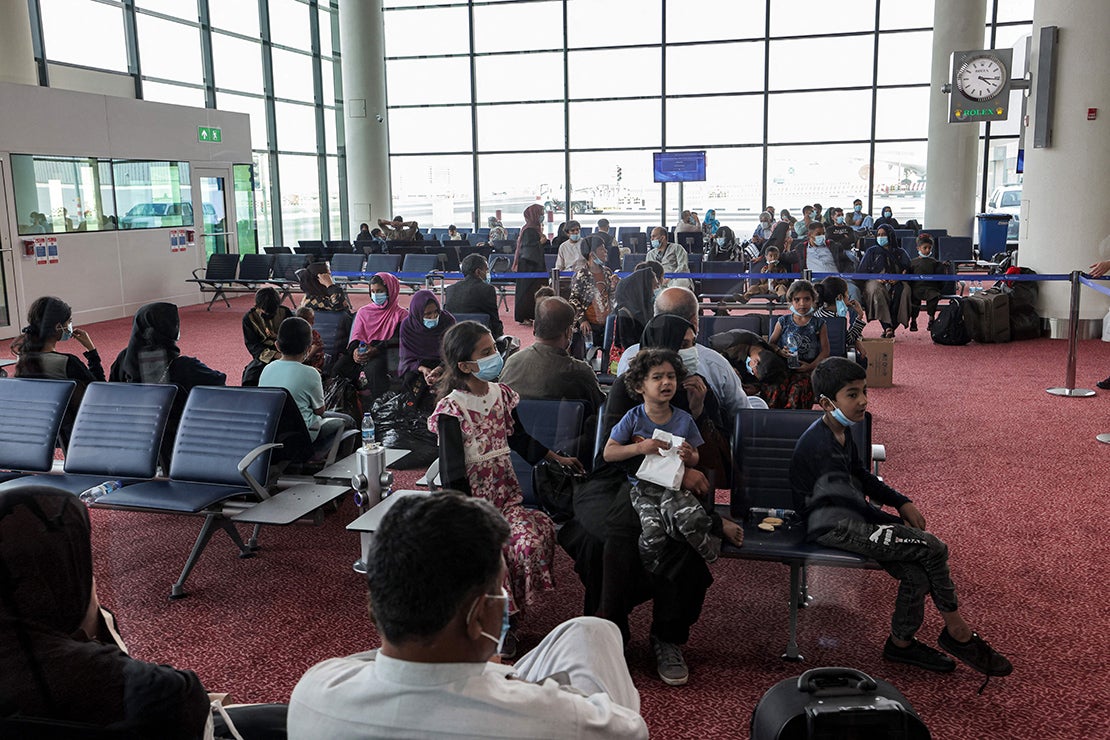 Evacuees from Afghanistan sit in a hall upon their arrival at Al-Maktoum International Airport in the United Arab Emirates on Aug. 19, 2021 (photo by GIUSEPPE CACACE/AFP via Getty Images)
Shortly after Hashim arrived in Dubai, the Taliban took over Kabul, where her parents remained. 
"It was our worst nightmare," she says, explaining they made seven or eight evacuation plans for her parents, but they kept falling through.
Unable to contact her parents for fear they would face reprisals from the Taliban, and not knowing what to do, Hashim reached out to one of her professors for help. She had taken Professor Sergio Tenenbaum's introduction to philosophy course remotely during her first year at U of T Mississauga.
"I was very impressed that someone was taking my class from Afghanistan under very difficult conditions," Tenenbaum says, recalling that Hashim regularly dealt with power outages. "I asked her to let me know if there was anything I could do to make things easier."
When he learned about Hashim's evacuation and separation from her family, Tenenbaum mobilized resources in Canada to try to help. He reached out to contacts who worked for the United Nations or on behalf of refugees. "Then I asked her if it would be OK to put a call out on social media not identifying her."
Through that social call, Tenenbaum connected with a U.S. marine who had worked to bring his translator back along with Afghanis.
Hashim's parents received a pass to go to the airport and board a plane. To get there, however, they had to drive through several Taliban checkpoints.
"They were beaten, shot at and forced to return back during their multiple attempts to get into the airport," says Hashim, who was following their movements with a GPS tracker.
Her parents were forced to abandon their vehicle and walk to a back gate of the airport, where they joined the chaotic crowd trying to flee.
"My family had to push through thousands of people to reach a ditch where there was sewage in order to get near the gate," recalls Hashim, who had been relaying her parents' location to a team contacted by the marine. The marines had photos of her parents so they could enter the U.S.-controlled area of the airport and board a transport to Norway, where they remain.
"At that moment I could take a sigh of relief because they were safe," says Hashim.
The family is now pursuing reunification through the Norwegian Directorate of Immigration, but have been told the process will take at least 20 months. Meanwhile, Hashim's UAE visa will soon expire, meaning she and her siblings could face daily fines or other consequences as they will no longer have legal status.
"Going back to Afghanistan could have such serious consequences for her," says Tenenbaum, who has put Hashim in touch with Canadian immigration lawyers to try to find other options.
Meantime, Alexandra Gillespie, vice-president and principal of U of T Mississauga and the International Education Centre (IEC) have been looking for other ways to assist Hashim.
"Sana has been in touch with the IEC's immigration advisers throughout this experience who have supported her in ensuring she has the documentation she needs to continue to pursue her studies at UTM and, hopefully, join us in person once she completes the reunification process," says IEC Director Veronica Vasquez.
Recently, Hashim has joined Gillespie's international team of researchers in her Old Books New Science lab, who examine global development of early book technologies.
 "It looked like she was going to be stuck in the UAE for a while, so we thought, 'How can we help support her?'," says Gillespie. "Her professors told us she was an outstanding student. It was clear just from talking to her that she is intellectually gifted, curious, passionate about learning. I thought she could help out in the lab remotely, and get credit for her work."
Gillespie's group is currently examining the use of birch trees in book making. So Hashim and Gillespie reached out to faculty and staff in U of T Mississauga's department of geography, geomatics and environment to design an independent study course. They want to use existing data – including studies of ancient pollens – to map the distribution of Betula species, specifically 'paper birches,' relative to human population and climate.
Gillespie says the team has been impressed with Hashim's dedication despite her difficult circumstances. 
"We have lab meetings every Friday for a couple of hours, and she's always there, even though it's the middle of the night for her," says Gillespie. "She's put her siblings to bed and then she's there participating, while still getting great grades. She's a story of great resilience."
She praises Hashim as "a hero" who is "doing amazing things with grace and courage."
Hashim's findings will be presented at a 2022 workshop on birchbark, hosted by U of T Mississauga with support of the Mississaugas of the Credit First Nation. She will present alongside international bookmaking and conservation specialists.
"In my dream world, Sana gets status in Norway and then we can work on getting her here in person for the workshop," says Gillespie.
Hashim says she is "so grateful" for the support she has received.
"My whole world quite literally turned upside down. During all the chaos and unpredictability, the one thing that remained constant was my studies," Hashim says. "Even now when pretty much every other aspect of my life is uncertain, I know that I'm extremely lucky because I have the unwavering support of Principal Alex, Professor Sergio, and so many others at UTM.
"I can still continue to pursue my education and that gives me hope."
With files from Scott Anderson, editor, University of Toronto Magazine
UTM