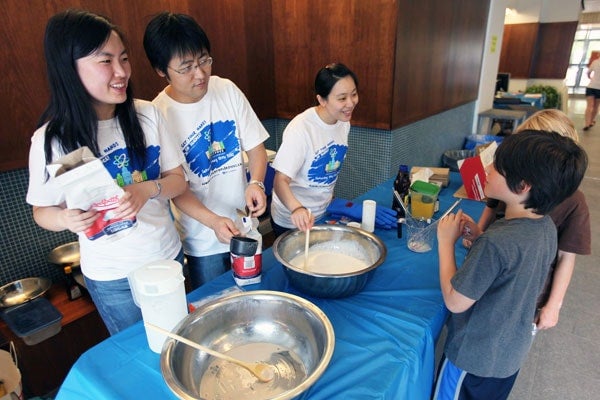 Stolen crystals and exploding fruit: Science Rendezvous at U of T
A giant crystal has been stolen from the natural science museum, and it's up to you to solve the clues and find out who the thief is. If you can solve the mystery, you'll get a crystal of your own to take home.
That's the challenge facing young sleuths in the Amazing Science Chase May 9 at the University of Toronto's downtown campus. The chase is one of the highlights of Science Rendezvous at U of T this year, says engineering student Daniel Szulc, co-chair of U of T Science Rendezvous.
The brainchild of U of T chemistry and biological physics professor Dwayne Miller, Science Rendezvous began as a joint program between U of T, Ryerson University, York University and the University of Ontario Institute of Technology (UOIT) in 2008. Since then, the annual event has grown to include 40 of Canada's top research institutions and over 75 community partnerships across 30 cities in 10 provinces.
At U of T, the annual event is one of myriad ways the university promotes science in the community, from free talks in public libraries to Science Literacy Week events on campus (to learn more visit Science & Engineering Engagement, headed by University Professor Molly Shoichet).
Next week's science chase is meant for children, but adults will also find lots of activities at the Science Carnival, says Szulc's co-chair, psychology PhD student Olivia Podolak. The carnival – featuring a submarine, a solar-powered car, exploding fruit, origami cranes, colliding galaxies and much more – takes place along St. George Street from 11 a.m. to 5 p.m.
More than 30 groups, including the Girl Guides of Canada, the Planetary Society, FIRST Robotics and many U of T faculties and departments, such as pharmacy, kinesiology, mathematics and chemistry, are taking part. 
U of T's Scarborough campus is also taking part in Science Rendezvous, with activities at both the Toronto Zoo and the Toronto Pan Am Sports Centre. (Read more about UTSC Science Rendezvous events.)
Besides the U of T specific activities, science lovers can take part in other Science Rendezvous events in Toronto. A separate Science Chase – this one aimed at adults and coordinated by former U of T Science Rendezvous organizer Jessica Sonnenberg – takes place in downtown Toronto. The Toronto Science Chase will see hundreds of teams race across the downtown core completing more than 20 larger-than-life problem-solving challenges of mind and body.
"What Jessica did was she basically took U of T's event and put it on steroids, so it's Toronto-wide now," Podolak says.  (Read more about the Toronto Science Chase and other Science Rendezvous activities.)
An estimated 15,000 adults and children will participate in Science Rendezvous at U of T this year. The annual event is made possible by the hard work of hundreds of volunteers, mostly graduate and undergraduate students, says Podolak. 
Szulc says the long hours are made worthwhile by the reaction of the people who come out for the event each year.
"Last year at Science Rendezvous, I was manning the liquid nitrogen booth and a little girl came up to me and she told me how she had never done anything like this, and now she really wants to study chemistry. It was so great to hear that."
Podolak agrees. "I love this festival because it shows people all the opportunities there are in the sciences. It makes science accessible. People come out and they say 'Whoa, that's really cool!'"
For more information about U of T Science Rendezvous, go to http://sr.escalator.utoronto.ca