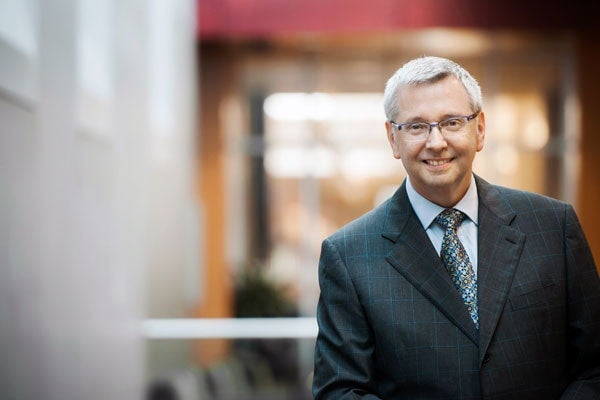 Stephen Toope, international law scholar, named director of U of T's Munk School of Global Affairs
Professor Stephen J. Toope, a noted international law scholar and university leader, has been named the new Director of the University of Toronto's Munk School of Global Affairs. 
"The Munk School has built a reputation around the world for its thoughtful and insightful examination of international issues," said Toope. "I look forward to joining its outstanding researchers and students in working to understand and tackle global problems." 
Toope, who will assume his new position on January 1, 2015, is currently president of the University of British Columbia, a position he has held since 2006. 
"We are delighted to have a scholar and academic leader of Professor Toope's stature taking over as director at the Munk School," said Meric Gertler, president of the University of Toronto.  "I know he will continue the School's proud tradition of world-leading work on global affairs."
Gertler also thanked Janice Stein, who has directed the Munk School since its inception in 2000 and will continue in that role until Toope begins his term. 
"Janice Stein is rightfully recognized as one of the world's leading thinkers on international issues," said Gertler. "Her academic rigour is matched only by her tireless commitment to being part of a well-informed public discussion of global issues." 
Toope represented Western Europe and North America on the UN Working Group on Enforced or Involuntary Disappearances from 2002 – 2007. He continues to conduct research on many aspects of international law and is currently working on issues of continuity and change in international law, and the origins of international obligation in international society. His most recent book, with U of T's Faculty of Law Associate Dean (Graduate) Jutta Brunnée, is Legitimacy and Legality in International Law: An Interactional Account, which won the American Society of International Law's 2011 Certificate of Merit for Creative Scholarship.
Prior to joining UBC, Toope was president of the Pierre Elliott Trudeau Foundation, a position he held since 2002. The Foundation is an independent, private, and non-partisan organization created to promote outstanding research and interaction between researchers in the social sciences and humanities and the wider society. From 1994 – 1999, he served as the dean of McGill University's Faculty of Law. Previously, he served as Law Clerk to the Rt. Hon. Chief Justice Dickson of the Supreme Court of Canada from 1986 – 1987.
A Canadian citizen, Professor Toope earned his PhD from Trinity College, Cambridge, (1987), his degrees in common law (LLB) and civil law (BCL) with honours from McGill University (1983), and graduated magna cum laude with his AB in History and Literature from Harvard University (1979).